The first week of the Live Period is a wrap. There certainly were plenty of surprises. Some good, some great and some disappointing. That's just the way the live period goes. Some kids prepared beautifully and others made mistakes in there preparation. Some kids have seen there stock rise and some have seen there's dive. Some coaches are smiling about the kids they have committed and others are asking "what did we do". It's all part of what makes the July recruiting period so much fun and exciting.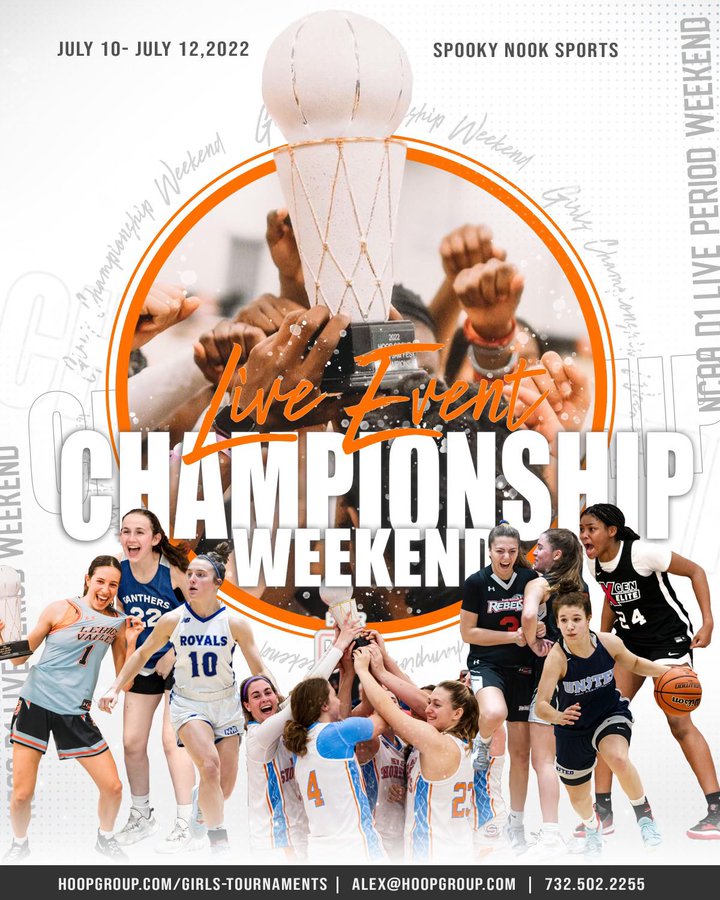 You can't start talking about teams without starting with THE HGSL CHAMPIONSHIP WEEK. This event Iived up to the hype With over 100 coaches on hand. It was the perfect showcase for kids in need of exposure. THE STARS OF THE EVENT YOU ASK?
UNITED NJ AAU U17 HGSL stole the show. Jimmy O's team was finally at full strenght when they entered the tournament this week. They didn't just win the Chip, they toyed with the competition. They won the semi final and chip games by an astounding average of 30+. Isabella Asencio and 2025 future star Ella Kruezer set the stage early in the chip game. Both were basically sensational as they were all week. It's clear to me Asencio is the best pure point in the 2023 class and Ella Kruezer is set to be one of the best player in the state of New Jersey one day. The United superstars 1st Team and Villanova commiit Brynn McCurry was unstoppable the entire tournament. ALLY SWEENEY while still not 100% was solid as a rock. The U of Richmond commit is impossible to rattle. I think it's safe to say RILEY ALLEN is the best keep secret in all of New Jersey. The young lady just out plays everyone she is ever matched up with…reputations be dammed!!! Then there is my personal favorite Brooke BAISLEY. Goodness is this kid good. There is so much talent and effort wrapped around her toughness and skill sets. COLLEGE COACHES if not recruiting this kid go get another gig. I'm sorry you win CHIPS with kids like this this. Mya Summerville...Mya Mya ..oh Mya your so athletic, skills, a quick leaper, defender and one of the best rebounders in the 2024 class. THE FUTURE D1 MM+ player is not just a WARRIOR with a competive nature. She understands a little thing called teammate and Intagables. Lia Manuel is just so much fun to watch. She fits the United Culture to a "T" …she plays hard and smart. She proved she can guard anyone and can make big plays. The Untied Coach Jimmy O knows without her he'd be lost. But guess what? UNITED without the best coach in the HGSL would not be CHAMPIONS.
Two teams fighting for respect playing in the U17 championship bracket. The NJ GEMZ and surprising Chambers Shoreshots had a all New Jersey battle. The Gemz were saved by the play of Arlianna Torres in the Semi final. While the hot shooting of Dylan Cahill saved the day for the Shoreshots. The game was tied at halftime . But then RYNN ORLANDO continued her outstanding play along with Zoe Maffei and put a end to this Chip game early. This was another Coach Turhan AAU team once again getting better as the AAU season moves to the live period. Both these teams have players whose stock is growing by the minute it seems.
TESSA CARMAN on a dime from Lizzy Mitchell made of the biggest shots in HGSL history to give the 2025 Shoreshots the CHIP in the U 15.division. Meanwhile the 2026 Shoreshots won the U15 championship.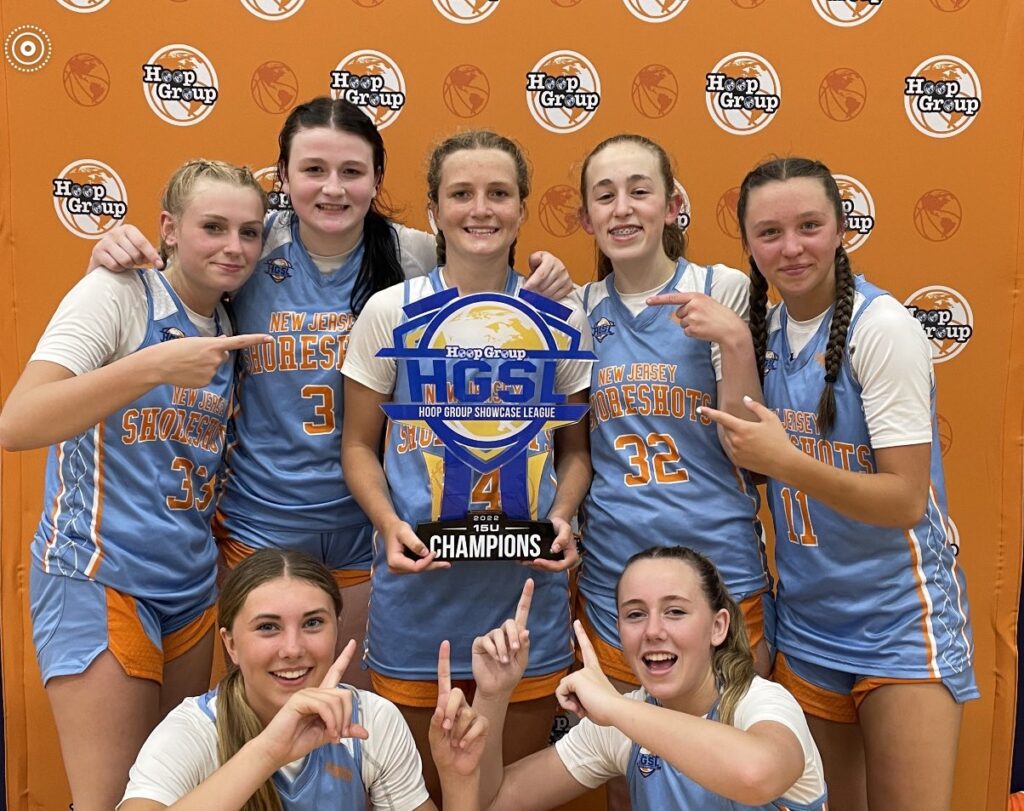 I Didn't see everyone play at the HGSL.. but of the Players I saw here is my
KIYOMI McMiller is totally unguardable and best player I have seen all AAU season. Her talent is rare as her effort and clear love of the game. Watching this young lady was like watching a artist.
Brynn McCurry she is so talented and skilled but her competive nature is what makes her special. She seems to make every big play at the biggest of moments
ISABELLA ASENCIO easy the best point guard I saw by a country mile. She made jumpers, dropped dimes and broke lots of ankles.
ADDY "the bad woman" Nymcheck she has made the separation that we knew one of these great playes in the 2026 class would make. She right now is clearly the best player in the 2026 class and P5 LOCK
RYLNN ORLANDO -she is coming on like a bat out of hell. Her stock is not rising but rather flying….NO SURPRISE because her jumper looks great and she may have been the best defensive guard in the event.
MOST OUTSTANDING PLAYER – BRYN.N MCCURRY
BEST 2024– KIYOMI McMiller
BEST 2025– ELLA KRUEZER
BEST 2026– ADDY "BAD WOMEN" NYMCHECK
it seem every AAU team in the country was on hand. They also had coaches on hand from every level and every conference in the country. The event saw a real New Jersey flavor. Some games where packed with coaches while others had as many as zero at games. It's the risk anytime to go to such a massive event. FOR SOME IT WORKED OUT PERFECTLY
The Napolitano Rise u16 had a week to remember. They won the U16 TOC. This is a group made up of kids many of the Top AAU teams passed on. It clear these young ladies used the lack of respect as fuel. Ali Napolitano has molded this group into a well oiled machine and now they are Champions.
The Masonious Rise left Chicago all smiles .They continued there great team play. Many knew this was a talented team. But nobody with a straight face saw 10-1 after first live period. Carlie LAPINSKI, Siobhan Stapleton and Olivia Shaughnessy are watching there D1 stock grow. MOLLY KELLY has been a rock and McKenna Karlson and Erica Disiome have been wrecking balls. COACH MASONIUS can't ask for more from Staten Island Academy's Saran Moschella Lands who has committed to Navy. Finally do everything guard ANIYAH BOSTON has been just what the doctor ordered.
THE NJ RISE 2026 had a excellent showing in Kentucky but sat out the 2nd round of the live period for those asking.
It was the where the NJ GEMZ were and it's where the best competition resides. The U17 1Gemz went 1-4 in Chicago but got great news with the return of Mckayla Blakes. Meanwhile the U16 Gemz went 2-3 and clearly have improved as a group. The younger 2026 Gemz continued to march over opponents but there is no video of them so we'll have to go by reports which say they doing just fine…. to no surprise
Janine Bachmann– NJ GEMZ EYBL U17 -Holy Cross must be pinching themselves.
2. TANAIYAH DECKER– Shoreshots HGSL U16-banner live period averaged 18 points 6 rebounds and 3 dimes…vs real competition
3. RILEY ALLEN- UNITED U17- sign me up am buying in a big way
4. CARLIE LAPINSKI- NJ RISE U17- She has coaches asking in a big way. The 2024 has answered the bell.
5. BRI DELANNEY– NJ SHORESHOTS HGSL U17- it's a SJV thing and she was sensational at the HGSL CHAMPIONSHIP
6. RYLNN ORLANDO– NJ GEMZ U17 SELECT- you have to be happy for this D1 talent having a readout summer
7. Addy Nymcheck- 2026 Shoreshots- SHE is looking like one of the.best to ever wear a RBC uniform right now
8. Isabella Asencio– United u17 HGSL- It's amazing she is still on the board
9. Mya Summerville– United u17 HGSL- MEGA STOCK RISER
10. RAQUELLE MCMULLEN– SHORESHOTS 2025- If you haven't noticed you missing the boat
11. EMILY TRVDKY– CJ HAWKS- FORT- Young lady at times is carrying her AAU team. stock up
12. Daniela Maletsky– NJ RISE 2026- she didn't plsy 2nd round round of live period. The biggest surprise in 2026 class.
1 shocking the number of coaches following the 2023 and baby 2026 Shoreshots
2. Some teams would be wise to play im more competitive brackets this way more coaches will watch there teams
3. The u17 Gemz Select had 20 coaches at there semi final game
4. Janine Bachmann has stepped up. I had a California coach call me about her last night. She looks like a all state player in the making
5. Some kids are going to find new offers await them
6. You really can tell the kids who did not take in competive play before the live period. It's jumps out like a well rested body…not a active one.
7. Wrong AAU TEAM AND GPING TO WRONG EVENTS….the recruiting kiss of death. But wat hing it is painful
8. There were times EMILY Cavanaugh LOOKS LIKE THE BEST PLAYER IN THE HGSL EVENT
COLLEGE COACHES IMPORTANT INFORMATION FOR ACADEMIC ELITE questions? coop@hoopgroup.com