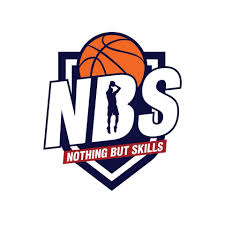 Today I will recap the NBS INVITE CAMP. These are 15 takeaways from the week. The week of camp were full of surprises from start to finish. It was a college coaches dream this week. It also allowed players to test there skills against some of the best players in the tri- state area. All the games were filmed for College Coaches at no charges. The final Division one count for the week was 43 ( coaches you will receive a cheat sheet in the mail tomorrow). There was no place for a player to hide this week. A players reputation did them no good. Most of the players jumped at the opportunity to attend. There were a few players invited who missed for various reason. But in truth long before they were invited. I knew they would not want to be in this environment. NBS is for ALPHA FEMALES AND THAT'S EXACTLY WHAT COACHES GOT TO SEE!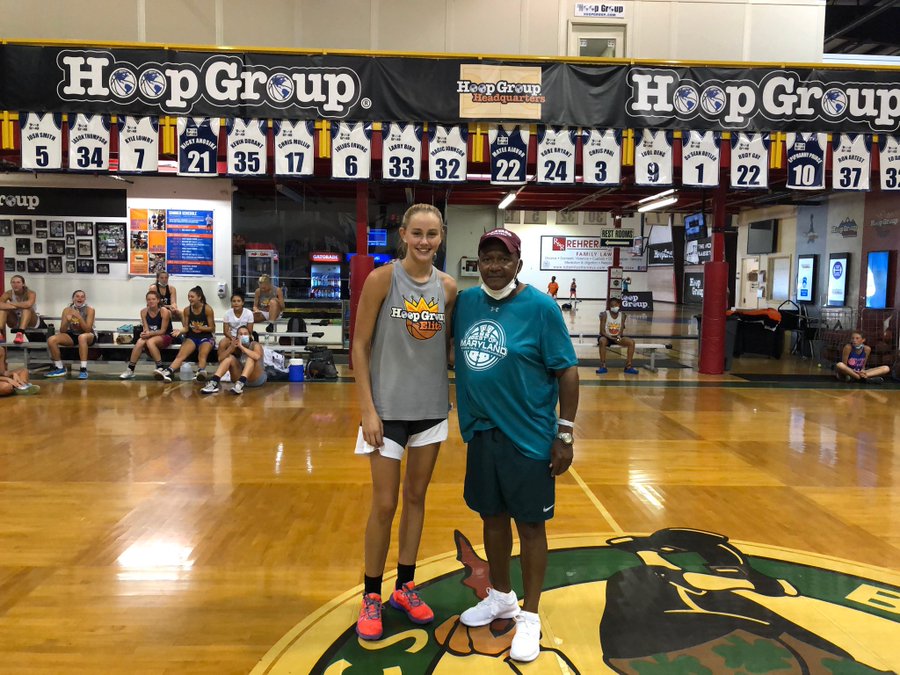 There is so much to talk about, but I guess the place to start is at the top. There were co MVP's at camp this week. Georgia Heine turned in one of the best weeks in NBS history. She was so dominating at times in every phase of the game it was beyond scary. She became the first player in NBS history to win MVP of the ALL STAR GAME AND PLAYER OF THE WEEK. Heine has spent the summer playing the stretch four position in AAU. Because of her size and her team's lack of post players. But NBS just allowed her to play her natural position of shooting guard and small forward and she didn't disappoint. Despite the step up in competition NBS presents vs some of the most recruited players on the East Coast. Georgia Heine send a message that was loud and clear. She is being recruited by high major schools as well. But there lies the mistakes. Georgia Heine is moving into P5 status with last week's MVP showing…coaches would be wise to remember Heine continues to get stronger and is an elite rebounder and when she plays her natural position is scary… WHY COACHES YOU SHOULD REMEMBER AAU IS A TOUGH PLACE TO FORM CONCRETE EVALUATION OF KIDS.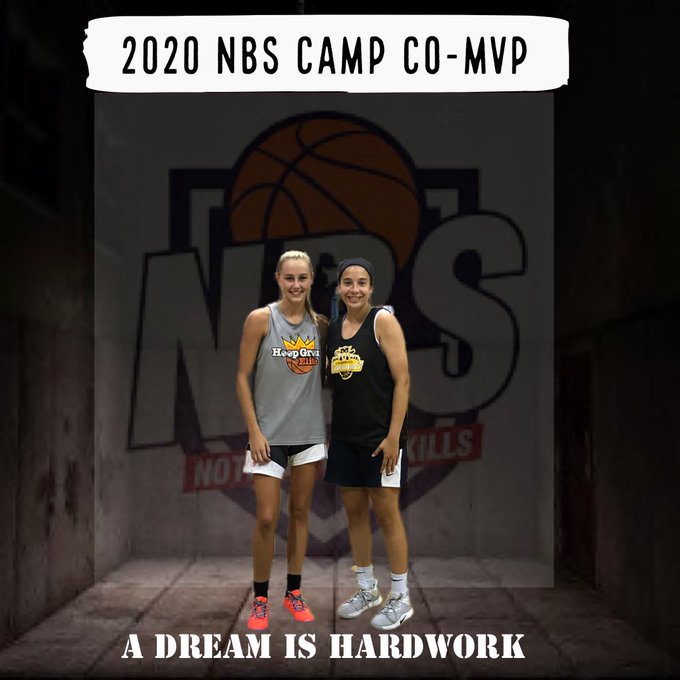 The other MVP of camp was the dynamic Colleen McQuillen of Cresskill high school. She is the ultimate warrior. Colleen, who is off to Fordham, simply did as she was pleased all week. Her ability to score, pass, rebound and defend are hard to miss, but it's her toughness that separates her from so many kids. Not only can she dominate a game herself, which she did all week. She can make teammates look as dominate. Despite a 90 min drive one way each day. Collen showed a energy level all week which was beyond special. The ALL STATE GUARD will no question make a run at Player of Year in New Jersey. But for now she joins a group of very special players to win MVP at the NBS camp. It's a Hall of Fame list to say the least. The number of big shots Colleen hit this week had to be some type of record. She lives for the competition and the big moment.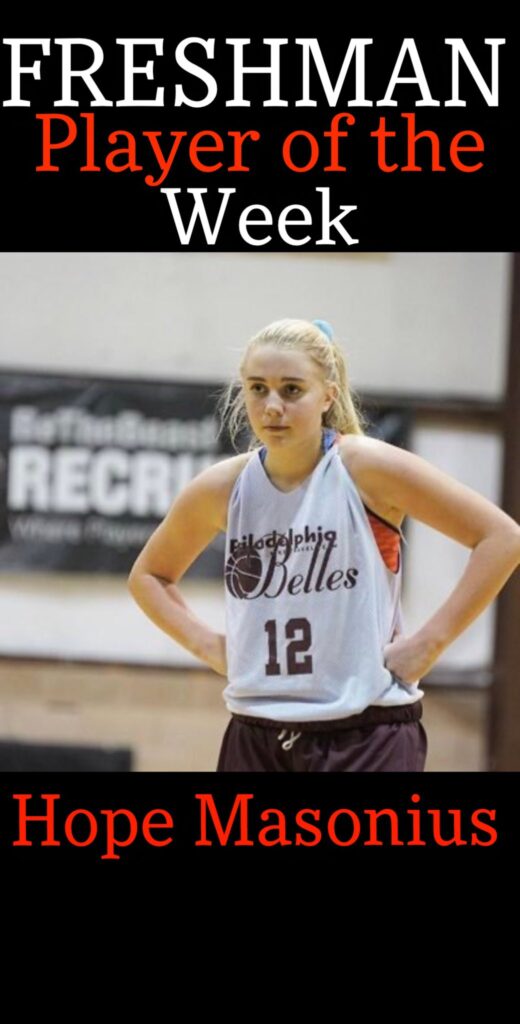 Five freshman were thrown into the NBS fire this week. Manasquan's HOPE MASONIOUS was named freshman of the week. Masonious showed she is clearly the next mega star in the Shore Conference. She was electric at times during the week and took over games at times.
On day one it looked like a mistake as all of the Freshman with the exception of Taylor Derkack struggled. Derkack is the future of great point guards in the state of New Jersey. Her size and basket IQ is next level right now. Julia Karpell, proved she is going to be an elite player one day. I almost felt as if she didn't know who she was playing against at times. Karpell simply seemed not to be affected by the talent in the gym. She is big and strong and more than that. A deadly shooter who can put the ball on the deck. She was a coach's favorite all week. She also is a serious candidate for FRESHMAN OF THE YEAR.
Nina Emmance showed flashes at times. But the surprise in the babies was easily future RBR forward 6'2″ Camryn Cardner. She did battle with some of the best post players in the state and more than held her own. These three played beyond what anyone expected. They clearly made a statement this week. But the way if your a D1 school and have not offered these three…. you better catch up in a hurry!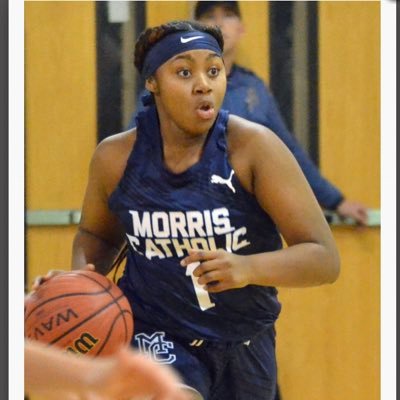 Zoe Brooks and Tyonna Bailey this week proved they are the two best sophomores in the entire state. Both are blessed with next level bodies (Brooks you will not recognize). Both are mega talented and can take their games to levels that most cannot dream about. Both are elite scorers and shooters. But what really separates these two is this…THEY ARE UNSELFISH. Neither are high volume shooters but they are high volume scorers. Both make everyone around them better. I say Zoe Brooks has to be a Top 5 in the country in the 2023 class. Tyonna Bailey and she will battle for the state player of the year one day. These are two players that come around once in a lifetime. College coaches know this.. these are two kids with elite attitudes. They are drama free studs whose parents get it. Both were on a different level this week.
Grace Munt was the most complete player in camp last week. How good was she? A mid major asst coach said these words. "Munt can easily play in the Big East". I agree and unless you see her against elite competition, in a controlled setting. (again coaches be careful labeling kids in a AAU setting)Until you get eyes on her post passing, ball handling, elite shooting and ability to score in the lane. You really don't know how great she really is. I can tell you she turned the lights out on some killers last week. She is the most versatile defender in the state. Munt is a superstar at the next level folks. She was a superstar all week as well to nobody's surprise
When you talk about surprises, we had the biggest surprise in a decade at NBS. Molly Kelly of RBC was a last second invite to camp. Not only did she take advantage of her invite. She shocked everyone, nobody saw what she did coming. Kelly played in the Top 16 game and on each day of camp exceled and more importantly showed no fear. D1 College coaches I will tell you Molly Kelly has to be on your list of new found talent. No way a kid can play as a sophomore against that level of competition and play that well. RBC is getting serious upgrade on their roster. On a side note Kelly has done the same thing in the summer league games for RBC. While she got spot minutes at RFH, Molly Kelly clearly is in the hunt for a starting position at RBC and at worst making a major contribution to a team that will start the year in the Top 3 in the state.
Jess Riepe at times was so dominate it was hard to believe. Riepe who has been on a roll in the past few weekends was lights out this week at camp. Many believed she could've had a real case for MVP. She simply was on fire for the entire week. But when she starts putting the ball on the floor, her games goes to an entire different level. Riepe right now she is operation on a level most can only dream about.
How good was Megan Cahalan this week? Lets just put it this way. She dominated anything and everything in her way on both sides of the ball. She ran the floor like a deer for easy layups. Then she crashed the boards and set monster screens. But if that wasn't enough, her toughness was off the charts. It's very clear that Megan Cahalan right now is the best young forward in the state, don't argue it would sound to silly….she send a message to everyone this week!
Another name you want to learn is Leyla Castro. Trust me you don't know her and we don't care if she is isn't hyped but she is the real deal folks. It took me all week to learn her name. But I know it now, and that's all that matters now. Castro blew everyone away with her smart play and ball handling skills. She seemed to have come out of nowhere after a last second invite. Coaches more on this story on Tuesday because this young lady is a winner and embraced competition. Watch her matchups with Fordham bound Sophia Sabino. It was priceless.
Aleah James of Stuart Day did not disappoint. Watching her play was like watching her highlight tape. Her quickness and play making ability was priceless.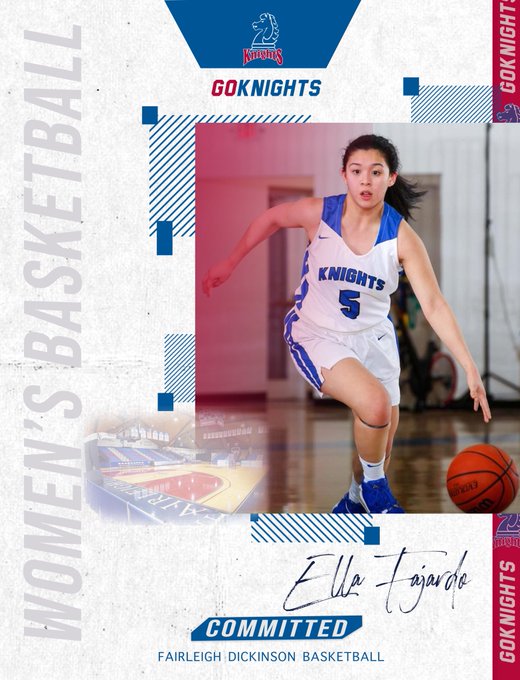 Speaking of Sabino, she and Ella Fajardo who has commited to FDU put in show stopping performances all week. There ability to see the floor and make everyone around them better is special. Sophia Sabino has taken her ability to knock down jumpers to a new level.
Faith Pappas, let me just say this, coaches watchup between she and Justine Pissott. That's all I have to say. But do me a favor watch her play on Thursday and tell me she is not a Power 5 player. You see she has a gift for getting buckets. But everyone is overlooking her strength, IQ and ball handling ability. For some reason people want to back this kid into a corner and call her just a shooter… so let me call bullshit when I see it. Faith Pappas, is a competle player and anyone want to test my track record in these matters? This kid checks every box, competitive as hell, scores, rebounds, makes plays and defends. Faith Pappas is special in every way.
Nia Melvin was just what we expected this week. The best unsigned senior combo guard in the state. Megan Gentile continued to prove she is one of the best in the 2023 class and that we need to start giving more attention too. Gentile is the real deal folks. If you like toughness and winners, well here you go, a future D1 one lock and here is a little something for you to think about…. her improvement curve is off the charts.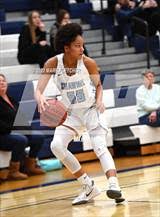 Nia Scott of Shawnee high school is going to be on every coaches wish list at some point. She did battle in the lane at 6'1″ and then stepped away for jumpers. If that was not enough she then proved she was an elite passer. Nia Scott may not be a household name now. But bet the house on this future D1 player blowing up. She proved she can play with anyone on any stage.
Gabby Recinto and Avery Kessler play for Top 10 Cherokee high school. Both started last season. Both are cool customers. Avery Kessler got off to a great start and got side tracked with a injury later in the week. But yet still returned to play. But when healthy proved what we already knew. The future D1 guard is gifted and talented. She had no problem adjusting to the level of competition. How good is Gabby Recentio? I say one of the best in the 2023 class. She is athletic, quick and tough as nails. She got off to a slow start during the week. She didn't want to tell the coaches she was sick. I like that!! But by Thursday she was killing the killers. Her matchups with Camp MVP Georgia Heine is worth the watch coaches. Gabby is a competitive hard worker…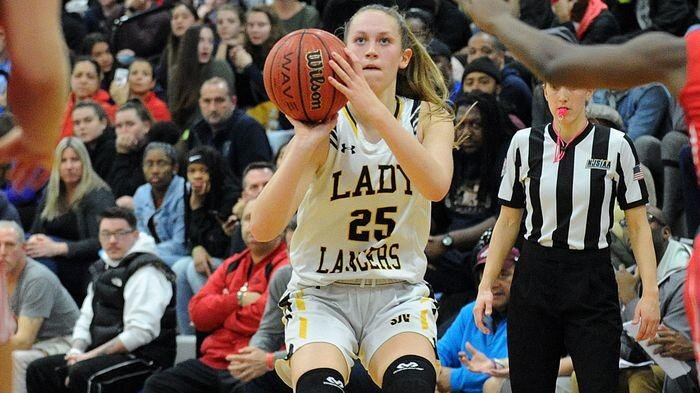 Let me say this, Katie Hill is going to be a leading candidate for Shore Conference Player of the year. That's just a fact folks. She is a elite defender, scorer, passer and cutter to the basket. Her body allows her to over power guards and forward. She is a coaches dreams because she never takes a bad shot or forces anything. Again I say the U of Richmond Bound guard is a leading candidate for POY… the video don't lie.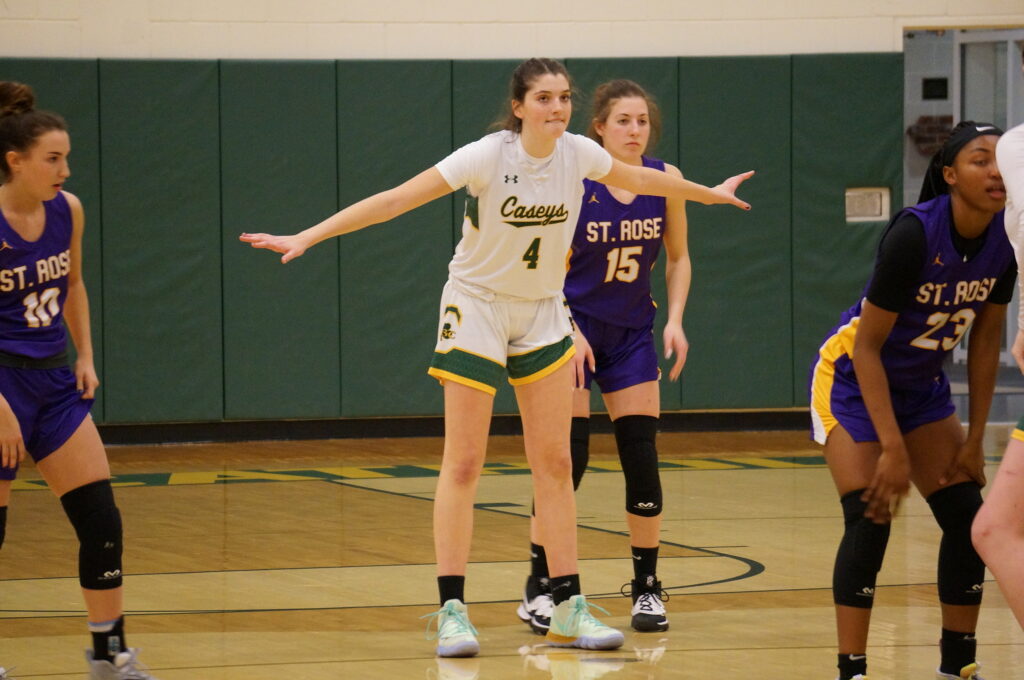 Watching Justine Pissott at NBS proved one thing. She is one of the best players in the country for any position. She was deadly all week, be it shooting, passing, rebounding or defense. She was just unstoppable all week as Manchester found out in the summer league. Her new found strength and ability to post up make her a nightmare matchup. I say she and Katie Hill end the summer as the two Shore Conference leading candidates for POY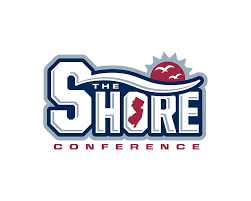 Finally 4 of the 5 All Freshman Team members were at camp. I love that those young ladies dove into the lion's den. They are better for it. There is no question they all are big time talents and will only get better and be future All Shore Players. You have to challenge the best, not talk about being the best, bravo to those young ladies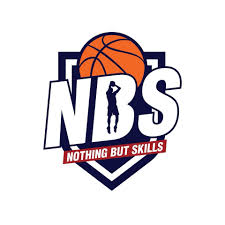 This year's NBS camp was different for many reasons. But these were the highlights from the week. Many kids started the week and disappeared like every year. But those who found a way proved they can roll with the big dogs and that's what NBS is really about. A week that saw so much talent it was jaw dropping. Many kids, didn't play didn't play their best. But they played hard. Many kids with no reputations again proved what makes NBS SPECIAL…. YOU ARE JUDGED BY YOUR PERFORMANCE…NOT YOUR REP.
THIS IS THE FINAL WEEK OF THE SUMMER… SO HEADS UP COACHES AND PLAYERS..
SUNDAY- FULL NBS COACHES CHEAT SHEET... 43 D1 PLAYERS…. 12 IMPACT D2/D3 PLAYERS
MONDAY- BALL HANDLING SHOOTING CAMP... parents you be wise to send your children to this camp
TUESDAY … BLOG ON RUTGERS PREP GUARD LEYLA CASTRO…
WEDNESDAY.… RECRUITING UPDATES
THURSDAY… COLLEGE COACHES A FULL SUMMER WRAP CHEAT SHEET.
FRIDAY… SUMMER WRAP UP