When you think about SJV, what's the first thing that comes to mind? Is it all the games won under Coach Dawn Karpell? Maybe it's the ridiculous about of talent that fills the SJV roster. Then again it just may be the tradition that has been built over the years at the Holmdel School. When I think about SJV these days, three things come to mind. How they play the best competition every year and how much the kids who wear the SJV uniform love the school and their teammates. No player on the SJV roster reminds me of these three things more than Tina LeBron.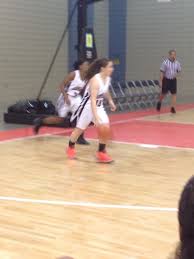 Tina LeBron is not a name most college coaches or people talk about when it comes to SJV. That my friends started to change a little this summer and it going to change big time this season. Because if you been around the Shore long enough, she is far from a stranger. Tina LeBron  has played against the best talent for years and has more than held her own. She had a big future coming out of grammar school and made a tough decision before entering high school. She has also had to overcome some hard times since entering high school.
One of the things I tell kids; don't run from competition. I tell young players to seek out competition and when older players say there is no competition in the gym I remind them "YOU ARE THE COMPETITION" now hold your ground. Being competitive is a learned skill set folks. There is no running from this fact regardless of what side of the fence you are on. When Tina LeBron came out of grammar school, she knew SJV was loaded with stud D1 guards (all 3 current projected starting guards have D1 offers). She knew SJV was loaded with talent top to bottom, as all 5 projected starters have D1 offers and most are in the same class as her. Faced with this dilemma she still decided to attend SJV. Tina LeBron had competed against the best and had a real belief in her abilities and proved it as a freshman by coming off the bench for Coach Karpell, giving SJV valuable minutes. She understood if you want to be the best, you have to play against and with the best; you must be competitive.  Some kids and their parents would be afraid of such a challenge and look for a softer landing spot; you know a school were the competition is not as fierce and playing time is almost a given….TINA LeBRON HAD NO INTEREST IN SUCH LANDING SPOTS!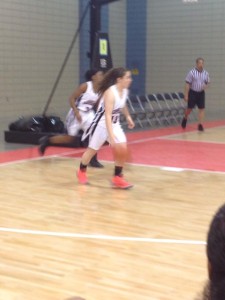 LeBron has always played with and against the Best
TINA LeBron is coming off a season ending injury last year. But you would never know that watching her on the sidelines last year; because she is a REAL TEAMMATE. Last year only confirmed everything about this young lady that I already knew. For most of last season Tina LeBron  could only help her teammates off the court and that's exactly what she did. I remember watching Tina LeBron, as she sat in the stands after SJV's, SCT quarter final win. She showered Emily Uribe and Kelly Campbell with praise. She and Vanessa P smiled and hugged each other, she laughed and told stories to her teammates all the while making sure everyone knew SJV was still her family, regardless if she was playing or not. She bragged to me how GiGi Caponergo deserved to be on the ALL SHORE FIRST TEAM.  Her support for her teammates was something that blew me away. Most times when kids are injured they don't invest much energy or time into their teams success or failure. But most kids are not Tina LeBron who actually respects, loves and believes in her teammates and coaches. She is a SJV kid from the bottom of her soul.
She will finally suit up again for SJV this season and people are going to be very surprised, because she is a super talented young lady. I would say put her on any other team in the shore and she is a major impact. She knows how to play, and plays hard.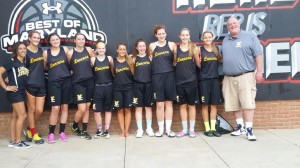 "She's BAACK!"
Tina LeBron proved she was back this summer with her explosive 38 point performance. College coaches were' texting and trying to find out more about her, this brought a smile to my face. One former Shore superstar that is now a coach, called me and said "Tina LeBron is as real as it gets" guess what? She is right and Tina is going to prove that this year. Folks will say where did she come from? and those of us who know her…. will just smile. Tina knows that she has the tools to play against anyone on the high school level. She knows that college coaches will soon be giving her the love  she missed out on last year. But most of all Tina LeBron knows that having fun is also part of what makes basketball special. Coach Karpell knows she has another very special player she can count on this season.
" I LOVE THESE GIRLS SOOO MUCH" Tina LeBron
Tina LeBron is a gifted player, who understands the word team. She could have attended any number of schools coming out of grammar school. She most likely would have started and averaged double figures. But instead, will she be be a factor for Coach Karpell this season and why? Because of her total understanding of the game and complete commitment, to the SJV program, this makes her is invaluable. Fans and coaches will enjoy watching an old school type player make the right pass and bang out open jumpers till the cows come home. Tina is supremely confident in her abilities and nothing will intimidate her, her practices are tougher than most games. Tina LeBron is a gym rat and has loved the game since an early age, so the past year has been hard on her… weather she admits it or not. She loves being in the gym but more importantly, she likes bonding with people and making friends. This will be her coming out party this year…BANK ON IT!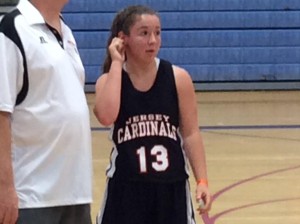 LEBRON IS A PROGRAM KID!
I always tell college coaches, you need program kids to win the games that really matter. You can always count on program kids, because they always show up with the right attitude. They always put the team ahead of themselves and they always care more about the name on the front than the one on the back. Program kids don't need the spotlight to be happy; they just want to be part of something special.  The moment a program kids put your teams uniform on… YOUR TEAM IS INSTANTLY BETTER and no one is a bigger program kid than TINA LEBRON!
It's not surprising that Tina LeBron is one of the most well liked kids in the Shore Conference. Everyone roots for her because she and their parents have HALL OF FAME Character. Her  parents are first class in every way and root for all kids not just their own. They are kind humble people and it's rubbed off on their kids. Program kids are getting harder and harder to find folks. We live in a time where being a star what matters more to some kids and their families; and team and friendships are after thoughts. LeBron has been an after thought due to injuries but it has not affected her desire to be a great teammate.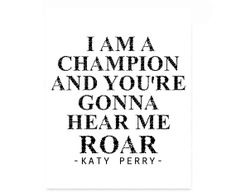 SJV is going to ROAR WITH TINA LEBRO'N'S  HELP!
SJV is going to be good this year, how good you ask? MUCH BETTER than last year, they are all grown up now. Those former superstar babies are now the leaders and they are adding another piece to the puzzle to get them over the top. Tina LeBron  will do whatever it takes to win; she will have no agenda other than CHAMPIONSHIPS! Sometimes taking the easy way out is not always the best way to go; sometimes you just have to believe in your school and yourself…TINA LEBRON BELIEVE IN BOTH!
UPDATE; NBS STILL ACCEPTING APPLICATIONS THE SKILLS SESSION STARTING NEXT SATURDAY SEPTEMBER 6TH    https://nothingbutskills.com/registration/