If Courtney's older sister Amanda taught her anything…getting credit and being appreciated sometimes takes time. The big sister of Courtney Hagaman did her job for 4 years in high school. She won a TOC and was one of the most underrated players in the Shore Conference. She was never given much credit, she didn't win any personal awards and nobody called her special…except her family and teammates. She did not have a scholarship offer until October of her senior year. Courtney Hagaman had a front row seat to her big sister's journey to UMBC. It 's a good thing she did,  because it taught her  all good things come in time….and in her case a really long time. COURTNEY HAGAMAN is on vacation and that vacation just got a little more enjoyable…. because yesterday she just joined the Manhattan College basketball family…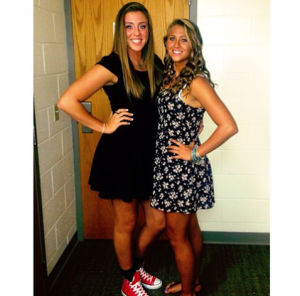 Courtney Hagaman did everything you can ask a kid to do in order to position herself for a D1 scholarship. She lived in the gym, she did all the workouts, she was totally dedicated to not just the game but to her teammates as well. When her AAU team lost both of its talented guards before the July recruiting period started. She did the unheard of in AAU and remained loyal to her Cardinal team. Her parents felt it would be wrong for her to do to others what others had done to her. Two wrongs never make a right. They took a chance with their daughters career, by teaching her to do what's right. She played out of position all summer, as college coaches asked over and over why is she tying to be a point guard. Courtney Hagaman was not trying to be a point guard, she was tying to be a good teammate. She refused to leave her teammates high and dry. Her mother told me in September " I think I made a big mistake, I should have done like everyone else and now Courtney is paying for my mistake, but its not how we raised Court and I just couldn't do something I know is wrong" Being loyal sometimes can make your road a little harder than it needs to be and Courtney Hagaman found that out.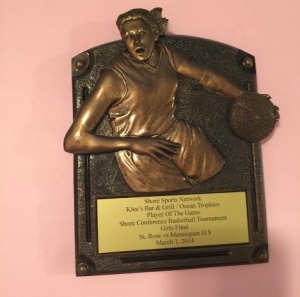 No picture of Hagaman and the MVP exists
Last year Manasquan won their first SCT and nobody played a bigger role than Courtney Hagaman. It was her shot against SJV that saved the day. It was her compete game in the finals against St. Rose in the SCT final that earned her the MVP of the tournament. But if you picked up a newspaper or read anything about the game, Courtney Hagaman could have been a ghost for all practical purposes. There were no interviews or stories written about the best player in the SCT.  There was not even a picture of her holding the MVP Trophy. Courtney Hagaman was relegated to a bit player, rather than that of someone who had just won the MVP in the best high school conference in America. The player who was so loyal to her teammates and made so many sacrifices again was not fully appreciated.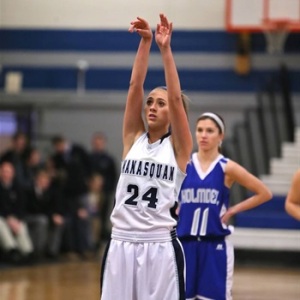 This year Courtney Hagaman watched as 15 players got that phone call from a D1 coach asking them to join there program. Hagaman never got one of those calls and it had to hurt. I asked her once at NBS "you feel like you should be there don't you?" she said YES. Then the Division two offers starting coming in. She was hurt because she could not understand why players who had not accomplished more than she were moving on to D1 without her. Then one night I received a phone call, it was from Courtney Hagaman. She said "I belong in D1 and if I don't try, I know I won't be happy" I reminded her it okay to chase your dream, but there are no guarantees.  Many D2 coaches, friends and basketball people thought she was crazy to pass up a guarantee  scholarship to college. But Courtney remembered her older sister hearing those same words and decided it was all or nothing…COURTNEY HAGAMAN WAS GOING TO CHASE THE DREAM.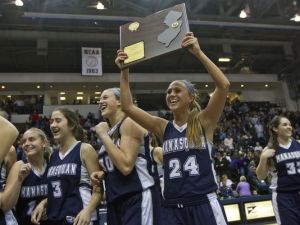 This season Courtney Hagaman did all the little things for Manasquan. She played defense, she hit big shots and scored when Manasquan needed it most. What she didn't do was play for herself. She didn't become a box score junkie and only worry about stats or having her name in the paper; this was not her driving force. She was concerned with only one thing…WINNING! Courtney Hagaman has been one of the biggest winners in Shore history and most people barley know it. There really is nothing that she has not won in her time. She has won the SCT, TOC and the biggest MVP of all the SCT MVP. I can't think of anything she has not won except the recognition that comes with such success.  She waited and waited for that one  phone call that could make her dreams come true and it seemed it would never come. But it never stopped her from working towards her dream. During Academic Elite the coaches where all dreaming and hoping they could make that steal the would elevate their D2 program. But I have always said if you good enough and you just get better they will find you….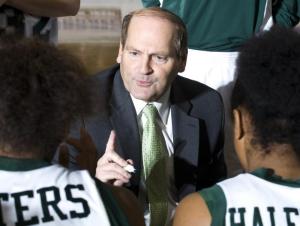 Ask anyone in college basketball about John Olenowski and the first words out of there mouth is this " he is a great guy"… folks this is a fact, you do not know a more honorable, honest man in college coaching. All coaches talk about how they care about kids, well the Head Coach at Manhattan coach delivers more than lip service. He takes care of his kids and his word is like gold. The man does not have a dishonest bone in his body.   Yesterday while on vacation Courtney Hagaman told Coach John Olenowski that she would be joining his program. It is a match made in heaven, because both Manhattan College and Hagaman have not had it easy. Manhattan College is trying to prove they can be special in the MAAC and Courtney Hagaman has been trying to prove she too is special. Both Manhattan an Courtney Hagaman have needed time and both have been on a journey for respect. But both have a vision and have stayed the course. John Olenowski, only wants kids who want to be at Manhattan and Courtney Hagaman WANTS TOO BE AT MANHATTAN because she knows the respect they have for her and they made it clear they wanted her. All Courtney Hagaman has ever wanted is for somebody to appreciate her and see her worth….MANHATTAN COLLEGE SAW IT AND NOW THEY ARE FAMILY!
So now it's over and Courtney Hagaman will join her sister in the D1 world of basketball. She had one of the toughest roads to get there. She and her parents always did the right thing in a time when kids and parents can be self- centered. She made some real sacrifices for teammates and others along the way. She took risk with her future by not thinking about herself at times. But just like her older sister, she has achieved her goals without walking over friends and teammates. That's why this  journey is that much sweeter, because she did it the right way. I am not sure anyone other than her family ever really had her back or believed in her the way they did. Somewhere along the way, her parents gave her a real backbone and inner toughness. Courtney Hagaman,  like her big sister never got full her due along the way….but she did get a chance to fulfill her dream….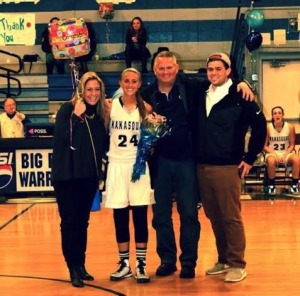 CONGRATS 'TO COURTNEY HAGAMAN…TOUGH TIMES OVER…NEW DREAMS TO THINK ABOUT FULFILLING!
REMINDER– If you want to become a better ball handler and work on your point guard skills…Point Guard School starts on Monday at Hoop Group..4.30 pm-5;30 pm…