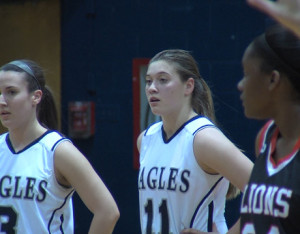 College coaches have discovered a future star and she is not somebody who seeks the spotlight. Some may believe that she is simply coming into her own and all this is new. Some shore fans still may not even know her name. But one thing is clear college coaches know her name and she is becoming one of the most popular players in coaches speed dial this spring.
I met Haley Dalonzo when she was a 4th grader. She came to camp with her hair down, no pony tail, just hair flying all over the place. She said exactly two words the entire week. She would say "hi" in the morning and "goodbye" in the afternoon. But her playing said so much, so much that I gave her the nickname "THE FUTURE" that's how good she was. Haley Dalonzo even as grammar school player was athletic, strong and physical. It's the same style that she has brought to the table at Middletown South.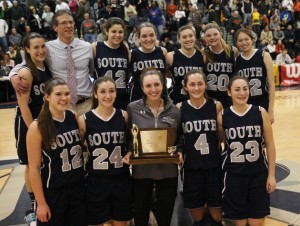 Dalonzo has already won 2 state titles
Haley Dalonzo has been a starting guard at Middletown South the past two years and in her time, Middletown has seen a success that has never been matched. She helped Middletown South wins its FIRST STATE TITLE in over 30 years, as a freshman. Then this year she helped Middletown make its first TOC appearance in school history. It's safe to say it been a great 2 year run for "THE FUTURE". . She is developing at light speed rate and it's because of two reasons. First as a member of a national ranked soccer program, she had to live in two athletic worlds….basketball and soccer. Now she only lives in the basketball world because she is not playing soccer this spring. Next she committed herself to getting in the gym and improving her skills sets.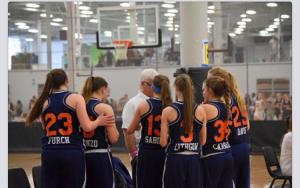 Dalonzo is coached by Joe Whalen during AAU
Haley Dalonzo is a very lucky young lady, because she gets to play against and with one of the most gifted athletic players in the shore in Stephanie Karcz. She is a mini version of the two time ALL SHORE GUARD. She is also coached by two giants in the high school basketball world. TOM "THE PROFESSOR" BRENNAN during the season. Then in the AAU season she gets coach by JOE WHALEN, TWO STATE TITLE WINNING AND TOC COACHES. Right now these two have to been considered two of the best in the business and Dalonzo has both guiding her development…talk about timing and luck!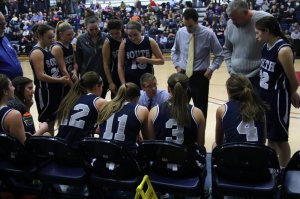 and TOM BRENNAN at Middletown
"TINY DOLONZO IS KILLING FOLKS ON BOTH SIDES OF THE BALL, CAN YOU CALL ME NOW" quote D1 Assistant Coach
"I think Dalonzo has a chance to be really special" D1 assistant coach
"Sitting here watching Joe Whalen team, what's deal with Dalonzo? I love her" Patriot Assistant Coach
"It's amazing all the people calling on Dalonzo" Joe Whalen Head Coach St. Rose
This is what coaches say when your team goes 6-0 in the two day recruiting period and you overwhelm opponents with your attacking, aggressive style of play. This what happens when reputations don't matter and productivity does. Dalonzo is like a bull in a china shop once she gets in the lane. Players just seem to bounce off her like ping pong balls. She is one of the best finishers in traffic I know. Dalonzo has a game that translates to college. If she improves her shooting range, then all bets are off to what level of D1 she will play. She plays for one of the best defensive high school coaches in New Jersey and maybe the offensive coach in the state….get the picture? This combined with her pure athleticism and the decision to focus on just basketball has produced shocking improvement already ….JUST ASK ANYONE WHO HAS BEEN WATCHING.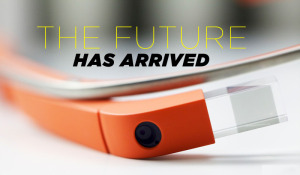 Now that the spotlight has gotten a little brighter this fiery and intense player (yes she is super intense when the ball goes up…that is the soccer in her coming out), will need to handle the attention that goes with it. She has now caught the attention of college coaches and she will feel more pressure to perform at a high level each night. This summer she will need to step out of her quite personally and enjoy the ride, because the attention and love from the college coaches has just begun and "THE FUTURE" …HAS CLEARLY  ARRIVED!
UPDATES…..

THE NBS CAMP STILL HAS SPOTS AVIALABLE AND WILL SELL OUT…This is the most competitive camp in New Jersey for all ages..(Advance players are best suited for this camp while all are invited).
Players interested in College workouts just text, high school players by invitation ONLY. All college players are invited  please e mail me before attending…
POINT GUARD SCHOOL WILL RUN FOR THE NEXT TWO MONDAYS…
THE BALL HANDLING SHOOTING CAMP AT HOOP GROUP STILL HAS SPOTS
.