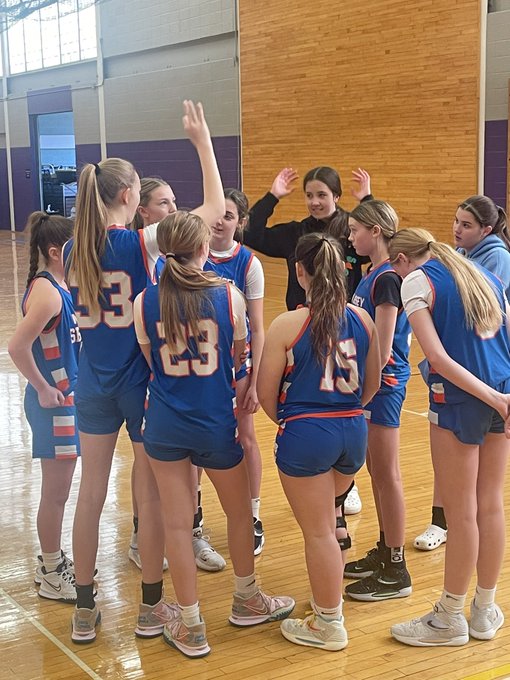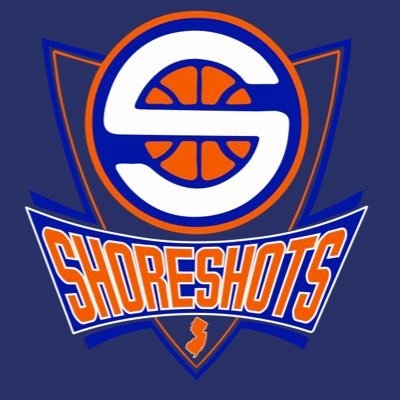 The 2026 NEW JERSEY SHORESHOTS (Liggio) Team. This is a collection of some of the best 2026's in all of New Jersey. This is a team Division One coaches will follow Religiously for good reason. They are right now the most talented team in the 2026 class Top to bottom. They are quickly becoming the new the gold standard in the Shoreshots staple of stacked teams. They have every type need on there roster to please any college coach at any level. They have no least than 4 players who will be in the Shore Conference Freshman of the year conversation. They have all played high level AAU and played with and against some of the best high school players in NJ. They are a college coaches dream type crew.
This may be the most competitive young group, I have seen in 15 years. College coaches you would have to go back to the Chambers CJHawks teams to find a more competitive young group. They have elite confidence, play with a massive edge and have a swag that gives a presence, rarely seen in young players. They root and cheer for each other in a way rarely seen in AAU. Many compare them to the great 2021 ShoreShots who had 10 D1 players… newsflash THERE BETTER at this point. That's because when you use the word GYM RAT, you start with this crew. College coaches you won't complain about this group. There train every day vs older, much older stronger D1 competition everyday. While other young talented players are off to games and evaluation clinics. Coaches this crew is in the gym working on there improvement curve. They have won just about everything along the way and have taken on all challengers. They get in transition as often as possible, use there post game to perfection (rare in AAU) and overwhelm teams with there talent and IQ. They are all excellent ball handlers and SHOOTERS. They are a highly skilled group, that will play up the entire summer. They are the new "IT" group and college coaches newest best friends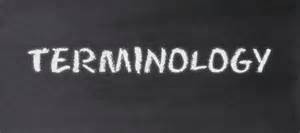 Before I start I would like to clear up a little terminology. When I say a player is a lock Division one player that means a player has a offer on the table or I believe will eventually have multiple D1 offers at some point…key word being "multiple" MY TRACK RECORD IN THIS AREA SPEAKS FOR ITSELF…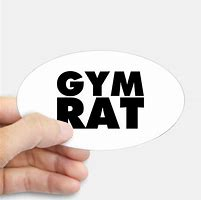 When I call a player a GYM RAT, that player is constantly in the gym, outside there team practices and comfort zone, seeks outside competition and there work ethic is bigger than their ability. GYM RATZ don't train alone, they train with killers. These players train against high level competition. I never call a player a Gym Rat, unless I have seen them against older elite competition and PERFORM at a high level while doing so. They are in the gym at every turn and seem to always be around. These players will be better in college than high school and can play a level HIGHER than there recruitment. I believe you build programs with gym rats…they have a added value recruiters do not get to see. Gym Rats are tough to find as all coaches know. There are hard workers and then there are GYM RATS…Learn the difference.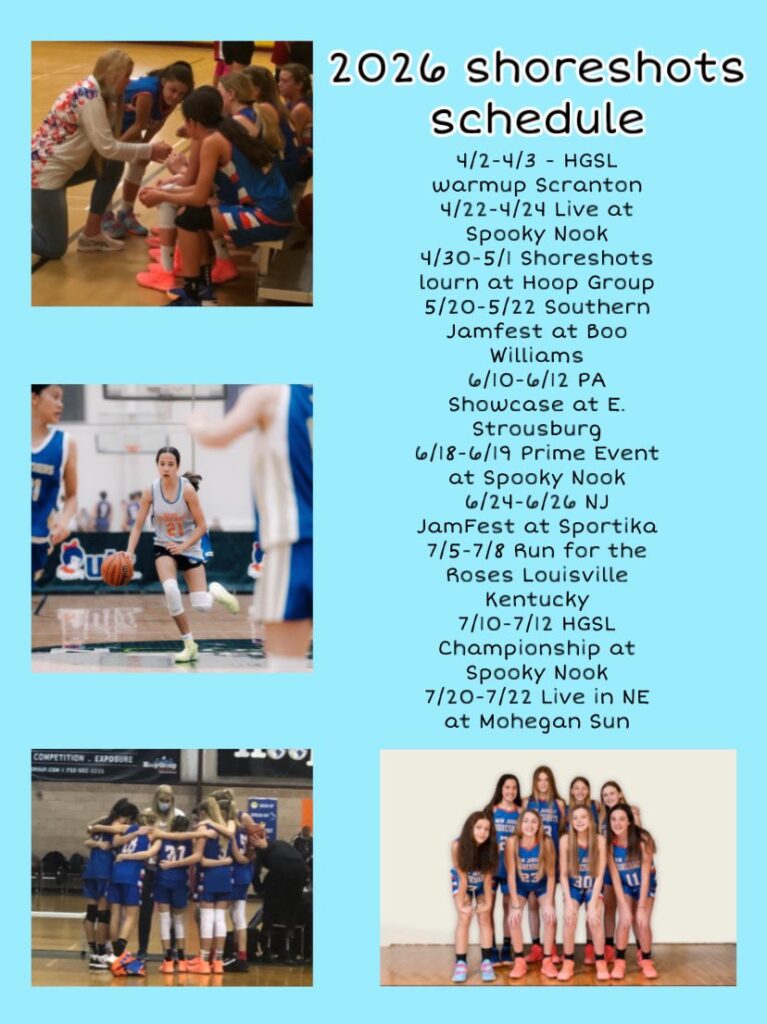 THE COACH

She is a former D1 basketball player at Rider University. She has built her team into one of the hardest working, discipline groups we have seen in years. She is dedicated and expects that from her players. She is a task master and holds her players accountable at all times. They all understand team defense and she makes her team focus on communication. Her competitive nature clearly rubs off on her team. She has discovered that sweet spot between working hard and having fun. She tries to put her teams against the best competition she can find. She is demanding and fair always. Right now she just may be Head Coach of the most talented group of players in the 2026 class. Jenny Liggio is building a reputation as one of the best AAU coaches around New Jersey these days. She has mastered the art of player development, building confidence and performing in games. Her oldest daughter Christina, was just named the 2022 HOOP GROUP FRESHMAN OF THE YEAR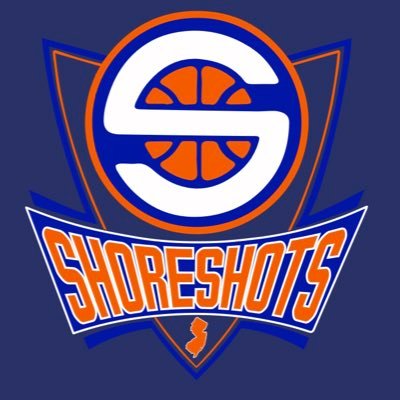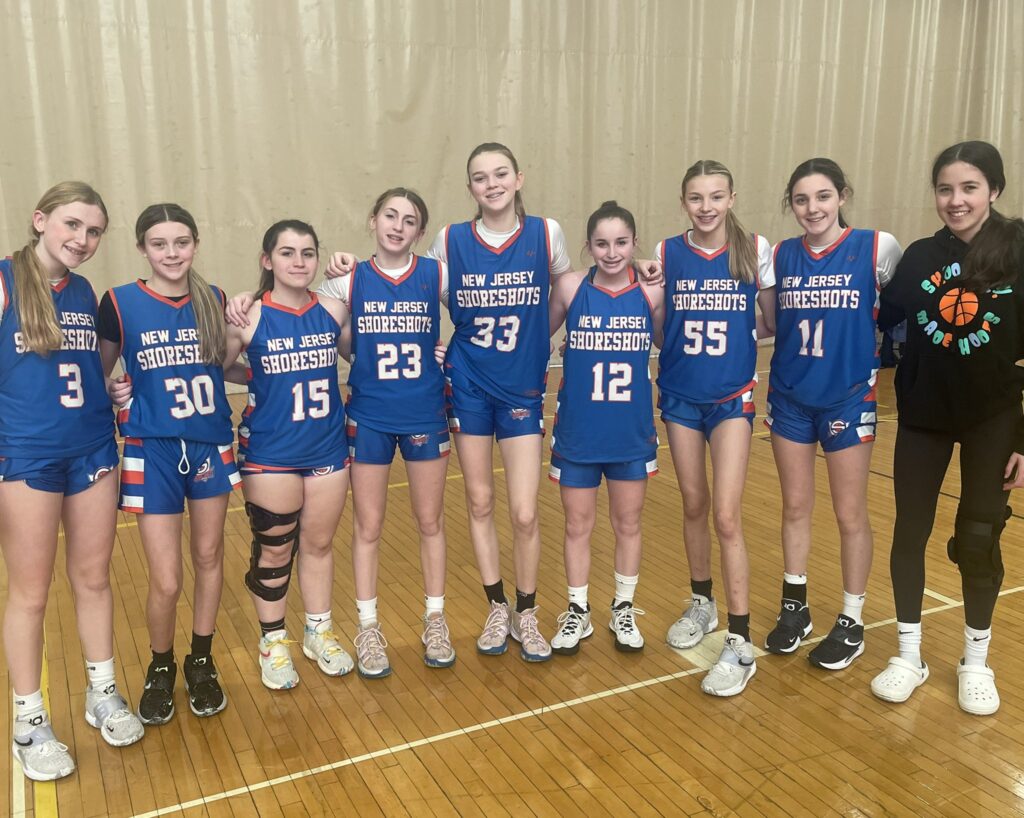 CURRENT DIVISION ONE LOCK PLAYERS–(5)
Possible D1 players- (6)
Special note– this team has( 1) DIVISION 1 fence sitters
GYM RATS– (4)
POSSIBLE POWER FIVE D1 PLAYERS– (2)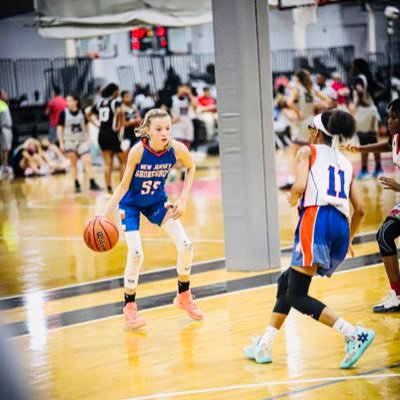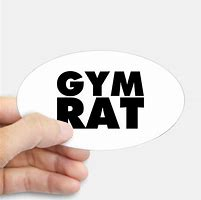 As a Division One Head Coach said at Academic Elite last summer. "she is the most talented player in the gym". He was right because "the bad woman" is a totally different animal folks. She brings elite length, size, quickness and next level skill sets to the guard position. She is a deadly shooter to 25 feet but masterful at getting down and finishing at the rim off two feet(rare stuff). Her ability to break down opponents off the dribble is special. She understands when to play fast and when to slow it down. Her ability to stop on the dime has no match. She plays passing lanes as good as any guard we have seen in years. Her ability to anticipant and pick off air passes is a gift. Her handle is in a word is "dirty". Her genes are not bad either. Her father was a D1 basketball player at Monmouth and her mother played D1 soccer at Monmouth as well. She has not Scratched the surface of a physical development yet. We are are looking at a 6'1" point guard in the future. We are also looking at one of the Top 2 freshman recruits in all of New Jersey. Make no mistake this highly competitive GYM RAT with special vision and a next level IQ is a future Power 5 player if that what she chooses to do… in the meantime she will enter her freshman year at RED BANK CATHOLIC as the clear front runner for FRESHMAN OF THE YEAR.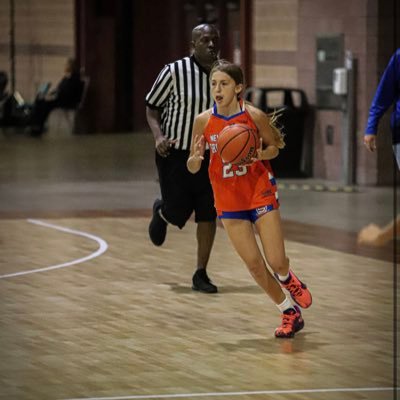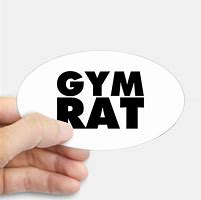 She is arrogant, tough minded, competitive as hell, Swaggalicous and brings a confidence level that is shocking. She has simply willed herself into the gold standard of pure point guards in the 2026 class. She has done so by simply out working the masses. College coaches she in the gym 5 hours a day and that is not an exaggeration. But its 5 hours of quality time vs older future and current D1 competition. Her competitive nature has no match. Just like her ability to shoot behind screens in pick and roll. She is simply the best shooting high percentage point guard in the 2026 class by a country mile these days and she accomplished this with an elite work ethic. Her handle is shifty and tight backed up with leadership skills that are off the charts. She has the floater game or the pull up game in her bag of tricks and treats. She is a master at raking the ball and has excellent timing when blocking shots on the run from behind in transition. She has mastered the art of hyping up teammates and demoralizing opponents. She is creative and giving to teammates in the open court. But she does her best work at running a offense. How good you say… how about former like former great Sophia Sabino like good, EXCEPT BETTER! Strong words but true. Her totally understanding of how to play against pressure is a gift that comes from playing against elite older D1 defenders. She is a role model for how to start at the bottom and move to the top… because right now college coaches this is the GOAT of pure point guards in the 2026 class. She will attend RED BANK CATHOLIC in the fall and instantly become one of the best freshman in New Jersey.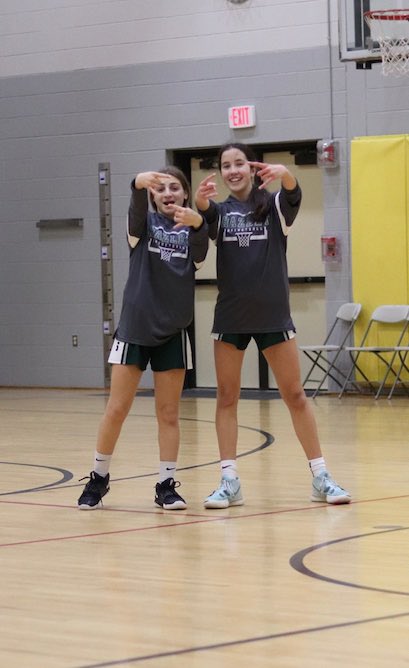 There is only one word to describe Teagan Drennan, "sleeper". That's because this is the biggest sleeper in the 2026 class. Her development has been nothing short of amazing. Its starts with her being maybe the most fit and conditioned player in the class. She is long as they come. She is one of the best weakside rebounders you will see in the 2026 class. Her handle while not dynamic is very Efficient and reliable against elite pressure. She is not a speed freak but she is a space eater. That's because she has a total understanding of team defense. She can bury jumpers to 22 feet and finish in the lane. There is no question her best years are ahead of her. That's because her improvement curve has been massive and more importantly consistence. She is getting that D1 look more and more She also has been doing the same thing as her future high school TRINITY HALL has been doing… SHOCKING EVERYONE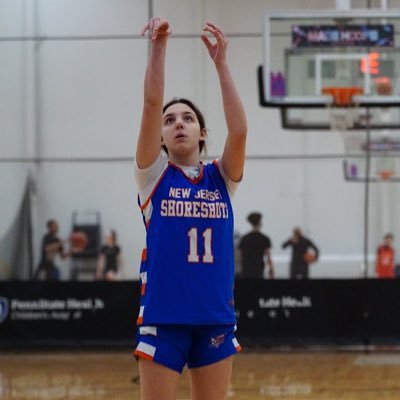 She is the unsung hero of this team. She is a classic glue player. She could easily go play for a weaker AAU team and get stats. Instead she has chosen to challenge herself as a player. It has turned out to be a great decision. She is versaitle in every way. She can guard forwards, guards and bigs. She plays bigger than her size and not afraid to get dirty. She is a box filled with intangibles that coaches love. She makes open shots and knows how to move without the ball. She can read how to feed her teammates and lives on the class. She is simply a winner. Her handle allows to make plays off the dribble and her IQ allows her to play any role. She is a young Swiss knife. She has played against high level competition and embraces physical play always. She is a outstanding student and the exposure the Shoreshots get will bring massive interest to her doorstep in time. She will attend TRINITY HALL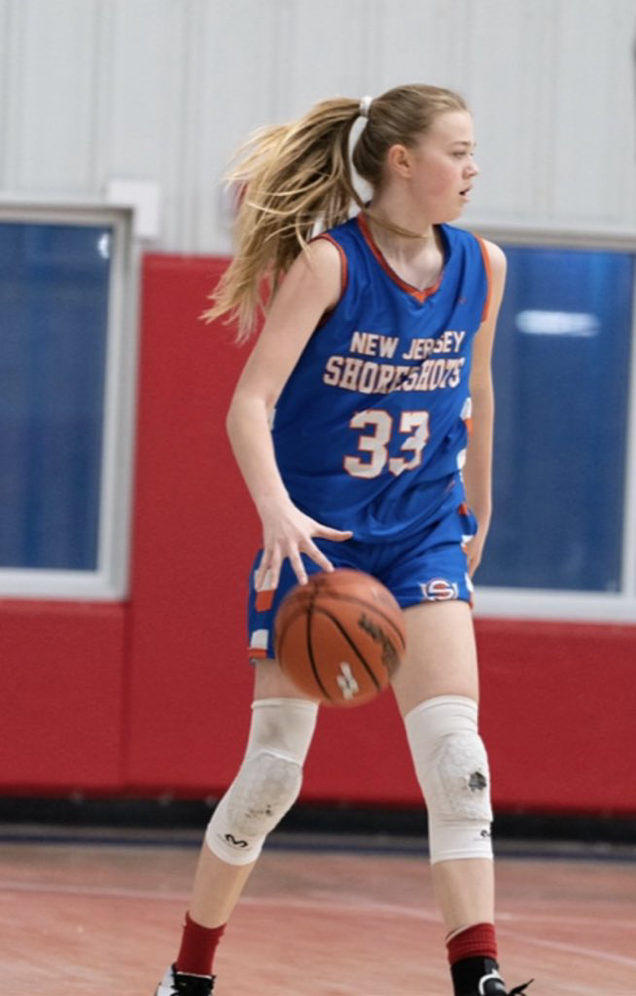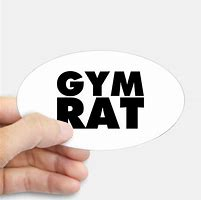 There is no question this is one of the best young forwards entering high school next year. She is a classic case of a kid getting in the gym and making the necessary sacrifices while putting in the work to get to the next level. The result in this case, is the most versatile mobile young forward entering the Shore this year. She can defend in the post by fronting, 3/4, or behind bellying up. She is a seasoned defender. She guards pick and roll better than some college players right now. She can switch or double guards. Because of her insane length and elite feet, she can block shots and rebound in traffic. She lives in the gym year round and has that positive upbeat personality that coaches crave in there bigger players. She can bury the mid range jumper with her eyes closed, once again a developed skill set. Because of the hands from the heaven, she makes wing passers look great. That's because she can catch any pass know to man or women.Her foot work in the post is downright nasty. She has a up and under, the jump hook and the drop step. In other words she is a problem in the making. She is a future D1 lock in every sense of the word. That's because she is a GYM RAT, with talent and has a real desire to be one of the best and that's exactly what she will be during her time at RED BANK CATHOLIC.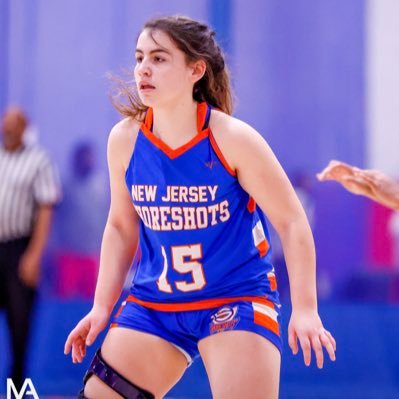 She is quick and has an ability to get by opponents off the dribble vs pressure. She is a pit bull on defense and will guard the ball baseline to baseline. She forces turnovers because she is physical and low to the ground. Her court vision is excellent as is her elite posting passing ability. An Atlantic 10 asst coach said she was "the most creative player on the team". Strong words and rings with truth. She has the ability to get on three point shooting runs from 23 ft that can break a game open. She is electric in the open floor because of her strength and various ways to finish at the rim with both hands. She will attend St Rose High School in the fall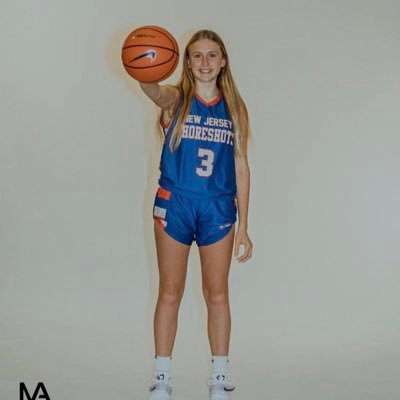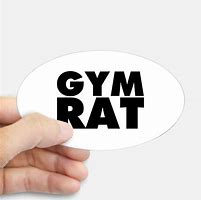 She is the best shooter in the state of New Jersey right now. No current high school player has her range or shooting Efficiency. Her range is to 35 ft and her selection is the reason her percentage is so high. She is a gifted scorer and despite her size is the best post up guard I have seen since Madison St. Rose. She is an elite free throw shooter and lives at the line. She has a strong built and athletic body. Her creativity with ball off the dribble is magical. She is the total package on offense. She is the best offensive player in this years entering freshman class… PERIOD. She has seen every type of face guard, double team and game planning defense an elite shooter can see to this point. She makes the words GYM RAT sound like a punchline, that's because there are no words that can describe her dedication and commitment. Coaches you must understand she trains and plays against the best of the best older D1 players everyday. Her defense has made leaps and bounds by simply working to be better. She is one of the three best freshman in all of New Jersey. Before Power 5 schools coming begging for her services… she will attend RED BANK CATHOLIC HIGH SCHOOL and be a leading candidate for FRESHMAN OF THE YEAR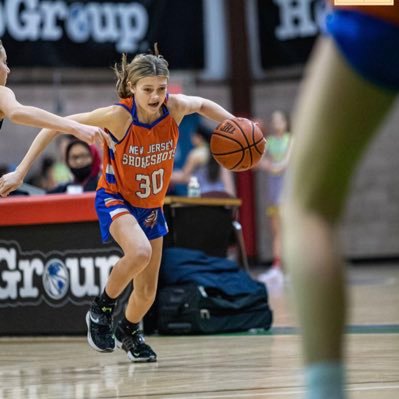 She is a classic lunch pale player. She shows up everyday. They say birds of a feather flock together. Well this bird likes hanging with the big dogs. That's why she is part of this group. She wants the challenge and in turn has reaped the benefits from challenging herself. That's because she seems to get better each time you watch her. She also is going though a growth spell. She has gotten taller and stronger. This has helped her game a great deal. She is a excellent shooter who can play both guard positions. She is smart and most importantly reliable. She has a excellent future ahead of her and will impact Ocean high school from day one. Giving them another year round player with talent. She has seen real high level competition over the years and played against elite AAU games. This will no do doubt help her shine this AAU season and in high school next year. She is a young lady whose confidence is growing as is her status as a player among those who are watching.


Once I get eyes on her, I will update her status