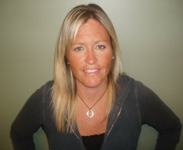 I always feel like the AAU season does not begin until the Cardinal Tip Off Tournament takes place. Kristen Somogyi year in and  year out makes this event, must see basketball. She matches up the best competition and tells the teams let the chips fall where they may. This year was no different as the event was once again a home run.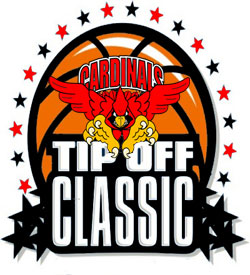 The Cardinal Tip Off, was loaded and some of the matchups, were a peep into the future. The 2022 Cardinals and NJ Belles was a game that saw two talented group of babies go after each other. Both these teams are talented from Top to bottom. But more importantly play insanely hard. We are talking about Mary Klinger vs Ellen Masonious two talented coaches on the sidelines. But this game down to one thing. KYLIE CAPSTRAW  who was on a different level all day. There was no answer for all afternoon. In her first game she had 17 points in a half. Her ability to post up, shoot three's and pass are something to behold. She was the reason the Masonious Belles pulled away late in a early season AAU statement win. These are two of the better 2022 teams. Mary Donnelly clearly will be one of the best incoming freshman in the shore. What surprised me was her ball handling and passing skills in transition at 6'0″. Dorothy Lofferdo, I have spoken about a number or times and she too is a future impact player. But it's Brooke Hollowell that we better start talking more about. She my friends was sensation this weekend. Manasquan coach Lisa Kukoda, was there watching her two future studs…smiling and smiling.
The JSE 2021 team was also in action. Katie Hill looks like she is ready to walk on a college campus right now physically. No player I have seen this spring has developed their body more. She also spent the afternoon playing the point position this weekend. It may be a surprise to most, but this could eventually be her college position. 6'3″ Megan Cahalan, is going to be a real factor in the shore conference, if this weekend was any indication. She is not just mobile but can finish and step away at the rim. I believe this kid has a BIG FUTURE. Amelia Medolla, is rapidly becoming a player that St. Rose will be happy to have in the rotation next year. Her improvement cannot be dismissed and appears she will only get better. The Linney Belles went 4-0 over the weekend.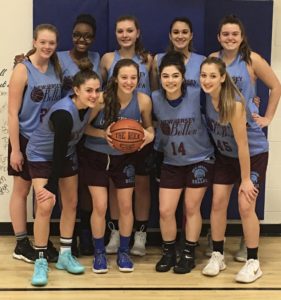 The Fagan Belles is one of the most interesting groups I watched all weekend. It's clear Dani Evans is becoming a serious problem for opponents. Evans is a serious rebounding wing, who can knock down jumpers. But what impressed me most was her ability to but the ball on the floor. This team also featured Sam Mikos, who played very well against top competition like the Comets. She is so underappreciated, its scary. I believe this could be a breakout summer. Annie Makos is also part of this team and showed she can knock down shots. Along with Maddie Fagan, they give the Belles a nice one two punch in the back court.. Babies Sammie Jay and Christina Whitehead are  two very talented players and will no question be nice additions to this crew. But it was Maureen Stapleton that jumped off the page for me. She looks trim and active, to go along with her insane vision and ability to not only make shots, but rebound against bigger opponents. The Fagan Belles stepped up their competition and had a nice weekend.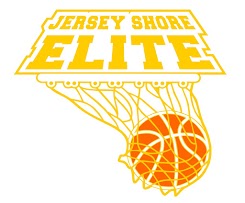 No team had my attention more than the 2020 JSE, this team was loaded with sleepers. They have so many kids with a upside. There is a real chance this group one day, may have 3 D1 players. This is a group of players who compete and I believe have chance to really grow as group before the July comes rolling around. Catlin Wingerztan, is a 6'3″ future D1 player. She has a college body who makes shots and rebounds in traffic. This is a future in demand post player. Then their is RFH stud Lucy Adams, who I believe can be superstar one day. Adams looks much stronger and appears to becoming more confident. Her upside is off the charts. Now her is something for college coaches, Taylor Crystian, Rachel Kuhl and Julia Setaro are a really talented group. I believe they all are going to be recruited at the next level. I was very impressed with Kuhl and hope to see her against top competition at some point. The Barry Twins, Ashlynn and Caitlin are showing they have a big future and a nice home with JSE. These two have a chance to wear D1 uniforms in time. This team had a up and down weekend. Mostly due to not being together very long. College coaches should not sleep on this group. THE CARDINAL TIP OFF IS PERFECT JUMP START TO THE SEASON FOR THIS GROUP.
Nobody puts together a AAU TEAM like Mary Beth Chambers. Once again, she, has a talented group. While they went 1-3, it was clear that her JSE team were more interested in developing as group this time of year. Like every year, come July this will be a well oiled machine. Jenna Jordan, Sarah Karpell and Jenna Paul have ALL given verbal commitments to D1 schools. Brielle Bigsono, is the best returning point guard in the shore. Natalie Smith, clearly is a nice addition to this team. Her passing and ability to make plays where on full display this weekend. Isa Brennan is a future D1 player and along with her high school teammate Madison Szabo, had nice moments and can be expected to have big summers. But the player who coaches will be most surprised by is Gisella Romeo, who may have been the best player on the JSE roster this weekend. She my friends was so very impressive this weekend.  This team showed that they will be ready to roll come July.
What I love about the Cardinal Tip Off is there are always these little gems you find. The Central Jersey Hawks 2020 is one of those gems. This is a team with kids under the radar who are the real deal. I have always loved Carson Fontana, she is a talented, athletic hard working player. She is a kid that in time will catch the eye of all. But also on this team is Brianna Sliwinski a major sleeper. Sliwinski soon will be a household name. I personally feel this kid, gives this team a player that should draw in coaches, once she hits the radar. This is a team that really benefited from playing in this event. They just need exposure and the players will take care of the rest.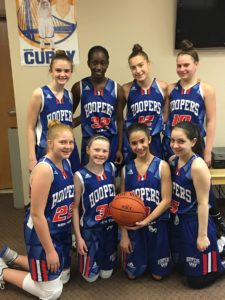 The lady Hoopster of Staten Island had a grand ole time at the Cardinal Tip Off. The 2023 team went 3-1 on the weekend, while playing up. They are coached by Dan Melious who can flat out coach them up folks. His daughter Nicole was a nightmare for opponents all weekend. This is a well polished young team. They were most impressive, unselfish and played hard all weekend…
While they are not a Shore team, TEAM MILLER  was so impressive. Diamond Miller leads a talented team. They have added future D1 lock Lauren Lithgow to this group. I still am shocked that more schools have not caught on to Pa product…Emily Cramer, look for her to open eyes this year on the AAU circuit. Once again Team Miller not ducking competition and are talented top to bottom.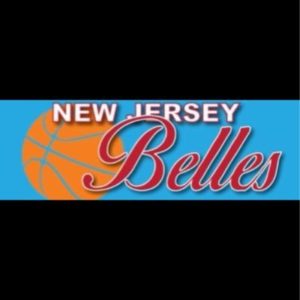 The next great team coming out of the Shore is the 2024 New Jersey Belles. Folks this team is stacked from top to bottom. It is a team loaded with future Shore Stars and D1 players. They have size, shooting and talented ball handlers. It is a special group and will be heard from in the future.
Interestingly the best game I saw in the past two weeks, was the 6th grade Cardinals against the Team Miller. The intensity and effort of these young players was off the charts. Just as important was how well coached and hard both teams played. It was a real treat to watch..BRAVO to all those little babies.
This event was stacked and for the record with stud programs. Team Miller, Xcel, the Comets, Fencor and other powerhouse teams showed up with mega talent. Making this event what it always is special. THE CARDINAL TIP OFF ONCE AGAIN WAS A HIT..
PREFORMACE OF THE WEEKEND
JUSTINE PISSOTT OF THE 2021 SHORESHOTS went off at the sparks tournament. She had 36 points and 9 three's. Pissott folks just could be one of the ALL TIME SHORE GREATS ONE DAY.
UPDATES….
POINT GUARD SCHOOL TODAY…..4.30
CORE SKILLS TOMMOROW