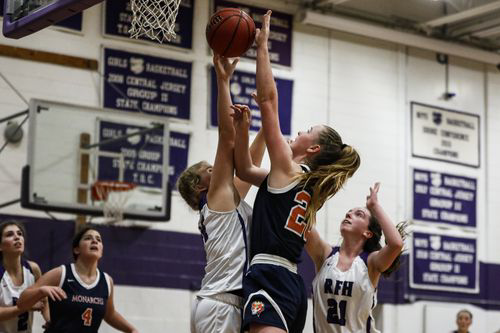 Now I wrote a blog about Siobhan Stapleton just two months ago. Now you may say what can be new in two month's, what has changed? Well there is a lot more Siobhan Stapleton is doing these days to prove to college coaches, fans and media types that she is going to be special at the next level. Here no nonsense work ethic and commitment to the game speaks for itself. That's a given when taking about Siobhan. But you ask what is different in two months? Well a lot, that's because Siobhan is just taking things to a whole new level. Siobhan Stapleton is not about bells and whistles. She is about producing. These days she is producing the best SWISS KNIFE around… HERSELF.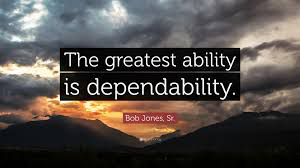 There is a old saying, it goes like this "at the end of the day, more is said and less is done". Well Siobhan Stapleton motto should be "at the end of the day more is done and less is said". That's because everyday Siobhan Stapleton does the hardest thing in sports….SHOW UP! In a time where college coaches complain about kids not consistently showing up and being reliable. It's one of Siobhan Stapleton's strengths. She just doesn't brag about it or make it a major production. It's not just not her ability that move you, it's her ever constant dependability that separats her from so many other talented players. Its just who she is and what she does. Its why she is developing into one of the best Swiss Knives we have seen recently. She shows up everyday to to shoot for 90 mins after school. There is no joking around wasting time and valuable focus. She does her jump hooks for 20 mins, so she can dominate smaller guards. Then she goes to work on her Perimeter game so when bigger players guard her, she can take advantage of her rapidly improving outside game. SIOBHAN STAPLETON HANDLES HER BUSINESS the right way, everyday.¹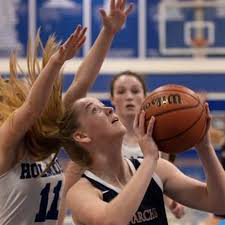 The term SWISS KNIFE is becoming one if the most over used lines these days. Many use it in a effort to explain away players flaws in there game. Its a way to maybe gain the attention of college coaches. But truth be told, often the term Swiss can be used to describe all the holes in a so called Swiss knifes game. Siobhan Stapleton is a true legit Swiss Knife. The best one in the best girls basketball conference. A conference loaded with D1 players from all walks of life. There are quick athletic P5 combo guards, there are strong post players, deadly shooters and masterful Point Guards. Siobhan Stapleton has seen them all, guarded them all and out played them all. You see her versatility is special. She can guard all 5 positions in high school. The amazing part is I believe she will be able to do the same thing in college. But here is the little dirty secret college coaches don't know. SIOBHAN STAPLETON can play all 5 postions on offense. Let that marinate for a second. You have to go back…way back to Marina Mabrey to find a player with her versatility that is legit and not talk or hype.
I watch Siobhan Stapleton at NBS. I watch her matched up against power 5 forwards. I watch her against D1 big wings and high major shooting guards. The players with the offers and reputations. SIOBHAN doesn't blink a eye and never takes a back seat to them. That' s because she loves competition and she loves the grind that comes with it. It's why everytime you see her she gets better and better. It's why she is going to be special. I had a coach ask me to describe her…it was so easy, she is a bigger, stronger verision of another Swiss Knife, GEORGIA HEINE of U Penn. Siobhan Stapleton brings things to the table only few can in the state. HER FLEXIBILITY IS RARE IN PLAYERS TODAY. But then again so is her pride.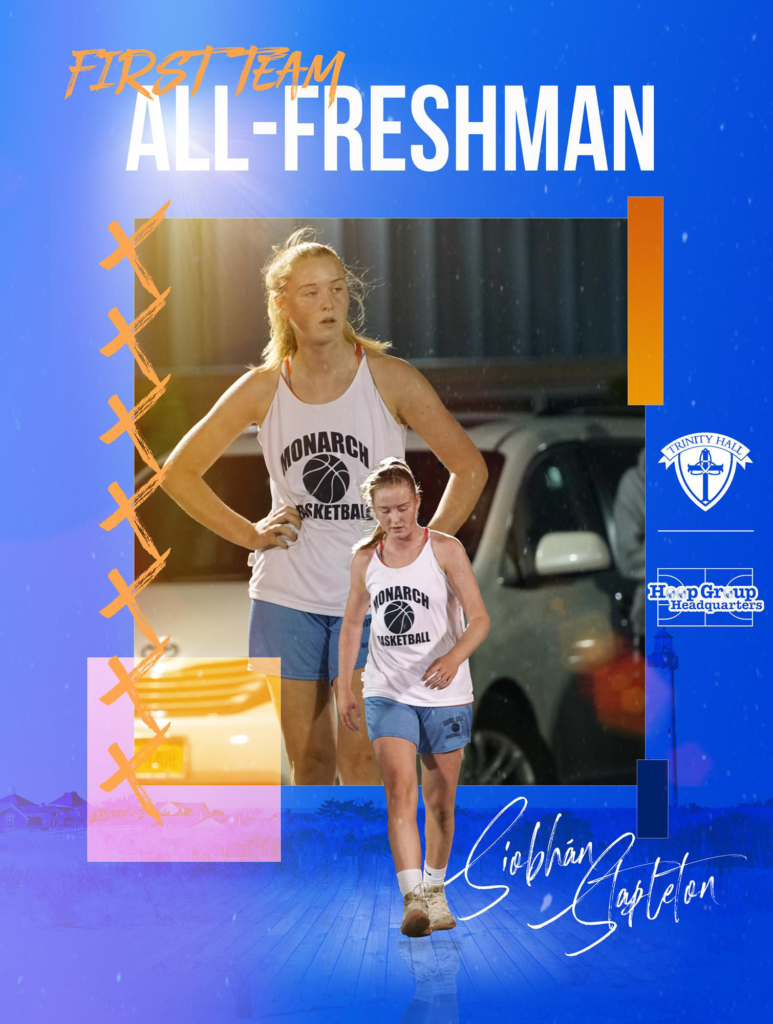 This year the former 1ST TEAM ALL FRESHMAN player will have her hands full. TRINITY HALL is now considered one of the big dogs. They have jumped over just about every program in the Shore not named SJV and RBC, who they lost to in overtime last year. Now there is a target on the Trinity Hall's players back. Now they are the hunted and moral victories no longer have a home. Now Trinity Hall gets the calls to play in the big dog showcases like the BATTLE OF THE BOARDWALK and other top flight events. I can tell you none of this will affect Siobhan Stapleton. That's because she is cool under pressure and loves a challenge. It's why she went to Trinity Hall in the first place. To do what everyone said couldn't be done. Win a SCT CHIP, BE RANKED IN THE TOP 10, HAVE D1 PLAYERS ON THE TEAM and attract top players. She has done what nobody believed was possible, make TRINITY HALL relevant. In turn Siobhan Stapleton herself is more relevant these days than anyone ever thought was possible. YES A LOT CAN CHANGE IN TWO MONTH'S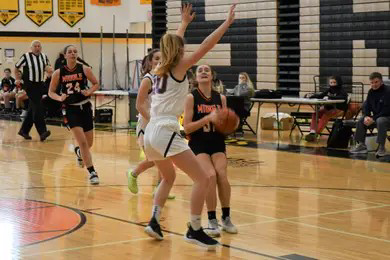 Recently Siobhan decided to return and play with her NJ RISE AAU TEAM. Some think it's a gamble in these new recruiting times. Some believe Siobhan should've hooked with a brand name team. But that's because they don't know Siobhan Stapleton. She is not big on brands or doing what others do. She is is about performance and production. She knows that will be more than enough to satisfy college coaches, especially after what she is about to do this high school season on the biggest stages in the biggest events…DESTROY THE COMPETITION…REAL COMPETITION. Siobhan is a mega, monster type student. One of those rare students, it's why schools in the IVY LEAGUE AND PATRIOT are going to figure out quickly this year, like everything else with Siobhan Stapleton in the end less will be said about her game and more will be appreciated..SIOBHAN STAPLETON IS MUST SEE AND MUST RECRUIT….anyone want to question my track record regarding such matters? I DIDN'T THINK SO