Today it's going to be a lot of fun as I rank players by position in the shore. Now I'm sure, I'm missing somebody and I'm sure I'm going to get a lot of emails and texts, that's okay that's what makes it fun folks…so lets get right to it.
Now when I talk about pure point guards. I am talking about guards that make their teammates better, understand clock and situation and are an extension of their coach. They also know when to go get Buckets. The shore quite frankly is the home of point guards.
 Top 5 POINT GUARDS
1. SARAH KARPELL- SJV-5'7″-SENIOR-2019
First start with her uber competitive nature. Next, she has played on  every big stage, against the best high school basketball has to offer. She has won big at every level. But what makes her #1 you ask? Its simple, she is a playmaker on both sides of the ball. She can score at all 4 levels. From the 3-point line, at the rim, mid range and in transition…RARE STUFF. On defense she is rentlentless, 50/50 balls magic always, chases you down from behind for tips and seems to always force turnovers late in tight games. But what really  separates her from every other point guard is this… she my friends is murder late in games. Ice in her vains at the foul line.. finds shooters and then creates havoc in the lane for opponents…she is the point guard you want with the ball in her hands late, because that's when a point guard truly earns their stripes…KAPELL HAS THE MOST STRIPES
2. KARMERI REYNOLDS -MANCHESTER-5'7″- 2020
If not for injuries, she would have a real case for #1. She has an elite body to go along with a physical presence that is undeniable. Her quickness and explosiveness are things rarely  seen in highly skilled point guards. Her ability to get past opponents and finish at the rim in traffic is second to no other point guard in the shore. She is an improving shooter and has the ability to take over games offensively.  Her leadership skills take a backseat to no one. She is unguardable in transition. But she also has another masterful trait… the ability to play with other great players and not get lost in the sauce. Folks there is a art to this. She is a nightmare for opponents on defense. She has the ability to guard big guards on switches and more importantly overwhelmed smaller  point guards with her physicality. In two years how many bad decisions with ball has she made? Not many!.. She understands who should have the ball and when they should get it, sorry folks, you don't teach this. She knows when to go get a bucket, when the offense stalls. FINALLY and maybe her biggest skill set, goes so underrated. She has the best handle in the shore of any point guard. REYNOLDS has a real case as the #1 point guard.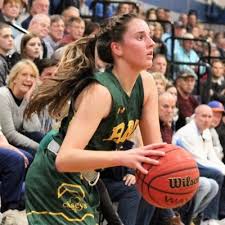 3. SOPHIA SABINO-RBC- 5'9″- 2021
She had more responsibility than any freshman in the state last season. She was given the keys to the RBC car and did not disappoint. First start with her length and and ability to anticipate on offense and defense.  Next she is already an elite defender of elite type guards. She has a mega competitive nature. No player in all my years watching the shore.. puts more pressure on defenses throwing the ball ahead for easy buckets…she has made it a art form. She has become automatic from the three-point line when left open or behind screens. You can count on one hand, the number of point guards with this skill set. But it is her vision that has college coaches drooling and that her teammates feed off. These are the best eyes, maybe in the state of New Jersey. We are talking Jackie Kates type stuff here people. SOPHIA SABINO is the heir apparent to the point guard throne.
4. BRIELLE BISOGNO- TOMS RIVER NORTH-5'7″- 2019
This game the Ultimate Warrior must have been named after her. The physicality has no match by any point guard, possibly in the state. She plays all out for 32 mins and when she gets rolling…SHE IS THE BEST POINT GUARD in the shore. Her quickness off the bounce is special stuff. Her ability to get in the lane and spin while finding  teammates or scoring has no match. When her jumper is rolling, Brielle Bisogno becomes super woman. If you like rebounding point guards, well nobody is even close to her. Her injury as a sophomore, forced her to miss an entire season.  It may be the reason why at times, she's inconsistent. She may appear out of control at times. But her effort plays and energy make up for any miscalculations. BRIELLE BISOGNO folks is more different than any guard on this list. No point guard in the entire state has a bigger upside…DEM BE THE FACTS COACHES.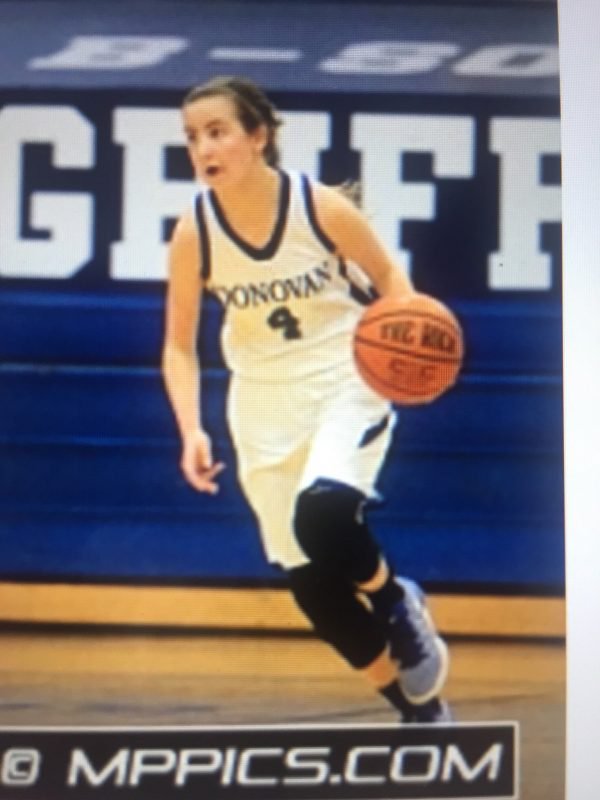 5. PAIGE SLAVEN- DONOVAN CATHOLIC- 5'6″- 2020
Putting her in the fifth slot almost seems like a crime. But now you know why the shore conference is unlike any other conference in the country. She's simply masterful with the ball in transition. Nobody is on the same planet as her when it comes to finding shooters…NOBODY! She is simply the best at managing the clock late in games while making plays for either herself or teammates. The track record simply speaks for itself in this area. Her game translates to the college level perhaps better than any player on this list. She is a ball-dominant point guard who rarely turns it over and her decision making is truly next level. She's becoming an improved 3-point shooter and is already a next-level finisher at the rim. She plays in a high school environment which doesn't get her the attention or the publicity of the  others on this list. Otherwise we would all be asking how in the world could she  be in the 5th spot. No player on this list is more disrespected than PAIGE SLAVEN. If you truly want to know how valuable SLAVEN is…check out Donovan Catholic's record, when she is in the lineup…ENOUGH SAID.
WING GUARDS must be flexible and versatile. Finding a great one it's not easy.
TOP 5 WINGS
1. LEILANI CORREA- MANCHESTER- 5'10"- 2019
She is talent on loan from God. The explosiveness and ability to score anytime she wants, puts her and rarefied air. The weakness are hard to find. She can score or become a distributor. When at the point she disrupts opponents with ability to get in the lane or go one on one. Her unselfishness makes her very hard to prepare for. But it's when she slides to the wing position that is when  she becomes a total nightmare for opponents. When she's on the wing, she's virtually unguardable. She gets on the offensive glass, while going into her total bag of offensive tricks off the bounce. But things gets real scary when she is in  transition. Think of  a freight train in sneakers on the loose. All an opponent can do is pray for the best. This is the ultimate finisher in transition. She has showed her mental in the biggest games played in the state with eye popping performances, which seem to be daily. CORREA some believe is the best in the state, so it's only natural she now is playing in the best conference in America….WELCOME AND WHERE GLAD YOUR ON OUR SIDE NOW!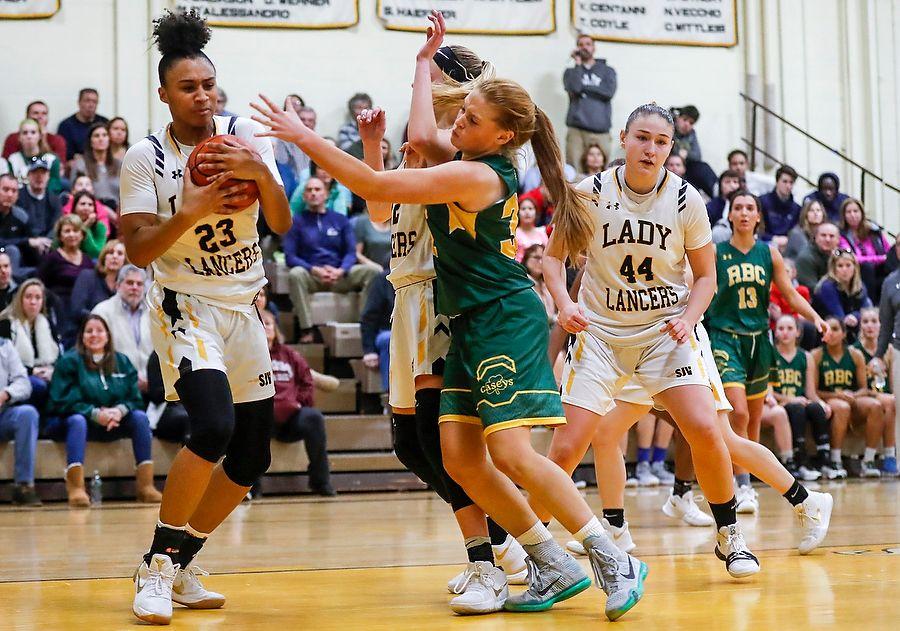 2. SAJADA BONNER-SJV-5'10"- 2019
She just may be the most complete wing in the state. Why do I say this? Intangibles folks, like the insane competitive nature. How about her ability to score in every conceivable way including getting on the offensive glass as if it's a Birthright.  You want more intangibles who do you know fills the lanes in transition better? NOBODY!. But what about the skill sets. Like the ability to put the ball on the floor, the ability to find teammates. What about the three point shooting ability and trapping ability on defense.  We haven't even gotten to her most important and forgotten skill set…playing so hard all the time. I can tell you being ranked #2 will not sit well with JADA BONNER.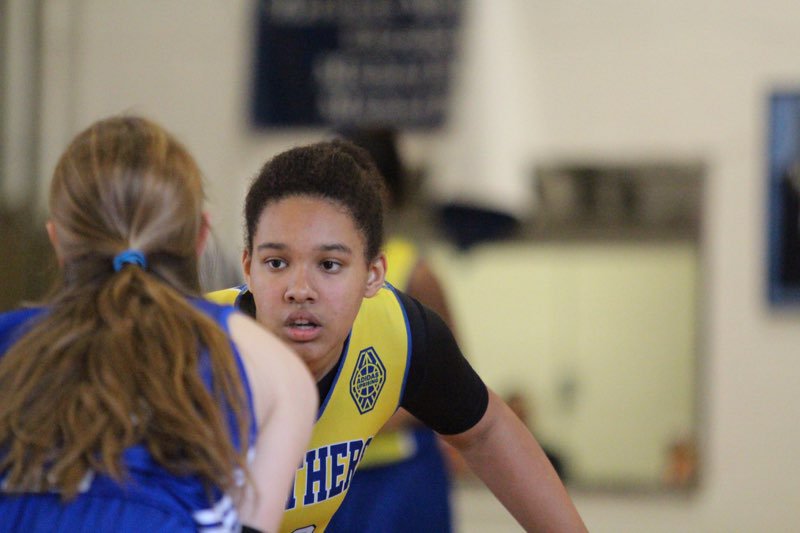 3. KAYLA RICHARDSON- MIDDLETOWN SOUTH- 6'0″- 2020
She has arrived and it could not come at a better time. Her passing skills are off the charts. No wing, is in her class when it comes to this skill set. Now throw in the ball handling skills and she becomes a serious problem. Her ability to post up or shoot from perimeter causes all kind of matchups problems. Her game appears to be growing in leaps and bounds. Her  game translates to college perhaps better than any other wing in the shore because of her ability to defend, rebound, pass and score. A year from now RICHARDSON may sit on top of the wing position throne. This is a player on a serious mission.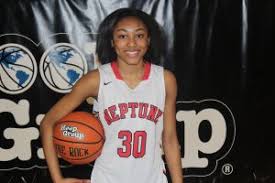 4. MAKAYLA ANDREWS- ST. ROSE- 5'10"- 2020
Injuries set her back. The gym rat found herself not able to grind the way she's accustomed to. But she is back and rolling again. Her ability to score without being a high-volume shooter puts her in a special class by herself. No wing in the state walks to the foul line as much as Makayla Andrews. She is a scoring and rebounding machine. Her hands are off the charts special. She has a next level motor in transition. But its her highly effective shooting ability that everybody is missing the boat on. ANDREWS just may be the leading candidate for player of the year next season. Right now she has the ST. ROSE crowd feeling real good.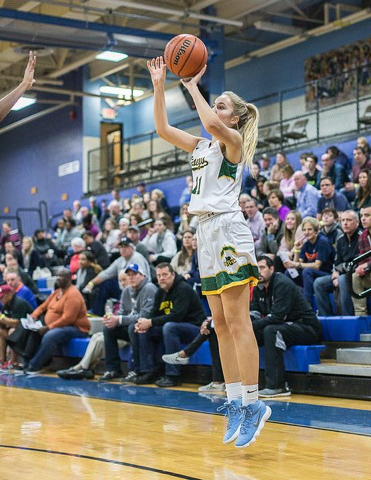 5. FAB EGGENSCHWELIER-RBC-6'0″-2020
There is no question who is the most recruited wing in the 2020 class. When you are an elite student as in #1 in your school. When JOE MONTANO names you as a junior captain(one of first times) and you make,  play and even start for the Swiss national team, all in one summer…you have had a dream off season. The body and fitness level are downright scary. Her mobility, size, vision along with the ball handling and shooting skills,  make her every coaches dream player at the next level. She is most complete package on and off the court on this list.
SHOOTING GUARDS must do one thing first and that's…SHOOT..but if they bring the intangibles with the shooting ..now you got something special. This group is insanely deep(8 D1 players didnt make the cut)
TOP 5 SHOOTING GUARDS
1. LOLA MULLANEY-MANASQUAN- 5'10"- 2019
This is the ultimate shooting guard. She is the ultimate catch-and-shoot shooter. She can take you off the dribble with her vicious hop cross. She is by far the most efficient offensive player in the shore. She never takes a bad shot and her ability to move without the ball is second to none. Like all great shooting guards, her range is in the parking lot. But what truly separates her from every shooting guard in the state of New Jersey is this… she is a elite rebounder for any position more or less for a shooting guards. LOLA MULLANEY is the gold standard. There is gap the size of the Atlantic Ocean between Mullaney and the rest of the cast of characters …good luck at catching her.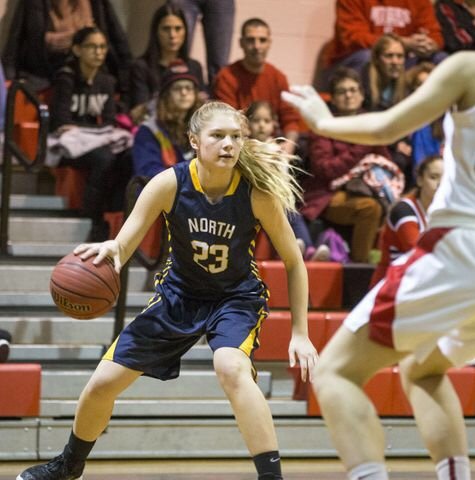 2. JENNA PAUL- TOMS RIVER NORTH-5'10"- 2019
Colgate must be pinching themselves by winning the Jenna Paul recruiting sweepstakes. She does more good things without being flashy than any player on this list. The consistency game in and game out is almost shocking. Her ability to make shots and get to the rim without the ball is a gift. While not flashy, she's oh so effective both offensively and defensively, against bigger or smaller players. She has proved she can put a team on her back and carry them. The IQ speaks for itself. Not only is she a massive scoring threat,  she is a passing threat as well. JENNA PAUL has quietly become one of the best players in the state. Not with hype but rather with her play.  Colgate are the lucky ones.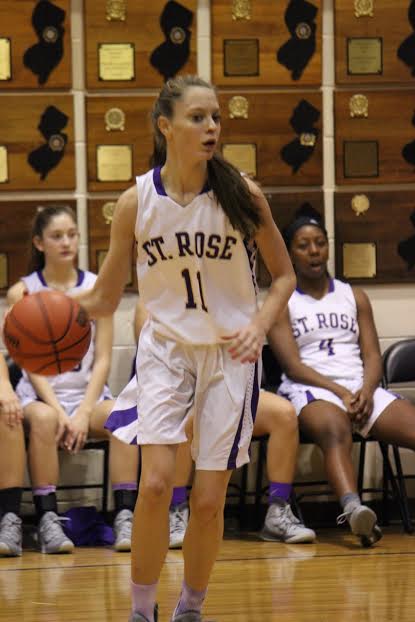 LAUREN LITHGOW- ST. ROSE- 5'9″- 2019
How dare we disrespect this big time shooter and insane talent. Lithgow is a three point shooting machine. But it's so unfair that her defense and ball handling skills get over looked. She had a break out season last year. She hit so many big shots in big games, we have officially lost count. Her speed and quickness are off the charts and in transition she  is very happy to display these skills. She was once thought to be a future All Shore player and that without question will happen this year. Her decision to attend Army is why we now have to salute her greatness. She has forced to remake herself and that's what she has done. But don't forget Lithgow was one of the top ranked freshman in the state entering high school. It just taken her a little longer to show she is one of the best.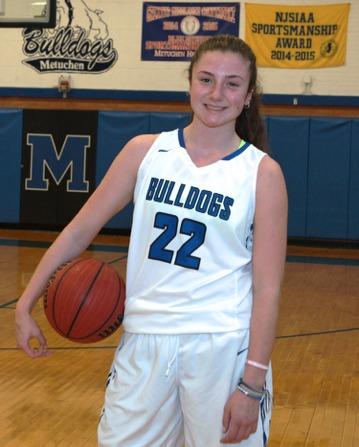 3. BRYNN FARRELL-ST. ROSE- 5'9″- 2020
Yeah St. Rose is really good folks. Brynn Farrell is pretty good as well. College coaches can't stop raving about her. Why? Because when you are this talented and play this hard and love the game this much…you are special. Her ability to get buckets, make her a star. Her versatility, creativity and willingness to accept challenges are all rare to most shooting guards.She can knock out the three or get to the rim. She also is that rare shooting guard with mega confidence whenever she has the ball. She instantly becomes one of the best players in the shore conference. BRYNN FARRELL welcome to the best conference in America and we are so lucky to have you.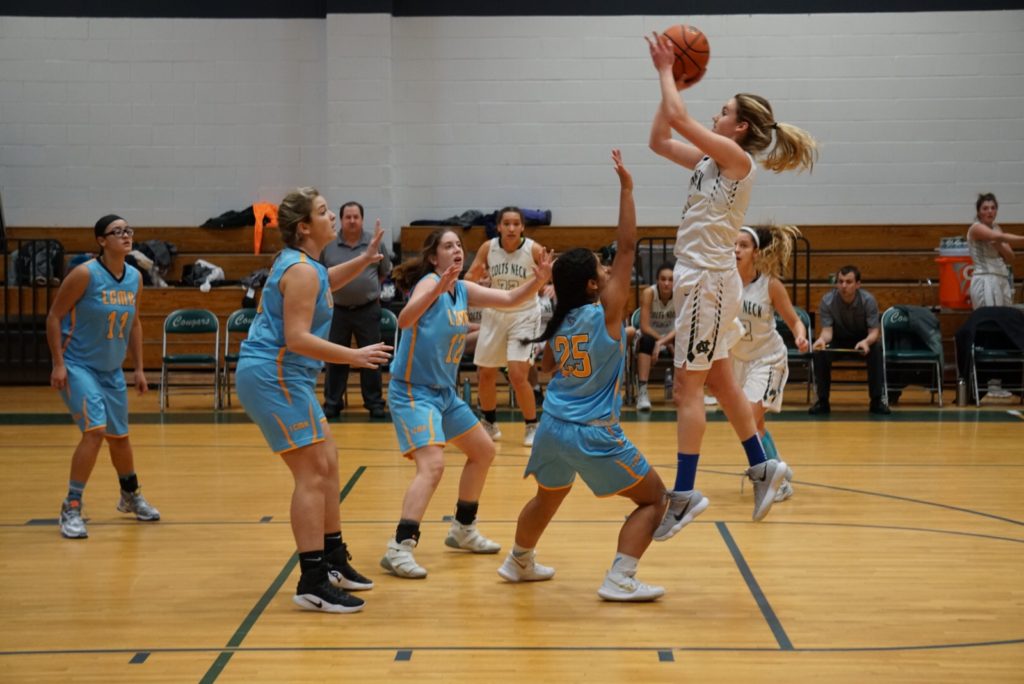 4. CAMRYN FOLTZ-COLTS NECK- 6'0″-2020
I bet this surprised you. That's because people have short memories. Two years ago many believed she was tbe best incoming freshman in the shore. Then she got hurt. But she is 100% healthy and I'm here to give you the big news. Not only is she back but 3 inches taller and no longer the skinny little girl.  She is the ultimate workhorse and the best pure shooter in the shore. She also is stacked with intangibles. Like being able to slide to the point position and become a playmaker. Her athleticism proves white girls can indeed jump. She is a mega student and talent…CAMRYN HOLDS DOWN THE #4 SPOT….but come season end I believe will move up.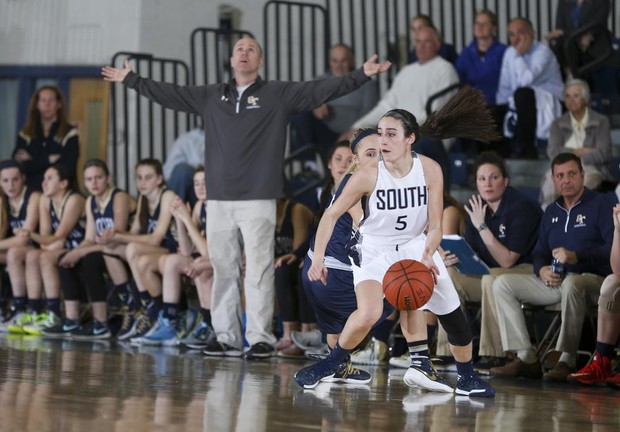 5. ISLA BRENNAN – MIDDLETOWN SOUTH- 5'10"- 2019
Before the year is over, do not be surprise if she is #2 on this list. The body is college ready, right now. The ability to step out and shoot the deep 3…is ELITE STUFF. The ability to get in the lane and finish with a variety of moves…is as good as it gets  The defensive knowledge and background is a clear as it gets. But more that anything else. Her commitment to get in the gym with and against killers. Has seen her game, grow and grow. More than any player on all the ranking…her upside is off the charts. She also can slide to the point guard spot without missing a beat..ISLA BRENNAN is a D1 TALENT.
POST PLAYERS are going the way of the dinosaur. They're hard to find but the shore has a few Elite ones.
TOP 5 POST PLAYERS
1. DESTINY ADAMS-MANCHESTER-6'2″-2021
Ok before you start sceaming she is not a post. We are not talking about her College position. We are talking about how she absolutely destroys opponents at the high school level below the free throw line. Her intensity and pursuit of the ball it's something out of  a Science Fiction novel.  Her athleticism, length and quick jumping ability leaves opponents defenseless at the  high school level . But it's that unselfishness and ability to pass the basketball that separates from every post player in the state. She simply has no interest in being a box score Junkie. She is the most unselfish superstar that I have seen in my 18 years of covering the shore conference.  She is willing to let her teammates shine. Her ability to handle double-teams and play under pressure is rare for any young player. Nobody runs the floor quite like her and nobody attacks defender's like her. She is a once in a lifetime talent and easily the #1 post player.
2. FAITH MASONIOUS- MANASQUAN-6'0″- 2019
Calling her a post player is silly. Somebody has to play the post for Manasquan. She is the true definition of a alpha female. She is the most versatile player in the state. Maybe that's why she was First Team All-State last season. She shoot and bangs out three's..  gets to the rim… makes big shots.. plays the point. In fact what can't Faith Masonious, do?  She has been in the spotlight since 7th grade. It may be the reason she never panics and is always as cool as a cucumber. She will go down in history as one of the greatest players in Manasquan and Shore history and her track record of success has no match anywhere in the state…we have taken a all time great for granted ..TOO LONG.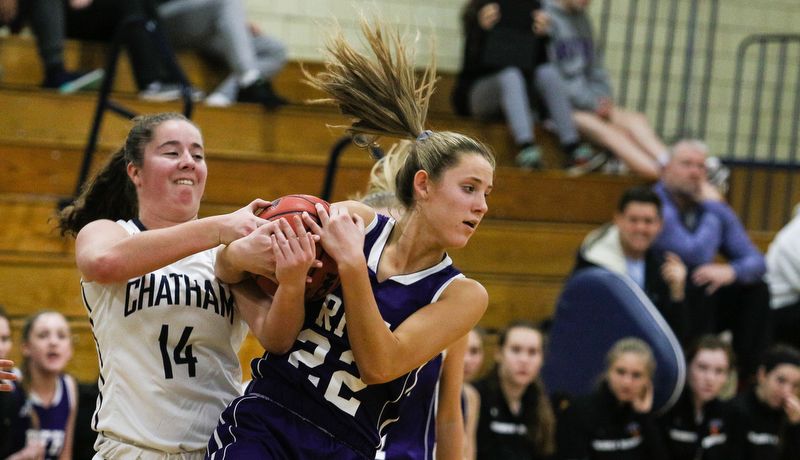 3. LUCY ADAMS- RFH- 6'0″- 2020
She is under the radar because of her low key approach.  But can anybody deny the talent and natural athletic ability. She is the ultimate stretch four. She shoots to 25 feet and is mega confident in doing so. But here are  two things, everybody is missing the boat on regarding Lucy Adams. Do not for one second question her toughness or how hard she plays. She is a fierce competitor, once she hits the court. She takes tremendous pride in protecting the lane on defense and is a natural shot blocker. She also runs the floor as well as any post player and more importantly catches anything thrown her way. College coaches will be wise to listen to what I'm about to say " Lucy Adams is going to be a mega star at the next level" Tiny Green said it!!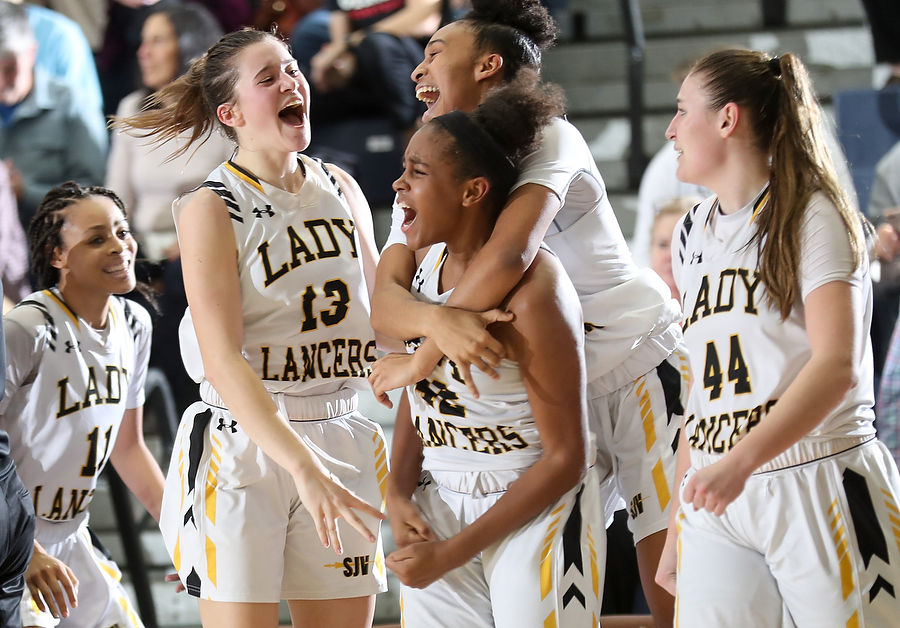 4. BRE BELLAMY- SJV- 5'11"- 2019
I know she's not a true big… BUT once again this is what she's doing in high school. She reminds you of Walt Bellamy of NBA fame. She plays so hard and is so committed to her craft. She has developed an ability to step away and become a stretch four. She relishes doing the Dirty Work below the free throw line. This includes rebounding , defending and rotating on defense. Bellamy is a classic example of the self-made player. She's lethal in trapping defense's and a nightmare in transition.  She has no problem giving up her body for the greater cause and SJV is grateful. Her toughness is next level. BELLAMY FOLKS IS THE REAL DEAL.
5.  DAKOTA ADAMS- MANCHESTER- 5'11"- 2019
Lets argue…right now! Because she could be higher on this list. Let's start with this, name one  post player who has out played Dakota Adams in a head up match up? You can't so stop trying. Name one Post player that can step out and guard point guard, shooting guards, small forwards and bigger centers. Now named one post player  other than Dakota Adams in the ENTIRE shore that has added something to their game every year. Like last year's jump hook and up and under move. What about making herself a knock it out, 19 foot shooter this summer. What about her ball improved handling. Dakota Adams seems everyday to get better. She is one of the best interior passes in the state. She is a rock of stability for Manchester. DAKOTA ADAMS could be the most underrated player in the Shore.
5 PLAYERS COLLEGE COACHES ARE MISSING OR ..I SHALL I JUST SAY " I TOLD YOU SO NOW!
5 PLAYERS UNDER RECRUITED.
1. CASSIDY DEAVER- MALANAPAN-5'9″-2019
Why are they missing her? Little if any name recognition the past 3 years. Played on a low visible AAU team. Just started training with high level talent. What are they missing? Elite scorer, was All Coaches Division. Athletic, gym rat, big scorer against REAL competition, real size and length. HER NEVER SAY DIE ATTITUDE. Had biggest one game performance of any player at NBS this summer ..with D1 PLAYERS CRAWLING OVER HER.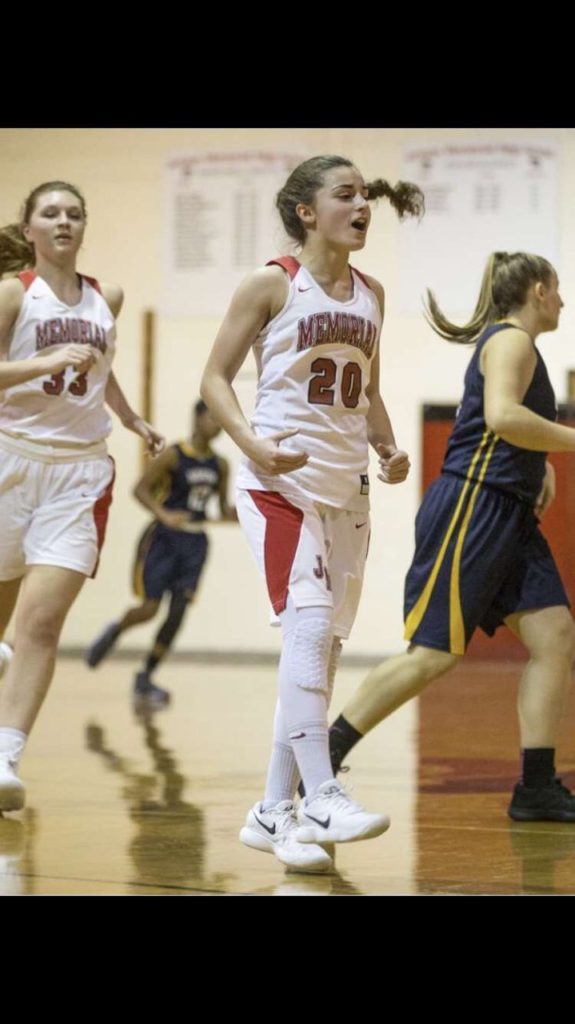 2. BIANCA GIORDANO- JACKSON MEM- 5'4″ – 2020
Why are they missing her? She played low level AAU and got little if any exposure. Lack of playing vs real competition, makes it hard to evaluate. Her high school is a year away from hitting the big time. No name recognition. Lack of size. What are they missing. A stud of studs. Her ability to lift those around her is 2nd to none. Her vision is off the charts. Her ball handling skills are that of a magician The deep shooting range is special. She cannot be pressured or trapped. I have personally  seen her destroy D1 guards. The IQ is next level. …college coaches you better listen.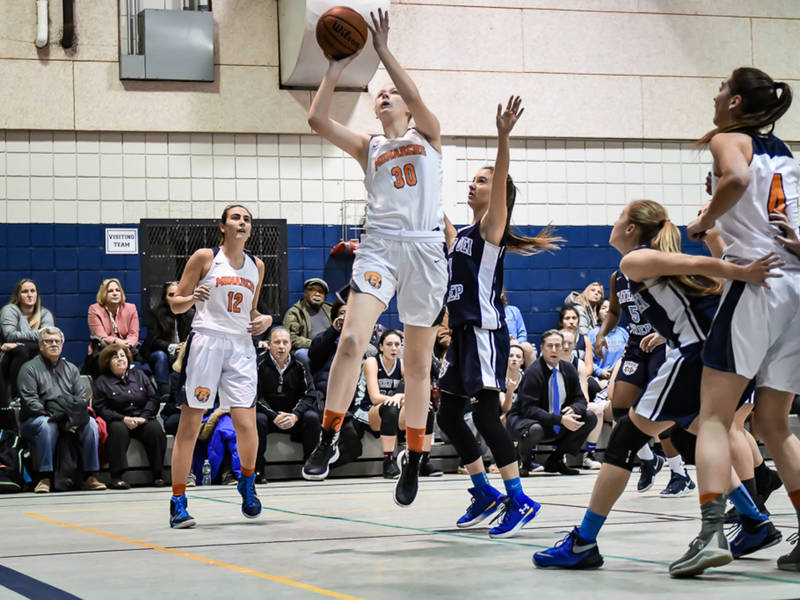 3. CAITLIN WINGERTZAHN- TRINITY HALL-6'2″-2020
Why are they missing her? Played at a high school with zero visibility. This was her first year playing high-level AAU. Coaches do not understand her work ethic or her Improvement cruve…think ERIKA PORTER. They soon will understand… WHAT THEY ARE MISSING. Now coaches I know you may have seen her this summer but you better listen to me. I've seen her more than anybody against high level D1 post players. The very ones you are recruiting right now. By next  year she will be the best post player in shore. She will be the most recruited 2020 post player. Next year IVY'S AND PATROIT schools will be in a all out war for her services. Big time body, plays hard, can play with her back to the basket or step out and it's getting better daily. Last year racked up double/doubles and nobody cared to mention it. The work ethic and the character are off the charts. This is the ultimate sleeper with the ultimate upside. You be wise to get on board NOW…. because you all know I'm never wrong about this stuff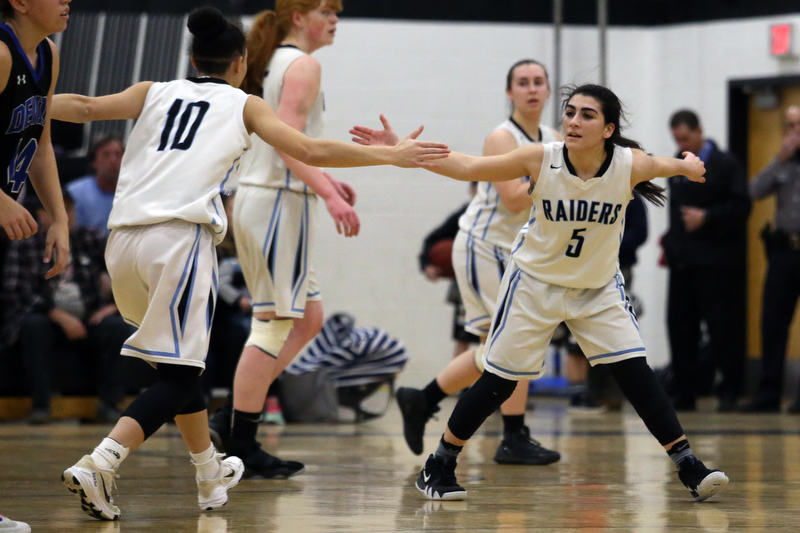 4. JORDYN MADIGAN- TOMS RIVER EAST-5'5″- 2020
Why are they missing her? Nobody inculding yours truly know where she plays AAU. ZERO visibility from a recruiting stand point. Simply has no advocate in her corner. But here is what  coaches are missing. Go back and look at her freshman year. She had a real case for ALL FRESHMAN and we all know making all-freshman, virtually guarantees you to be a future division one player. Next go look what she did last season against top competition.  I have seen her competitive nature as a youngster in gammar school. Do you get the picture? She is a bulldog on defense, can score and plays with a high IQ…A little advice to this young lady if you don't  mind… get to NBS.
5. RAHMENA HENDERSON-SJV- 5'8″-2019
Why are they missing her?  She is a victim of circumstances. She simply has been in the wrong places at the wrong time. What are they missing her? This is an absolute joke. There were players walking around with scholarships and committing to division 1 schools who simply could not carry her dirty sneakers. She has played against the best of the best. She has played in the most competitive high school environment on planet earth. She is an elite defender. She has had elite college level type coaching. She can play all three guard positions in elite fashion. She is one of the nicest and good nature kids you will ever meet. Not only is she a division 1 player she's a mid-major plus… she is by far the biggest mystery in the 2019 class.
TOP COACHES IN NO particular ORDER.. is that just really good at what they do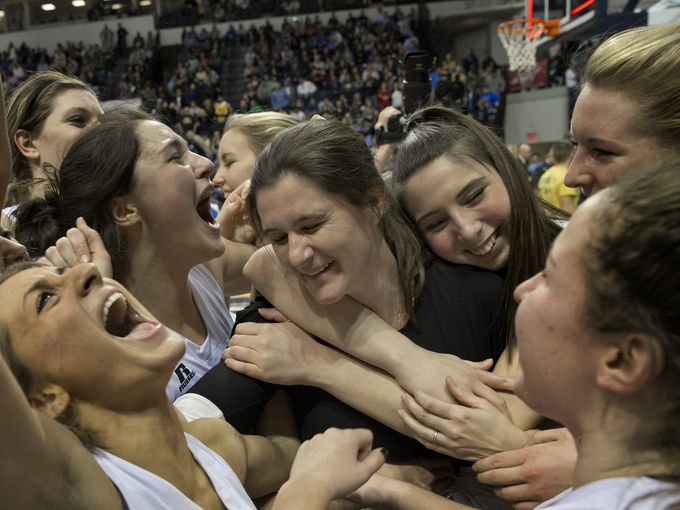 DAWN KARPELL-SJV
Come on, the woman has done everything and any anything a coach can do. Her teams play the best competition possibly in the country every year. Now throw in the fact that nobody prepares their kids better for the college level. The track record don't lie folks. Clearly one day we'll be on the Mount Rushmore of high school girls basketball. The amount of money her kids have received in scholarship money is too much to count. The amount of prestige and attention she has brought to SJV could never be measured in dollars and cents. How quickly we forget, before Dawn Karpell arrived, the once proud SJV program had hit rock bottom. Now they are at the top of the heap and everyone is once again chasing them. Officials and opponents fear her. She is relentless on game day and her kids feed off her energy and will to win. Right now she is the Queen of the courts.
LISA KUKODA- MANASQUAN
Now some say she wins just because of talent. Ahh those who spin such wicked tales. When Lisa Kukoda took over Manasquan High School. It was an absolute mess. We are talking about players leaving the program, coaches getting fired, parents complaining,  she stepped into an absolute horror show. So what did she do? She took a bunch of unknown not highly thought of group of players and turned them into big winners. and righted the ship at Manasquan. Then when she got some elite talent, she absolutely dominated group 2 and won multiple TOC and SCT titles. She was recently named the fourth most powerful person in New Jersey High School Sports by the Star Ledger. Lisa Kukoda has had the greatest start of  a high school coach in recent history.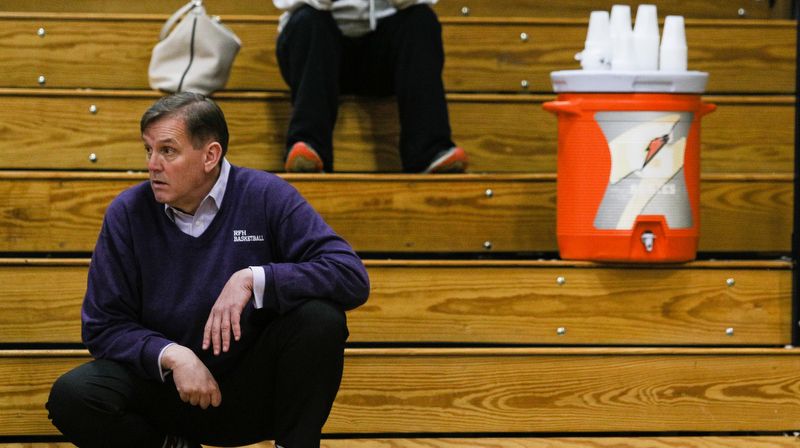 DAVE CALLAHAN- RFH
He had to fill maybe the biggest shoes of any coach in  recent times. He has not only embraced the challenge what is exceeded all expectations. Many believed Rumson would become irrelevant on the girls basketball scene. Coach Callahan has put that all to rest by playing one of the toughest girls basketball schedules this side of SVJ, while maintaining the Rumson standard  of success. Next he has rallied the community and now has players in grammar school, drooling to be part of his Bulldog program. If not for a mystery call versus Manasquan he would already have his first State title. If not for massive injuries to his two best players last year, he may be walking around with RFH'S 1ST SCT title.. Dave Callahan has been that good folks.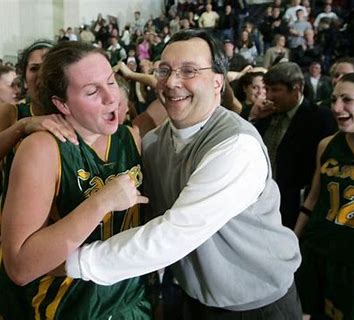 JOE MONTANO- RBC
Folks now please don't get it twisted for one second. Joe Montana is already on the Mount Rushmore Hall of Fame for coaches. Do I really need to talk about SCT titles or TOC titles or undefeated seasons without a D1 player on the roster… in the shore conference mind you? Do I need read off his coaching tree at the D1,D2 and high school level? Do I need to tell you that every college coach bows to this man. Do I need to tell you he is a pillow of honesty, trust and loyalty. He has built the NEW YORK YANKEES of high school basketball. He is absolute murder on officials and his kids know every night he will give them an opportunity to win. He is playing with house money these days. There's not much left to accomplish other than repeating what he's already done over and over again…WIN…WIN..WIN. The number of kids he has sent to college is staggering…he my friends is the MEASURING STICK and the standard of greatness all wish to achieve…GOOD LUCK ON THAT ONE.
JOHN TRUHAN- RBR
Just call him the Bill Parcells of girls basketball. There is a reason he is in the Hall of Fame. When your program hits rock bottom, he is the man to call. Every program he has touched has turned into gold. People are still shaking their head at the job he did at Colts Neck, turning them into one of the best programs in the state. They still talk how he made Toms River a powerhouse and how he took Central Reg from being the laughing stock of the shore. To winning titles. Now he has RBR knocking on the Top 20 door in just his 2nd year and this may be his biggest miracle to date.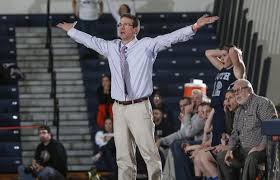 TOM BRENNAN- MIDDLETOWN SOUTH
Nobody has ever done more with less. While many of the top programs had stars walk in the door from day one. Tom Brennan has had to create his stars. Brennan has won state titles and been to the TOC. What's more interesting is check out the track record of kids from Middletown South and what they do in college. Pankey, McGinnis, Duhli and now Karcz. Folks he gets them prepared just like he does on game day at Middletown South. His teams are easily always one of the most prepared teams in the state. And here is one fact of facts… nobodys teams get better as the season goes along, like a Tom Brennan team (flashes of the great George Soulis teams at RFH). By the way just watch what his team does this year. The professor is one of the best teachers in the state.
TOMORROW TOP 5 ARE THE  COACHES FAVORITES ……..THE TOP 5 GYM RATS IN EACH CLASS..
NBS SPOTS ARE STILL AVAILABLE… NOTHINGBUTSKILLS.COM
---