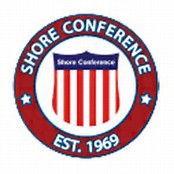 Today the first round of the Shore Conference Tournament takes place and their are some interesting matchups. More than any other year these games can have a real bearing on the next round. In most years the Shore first round games and 2nd round games hold very little suspense. But when you look at the brackets this year, things can get very interesting after the first round.

Manchester and Middletown South most likely will meet in a 2nd round game. The loser of this game is going to be very disappointed. Manchester is he hottest team in the state these days. Middletown is trying to salvage their season. All Middletown South's losses have been to Top 20 teams. The problem is they have lost all by double figures. Manchester with a win can get a real measure of respect and more importantly send a message that Ocean County is now not to be taken lightly. Either way somebody's Shore season is going to end in disappointing fashion.
Trinity Hall will take on Holmdel and both these teams are searching for something to hang their hat on. Trinity Hall has quietly had a great season. A win over Holmdel would be gravy in a big way. It also may be the start, of a program, growing in a big way, right in front of our eyes. Holmdel has put their season back together after a rough start. A win and they get another crack at RFH. But more importantly it will be a nice way for them to build on next season. Christina Antonakakis has been on a major roll.
Southern vs. Marlboro could be the most interesting game of the day. But teams have had major shake ups before the season started. Southern many expected could be a Top 20 team this season. But center Gabbie Davis decided not play basketball this season and Makayla Nicolini is still recovering from injury took her out the lineup for a month. Marlboro lost Besso and with that a the missing piece to their already short lineup. But in recent weeks Marlboro has come back like gang busters. The winner of the game will feel as if the season is a grand success after all they've been though.
The Howell vs. Donovan Catholic is going to be a major peek into the future. Both teams have exceptional young talent both in the program and on the way. Howell has had a surprise season. They have become one of the best stories of the year. Howell went 7-16 last season and they have doubled their win total this year. They went from 2-10 in conference play to 7-5 this year. Those are remarkable numbers, when you consider where the program has been in recent years. Donovan Catholic tired for the B South title. They went 15-5 this season. This year they have been a after thought. It is a real compliment to the program,  that these numbers are considered  a average season now. A win for Howell would be huge because it would be their first SCT win since god knows win. A win for Donovan Catholic allows to continue to build on their recent success. A lost would leave a serious bad taste in their mouth.
RBR and Barnegat is a battle of programs that have grown up. Both coaches James Young and Tammy Nicolini are both battling for the Coach of the Year.  Both teams will be trying to put a real bow on there season with a SCT win. Both these programs are a classic example of building from the bottom up. A win today gives both programs a real shot in the arm. A win also allows them to advance to the next round to take on RBC the #2 team in the state.
UPDATE…
TOMORROW IS DEAD EYE SHOOTING AT HOOP GROUP…the name of the of game is shooting folks
THURSDAY IS  BALL HANDLING SHOOTING…A MUST PROGRAM FOR ALL