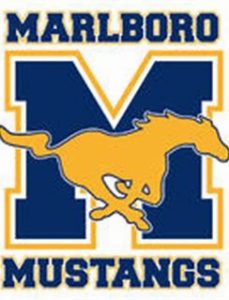 So how good is Marlboro High School going to be next year. REAL GOOD, that's how good. Next year Marlboro could break into the Shore elite status. They will be knocking on a state Top 10 ranking as well. The reason I say all this? One name, Kathy Sanchez. She is a 6'0″ big time athlete who just two years ago was starting to bloom and then tore her ACL forcing her to miss her junior year.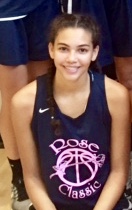 Two years ago I put out a list of the best 2020's in the Shore Conference.  A friend of mind called and told me I missed a player. I don't miss very many, but this was a parent I have  tremendous respect for. So I agreed to go watch Kathy Sanchez of Marlboro high school play. When I arrived I saw a tall lanky skinny kid. She was athletic and quick, her ability to rebound in traffic blew me away. She was impossible to kept off the boards. Her length was next level as was motor. I could tell she was raw still at that point. The ball handling was not there yet and the shooting form was something that needed work. But it was clear Kathy Sanchez had something special. My friend asked, what I thought after the game. I said I thought she had D1  potential, just based on the raw talent.
Later in the season I went back to watch Kathy Sanchez play again. I wanted to see if she had improved. I wanted to see if she had worked on her game during the season. You see I always back track on kids who don't train with me. I also try to see them against a quality team. I know a lot of kids who have one great or poor night. I wanted to see if  Kathy Sanchez was indeed a D1 player. What I saw was exciting and fun. I watched as  Sanchez who was just a inexperienced sophomore post a double/double. But more importantly she seemed to be everywhere. She had  deflections and tips to go along with a mega defensive preformance. It was clear to me this young lady who was doing this off the bench was going to be a Division One player.  My good friend was right, I had missed one in the 2020 class. I was convinced that Kathy Sanchez was going to be one of the best players in the 2020 class. I also knew she would have a breakout summer.
I didn't know much about Kathy Sanchez back them, in fact I still know very little about her. I called her dad and invited her to NBS. THE SPRING NBS has talented D1 competition. But not like it does in the fall. I felt she could come and not be overwhelmed by the environment. I wanted to see what her work ethic was like, I wanted to see her competitive nature. I wanted to see if she would show up on a daily  basis. I wanted to know if Kathy Sanchez had a division one mentality. She never showed up for NBS, I was disappointed. But a lot of kids who claim to be D1 duck NBS. I've heard all the excuses. I laugh at them these days. To each its own, certainly kids have gone D1 without attending NBS …be it a small few. Maybe Kathy Sanchez was one of those small few. Later in the Spring I ran into my good friend again. I asked him "whatever happened to that Sanchez kid" ..A sad look came over his face. He said " She's done for the year" ..he told me she tore her ACL. It was a horrible break for a kid. It explained why she never showed up at NBS.  I ran into Kathy a few times that summer. She was  Pleasant, Quite and respectful. We made the phony chitchat that people make when they don't really know each other. I wished her well.
Last week I found out that  Kathy  Sanchez had made a full recovery. She had returned to the court. She will be playing with the Westrol CJ Hawks. So here is what I will tell college coaches, go back and read my tweets about this young lady before she got hurt. ACL injures are never good, but these days are nothing more than a set back. I will tell you this, Miss Kathy Sanchez has star written all over her. Coaches are going to see a gifted, talented player this summer. It's going to seem like she came out of nowhere. That of course won't be true, she was just side tracked by life. But she is back and college coaches are going to begging for her services. There is a school out there, who has no idea that Kathy Sanchez's misfortune is going to be there blessing. Somebody is about to hit the lottery and get a stud. Kathy Sanchez in my opinion could be impact player as a freshman in college.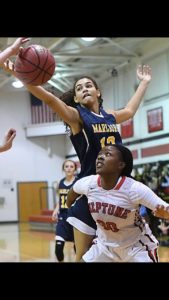 Marlboro High School is sitting in the cut, waiting to sneak up on the state. That's not going to happen for a number of reasons. For one there sucess last year won't be forgotten. Next they are talented and could have as many as 3 Division One players. But more than anything else. Kathy  Sanchez by the start of next season will have already been a household name….College Coaches, I am throwing you a bone…learn the name and get in the game…KATHY SANCHEZ IS SOMEBODY YOU BETTER LEARN MORE ABOUT. Because she is a true HIDDEN GEM
I WROTE THIS BEFORE HERE INJURY–
https://nothingbutskills.com/wp-admin/post.php?post=13309&action=edit
STARTS THIS MONDAY…BALL HANDLING AND SHOOTING CAMP