Sometimes you wonder what a kid must do to get attention from college coaches. Sometimes things are just not fair and dead wrong. But there is a solution to this problem. Don't stop and never give up. Even when all all around seems to scream out, give up and accept your fate. Let others, less talented, less productive and not as good get all the glory. But Jasmin Boyd is not like other kids, she is built for tough times. She is built to last and for this reason she was able to fulfill her dreams. She did it the old fashion way. She earned it and for the that she got a reward of a lifetime. JASMIN BOYD announced last night she had given NORTH CAROLINA A&T a verbal commitment.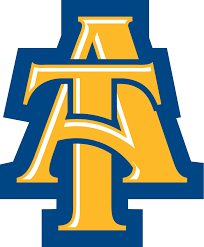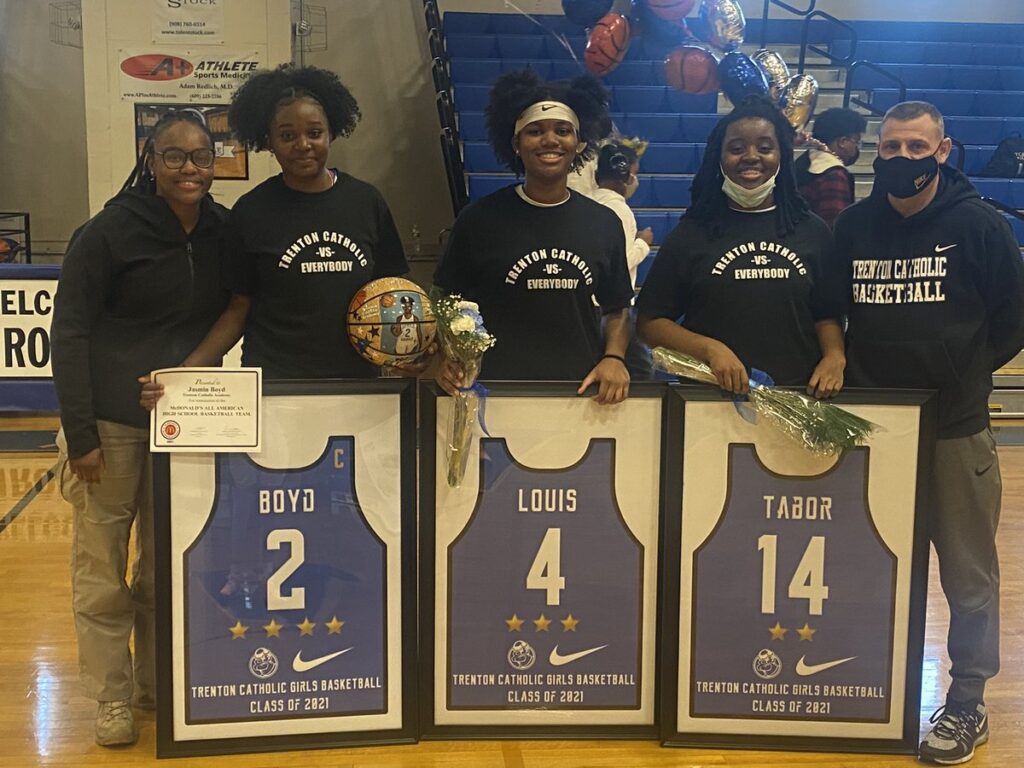 Jasmin Boyd spent most of the Covid year asking what does it take to make college coaches love her. She was the best two way player these eyes has seen in the state. She was the best defensive wing in the state for two years running and the clue to the super power TCA. Yet she watched as all those around her receive D1 scholarships. It made no sense and wrong on so many fronts to list. On senior night at NBS, players were receiving posters and T-Shirts honoring them for moving on to the next level. Most were going to D1 schools, Jasmin had to watch it all and take it in. She clapped and smiled but it was clear that Jazz as she is known by most was hurting inside. Somehow she was on the sidelines and not getting her poster and her T-Shirt. But they say tough times don't last but tough people do. That day Jasmin Boyd took a few people with posters to task. That day Jasmin Boyd did what she always does, prove she is one of the best high school players in the state of New Jersey. Soon Jasmin Boyd is going to stand in front of the NBS crowd and have her day. It just took a little longer to make college coaches love her.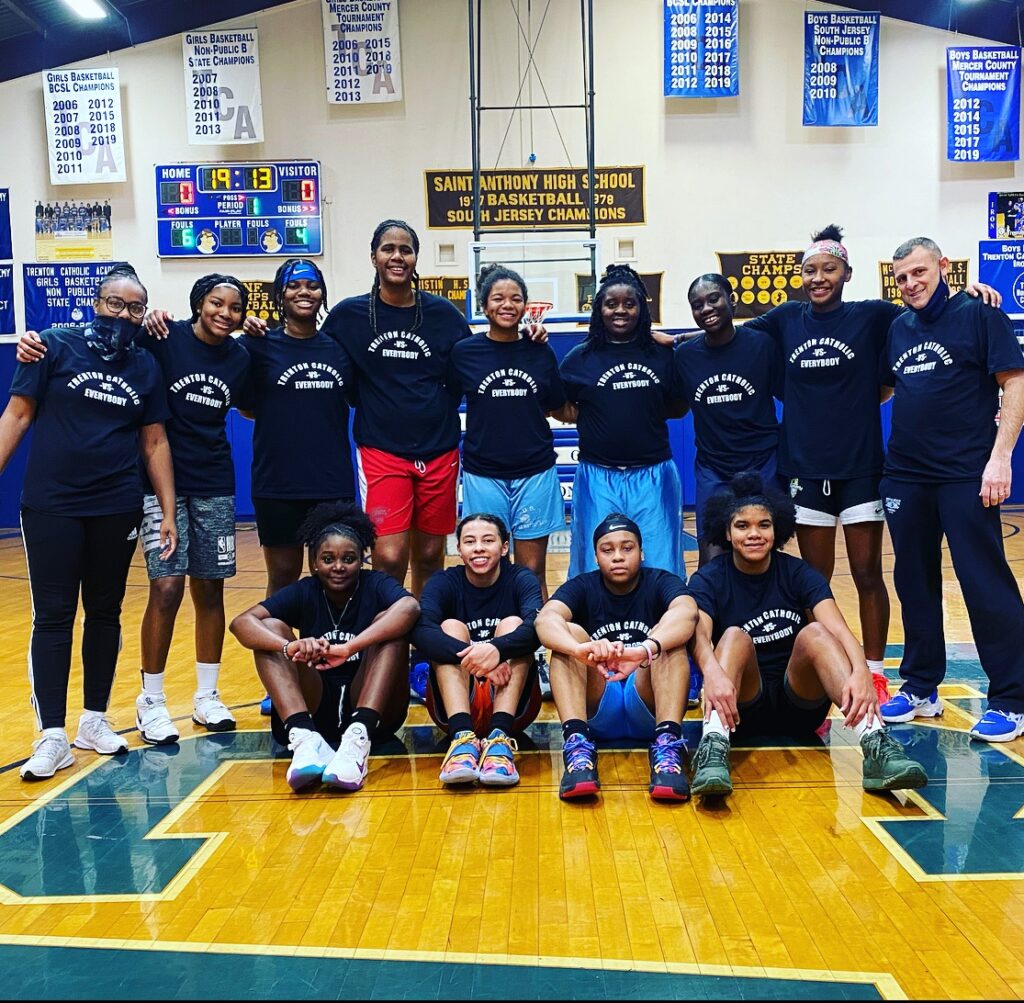 It's very tricky when you have a senior without a scholarship on a great team. Many times that senior will play for a scholarship and not for her teammates. They start trying to prove to college coaches they can do more than defend, rebound, pass. They want to prove they can get buckets, so they become selfish out of survival. Jasmin Boyd has always cared more about winning and her teammates than anything else. She knew that she had to do the little things if TCA was going to be the best team in New Jersey. So it never crossed her mind to be anything else other than be the team leader and glue. That's why TCA was possible the best team in New Jersey the past two years. Jasmin Boyd does the tough things. Like guard the best players, rebounds in traffic, make the extra pass. Take good shots only. Jazz never makes excuses and that is real toughness during tough times. She doesn't make mental mistakes. These are some of the reasons that make Jazz the most mental tough player in the entire state of New Jersey. It's why she is ultimate competitor and a winner like few we have seen. North Carolina A&T is off to the NCAA tournament AGAIN! They are team built around two things. Defense and mental toughness. You watch them play and you know Jasmin Boyd just found the perfect home for the next for years. North Carolina A&T will play in the Big South next year. A league which is known for the knocking off the big time programs. That's a good thing because Jazz loves competition and doing the impossible when everyone counts her out.
I have know Jazz since 4th grade. I have always loved the way she played the game. She played hard even back then. Her father James is her warrior and her mother is her guiding light. I was hoping she would attend a Shore school one day. Her brother who is at NJIT and she were kids who that always showed up on time and put in work. The Boyd's are a close family and support each other regardless of good times and bad times. They believe you work hard and let the chips fall where they may. They don't believe in the negative, they believe in the positive. Jazz parents have taught to handle her business and the rest will take care of itself. That's exactly what has happen, the rest has taken care of itself. But of course it took hard work and yes some tears… Jazz has never had to make her parents love her…THEY ALWAYS HAVE AND WILL.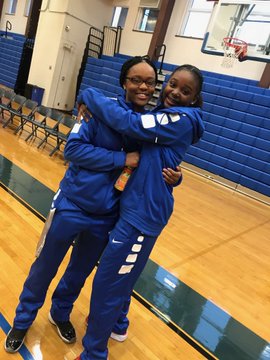 Jasmin Boyd, is on her way to North Carolina A&T and the #1 reason why was because she has a angel on shoulder. Somebody who will do anything for her, somebody who refused to let her dreams die. Somebody who worked day and night for her. SHERIKA SALMON (god bless you girl) is the asst. Coach at TCA, I say the best in the entire state. But she is no ordinary asst. Coach. TCA is nothing without her. She is tough as it gets and accepts nothing but the best on and off the court from her girls. She is a master teacher but more importantly a role model. It was she that set the ball in motion to get North Carolina A&T to see Jasmin Boyd was special. It was she that was so relentless in her support for Jazz. It's funny but I really believe Sherika belongs somewhere on a D1 bench. She is that talented and has never really gotten credit for what she has done over the years. In a lot of ways she is just like Jazz, talented, gifted, tough. She is also the ultimate role model and ALPHA BLACK FEMALE.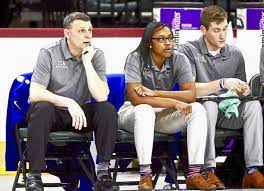 BOB FUSIK, is going to be the most in demand high school coach this spring. He is simply one of the best coaches in the state of New Jersey. If not for Covid he could have 2 TOC titles under his belt. He is teacher and coaches with a passion and more importantly with compassion. He is somebody that has instilled strength and class to his kids. He has taught his kids how to play as a team. How to play the game the right way. His impact on Jasmin Boyd can be seen every time she steps on the court. Like her coach their are antics or showboating. Just production and winning. Jasmin Boyd has been very lucky to have the TCA family in her life. But they have been lucky to have her…NORTH CAROLINA A&T IS LUCKY BECAUSE THEY ARE GETTING A YOUNG LADY WHO IS THE TOTAL PACKAGE.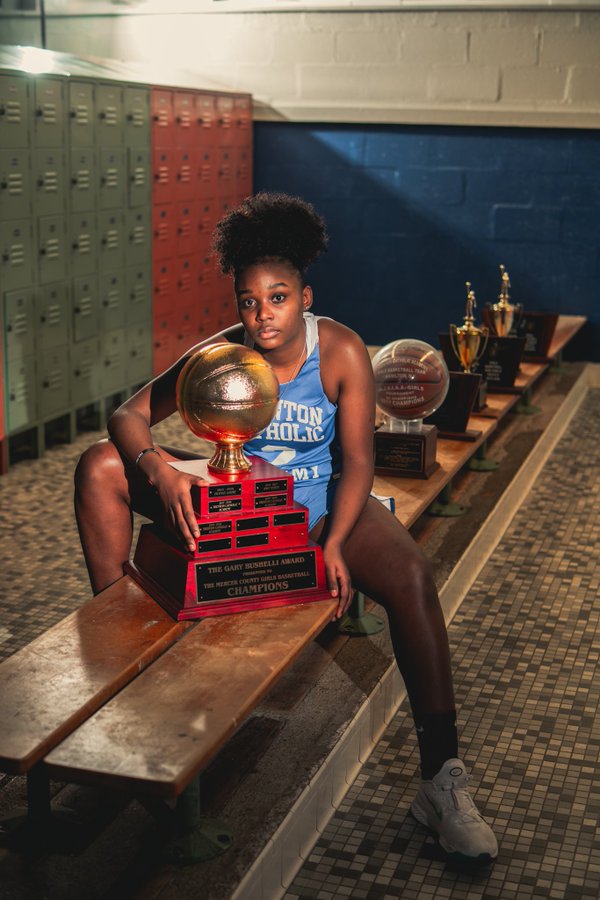 In the end Jasmin Boyd did make college coaches love her. It took time for them to see the light. Some questioned her shooting because she refused to think about herself. She has always played the game the right way. Seeing Jazz not playing the game the right way would be strange. But in the biggest game in 10 years in the State of New Jersey vs SJV . She knocked down two three's early and surprised people that didn't know this was part of her game. It's alway been part of Jazz's game. But Jazz is that kid who gives you want you need not what you want. When the game got away from TCA vs SJV. It was Jazz who grabbed the ball and told her teammates to calm down. Then TCA went on a massive run to take the lead after 3 quarters over SJV. It's this type of leadership that separates Jazz from so many other players. Hype is not who Jazz is…for her its about game and she had lots of it. In that game vs SJV on the road. Jazz sprained her ankle in the 4th quarter. The young team without her on the court fell apart and lost in a epic battle. It was more proof of what Jazz has meant to the TCA program. It was more proof, Jazz is special and NORTH CAROLINA A&T is getting a player that will do anything they ask her to do. Because Jazz makes anything she is part of great!
Last night a had a D1 coach call me and ask, "What did we do wrong" in their recruitment of Jazz. I told him nothing. That's because Jazz did something very rare these days. She made a decision based on trust. You see 3 division one schools were all there in the end. Three great programs with great people. But Sherika Salmon, is somebody not to be played with. She told Jazz, she and North Carolina A&T they fit like a glove. She also told Jazz go where you will be happy and successful wherever that may be….THE PLACE WAS NORTH CAROLINA A&T…. JASMIN BOYD MADE THEM LOVE HER AND SHE LOVED THEM RIGHT BACK…..