So often reputation is bigger than production. Many times a players reputation will be put them in position to win awards and honors. Sometime the reputation is well earned by performance and sometimes it's not. I remember 4 years ago a young lady missed her entire senior year and was voted to play in the MacDonald All American game. Why? because everyone knew she was a great player and most likely would have made the team. Now if that was me picking, she would not have made the team. Some believe that ALL SHORE should be the best player or most recruited…I disagree, I believe it should be who had the best season, THAT YEAR. This brings me to one of the best players in New Jersey and notice I didn't say the shore, I SAID NEW JERSEY…So name the best forwards in the state right now. Did the name Hannah Scanlan name pop into your head? I doubt it did and that's because there is no hype surrounding her.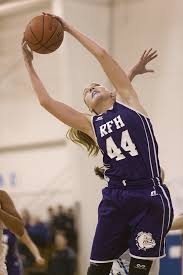 Hannah Scanlan is not that player, media and fans focus on. But let tell you something… right now, she having the best season of any post player I know. Let me tell my college friends something as well. She is a high major player RIGHT NOW! and I believe has a chance to be a BCS player one day; because here is a few things Hannah Scanlan does that I haven't seen done in years.. I said years! First she rebounds in traffic against multiple players ( you know anyone else doing this?), she rebounds block to block better than any player that I seen in all my years watching the shore, that includes everyone. She rebounds on both sides of the ball, consistently over the course of a game. You think these kind of re bounders are easily found?…Good luck if you know another one…their rarer than a 4 leaf clover!
She is the best passing block post player in the shore. Not only is she a willing passer from the box, as in 3 dimes a game. What's impressive is this.  Rumson Fair Heaven is not exactly known for it passing and only throws that ball into the post as a last resort. Most post players in this situation would shoot the ball the moment it touches their hands. NOT SCANLAN, she is a unselfish and understands teamwork…
Speaking of smart, all you Patriot schools if you can somehow sign her; I promise that you will win the league championship before she graduates!…YUP SHE'S THAT GOOD and we all know how  bad my track record is in such matters….LOL just keeping it real folks!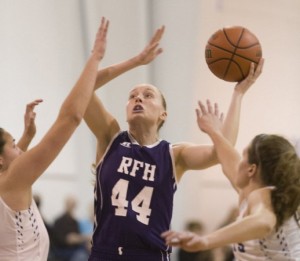 Now let me tell you what Scanlan has done this season.  She has played been sick most of the year. Yet is averaging just about a double/double this season. She has scored in double figures in every game except two…she has had rebounding nights of 16, 12, 14, 11, 12 and folks she ain't doing it scrubs, she is getting it done against killers. She is doing it against the BEST TEAMS IN NEW JERSEY. By the way this past Sunday, you can add #10 Saddle Day to that list. She had another double/double of 16 rebounds, 10 points, 3 blocks and of course barley a word mentioned other than in passing, in fact one paper had her for 10 rebounds…LOL!  In fact after the game I asked a reporter "how many rebounds did Hannah Scanlan get" the answer "She had about 7 or 8" The reputation clearly has not caught up with her game.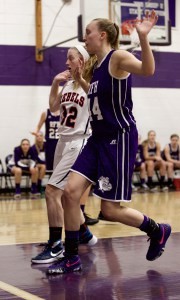 Miss Scanlan is the backbone of the RFH defense, as she has to play against the opposing teams best post player every night. Then she has to rotate on defense to help teammates and yet get back to her man and do 60% of the rebounding.  If you know a post player who runs the floor better than Hannah Scanlan please let me know who this imaginative  person is, it would make a great story. But here is what every college coach better be being attention to these days. Hannah is developing like no young post player we have seen maybe EVER! She made a post more against Saddle Day River, that was so quick and polished that a DIVISION ONE assistant coach said this to me " I didn't know she could do that"…Hell I turned to her and said "either did I". Then at half time I had an D1 assistant coach come up to me and say "Boy Scanlan might be the best keep secret in the area" She should have said she IS the best keep secret. No post player in New Jersey that I know, is developing there over all game like Scanlan right now.  I have heard she only goes left, there may be some truth to that. But let me ask you a question? You see anyone stopping her these days? I don't think so and my guess is that before she plays her last high school game that will be a non issue.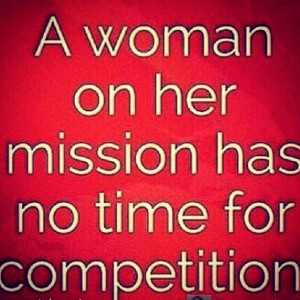 See reputations carry a lot of weight with some people. Not with me because I an a old head. I know when a kid is getting things done the right way. Meaning they are bringing things to the table that others take for granted. Like when Scanlan is getting 16 points and 12 rebounds and nobody says boo…but when another players with reps do the same,…. we go nuts and remind everyone how special they are. This is never changing for most, but for me it's par for the course, I know the deal. I see it every year and I'm sure it will always be this way…..Hannah Scanlan is a lock for my All Shore Team for one reason and one reason only. Right now she is one of the best post players not in the shore but the state and she been doing it with one hand tied behind her back most of the season.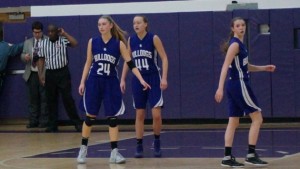 Right now Hannah Scanlan has done everything a player can do against the very best competition. Remove her from the RFH team and they are a average team at best. Hannah Scanlan does not jump up and down and wave her hands. She doesn't get interviewed after games. Let me ask you a few questions.  Who is the leading scorer on RFH ? Who is the leading rebounder? Who is leading the team in block shots, Who is  3rd in assist? I bet you answered all those questions with the name Hannah Scanlan, but if you were honest the name Scanlan never entered you mind. How can you be on one of the best teams in all of New Jersey and lead the team in almost every major statistical major and be a ghost to media and fans?  I will tell you why, because It doesn't sound as cool to mention Scanlan in that light. It doesn't create a buzz or get people debating or excited. Hannah Scanlan is not a lighting rod, she is boring, no drama, no fancy plays or show boating. She just plays and goes home…that's it!  
So in the end here is what everyone better start understanding. Because I see them all  and not against the weak sisters of the blind. I see them as babies and know what direction a kid is trending and trust me, they are all trending, one way or the other…. up or down. I know when the hype is a fraud. I know when the kid is going to get somebody fired or ruin their team chemistry ….long before they walk on that college campus one day. These are things you learn about a player over time. In the case Hannah Scanlan, she is trending up like a rocket. She is going to make a college coach very smart one day. She is going to make a Division 1 recruiter look like a recruiting guru. One day somebody will write how some coach at a  high Academic college, high major or BCS school developed Scanlan into a star….I for one  will be laughing my  ass off when its written. Because the development of Hannah Scanlan, who is only a junior is going on right now in front of everyone's eyes.  She is already a special player, it's  just her reputation is not caught up with her game. She is already one of the best if not the best post player I know these days….  HANNAH SCANLAN IS THE REAL DEAL AND PEOPLE LIKE IT NOT….YOU BETTER GET USE TO SAYING IT!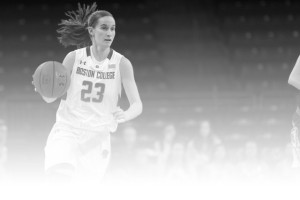 CONGRATS TO MY GIRL….KELLY HUGHES ON RACKING UP HER 1000TH POINT AT BOSTON COLLEGE….
UPDATE
SHOOTING MAINTENANCE IS SUNDAY… FOLKS IT"S ABOUT GETTING SHOTS UP