Gillian Black, has never been a spotlight kid. She has never been the player everyone talks about. I remember when she was younger, she always was one of the most liked kids on her AAU TEAMS. She was never in the middle of drama that comes with AAU basketball. When she walked in the gym I would yell "UNDERRATED" at the top of my lungs. She was the kid who always played the right way. She never turned the ball over, always took good shots and made the extra pass. She was a kid that enjoyed basketball and made her teammates better. Like many kids, AAU kicked Gillian Black  around, just before high school. It seems that's that way it goes for good kids in the AAU world. But Gillian Black entered high school with high expectations and big dreams like all kids.
When Gillian Black entered high school, I thought she would be a major asset to Manasquan. I felt her shooting skills where a bonus to a already talented team. But Manasquan was going though some changes and so was Gillian Black. I always watch kids before games. I watch who they sit with and are they smiling. When I saw Gillian, she looked like a kid that had lost some spirit. I am not sure why, she just didn't seem to be the same kid on or off the court, that I knew. She looked like a kid who was not enjoying herself. Gillian Black has always been the kid that cheered and liked to have fun. That was clearly missing and I was concerned that her energy was not what I had been use to seeing. Gillian Black was always a shooter you can count on and she always played with confidence. Those things were missing and I'm not sure why. I doubt Gillian Black understood why either…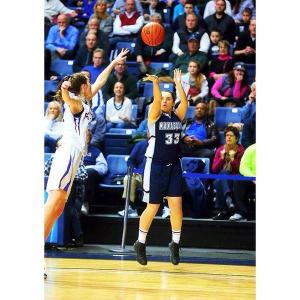 We forgot "she's a great shooter"
This year Gillian Black started the year off as an after thought. But I did see something different in her this year. I watched her during warm ups. I watched as she jumped up and down for her teammates as starting line-ups were announced before games. I watched as she took advantage of the few minutes she was getting. I watched Gillian Black began to come back from the darkness. I honestly felt if Manasquan would turn to her she would deliver. Gillian Black has played in some real tough basketball games in her life and the Manasquan folks had not seen who she could be. But Manasquan would soon turn to her….lucky for them.
When Manasquan hit a tough patch during the season. They started looking like a one women team. Players were just standing and watching, Coach Kukoda knew they couldn't win the meaningful games this way. They knew they needed a shot in the arm. They needed better decision making, they needed that extra pass and they needed somebody who was dying to show there worth. Enter Gillian "underrated" Black, who was more than ready to help. Gillian Black became that missing part that made the Manasquan engine go. Her extra pass in the game vs RFH to Dara Mabrey to close the quarter with a three may have seem like nothing at the time. But Gillian Black started making a lot of passes like that. Her smart play started earning her more time and Manasquan started to become a BEAST. She was becoming that player off the bench who really could change a game for Manasquan. Gillian Black became a very important part in Manasquan's quest for a 2nd SCT.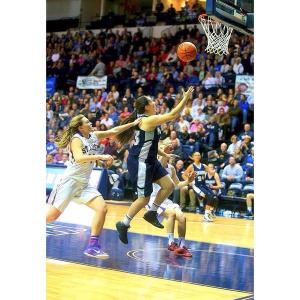 Gillian Black was the difference
While many around Manasquan might have been impressed with Gillian's basketball IQ. What most didn't know was that Gillian Black made her bones shooting the ball. That is her real strength, ask anyone on the AAU circuit. But she was smart enough to know that Manasquan needed somebody to make others better first. This was her way back to the light, so that's what she did. Gillian re-invented herself… one of the best shooters in the Shore, that no one knows about; used her basketball IQ to earn quality time.  As Gillian Black's confidence grew, the Manasquan team grew. Last Friday, the entire game of basketball came back to Gillian Black and it came back to her on the biggest stage of all.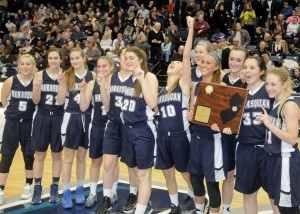 She has come full circle, holding the TROPHY!
Last year Gillian Black was on the SCT winning team. This year she was a big reason Manasquan won their 2nd  SCT title. Lisa Kukoda made the decision that Gillian Black was no longer a role player, but a prime time player and Gillian Black proved her right. Gillian Black went 3-3 from the three point line, grabbed a few boards, made a few passes and had a few steals. She also finished with 11 points. Gillian Black was a stud in the SCT FINAL. She brought her full game to the table. In the end she may have been the key to the entire Manasquan season. It wasn't until she started getting extended minutes did Manasquan find its true groove. Gillian Black is not going to get much credit for this….but what else is new!
She is now should be called Gillian "Miss under appreciated" Black, and I think she is okay with that…because I can see in her eyes, she is happy again. She has been on a bit of a strange journey, that now has become a wonderful trip. Gillian Black is out of that black hole that was threatening to steal her joy. Now she is where she belongs… at the top of the mountain leading the cheers and smiles….I AM HAPPY SHE FOUND HER WAY BACK, BECAUSE IT'S WHERE SHE BELONGS…