Yesterday Core Skills Winter training kicked off and to nobody's surprise, some of the most talented 7th and 8th graders showed up. Core Skills has served as a measuring stick for many future stars over the years. If one thing came out of DAY ONE, it was this. The 2025 class is loaded from top to bottom and the 7th grade class is beyond scary good
Don't call it a comeback. Because the 2025 class has been waiting in the wings for years now. But the 2026 class is nibbling at there heels. After what can only call only be called a disappointing 2024 class. The 2025 and 2026 classes have come back roaring, if yesterday is was any indication of what to expect over the coming weeks. The potential at Core Skills was a surprise to even me. While we have a long way to go, there clearly were a few players that separated themselves from the pack early. Now keep in mind the true test will be which kids develop over the next 2 months. Which kids have the ability to show up week after week. It's sounds easy but trust me it's one of the most difficult things for a player to do. When you throw in AAU practice (don't ask folks), school work, injuries and family obligations. The true measuring stick will be who can over come all these road blocks, then perform week after week and whose competitive natural wins out.
When I woke up yesterday mornings, I was wondering what players would grab the building by the throat and impose there competitive nature on the rest of the players in the gym. Kermari Reynold did this as a unknown before becoming a star at Manchester and moving on to the U Penn. Certainly the slow raise of Camry's Foltz was stunning before she became a FIRST TEAM ALL SHORE PLAYER, before moving on to Dartmouth University this year. But the best player in the gym in the 2021 version of Core Skills was no surprise. OLIVIA SHAUGHNESSY is becoming a household name. Yesterday she separated herself from the pack in a big way. Matched up against a future D1 player. SHAUGHNESSY displayed what is now becoming the norm for her. She displayed a level of toughness you cannot teach. But it was her ability to once again play on both side of the ball that made her stand out. Her ability to defend in the half court, full court and in transition is beyond her years. I can tell you without hesitation she is the most prepared defensive player in the 2025 class. She is also right now the most prepared baby entering high school (her father is an asst coach at Manasquan). Yesterday she knocked down jumpers in transition. Became a playmaker and most importantly showed her IQ right now light years ahead of her years. OLIVA SHAUGHNESSY is clearly making a case to be the best incoming freshman in the Shore next year. One thing is clear her competitive nature is at the top of the 2025 class...her message to her fellow classmates yesterday? CATCH ME IF YOU CAN...GOOD LUCK!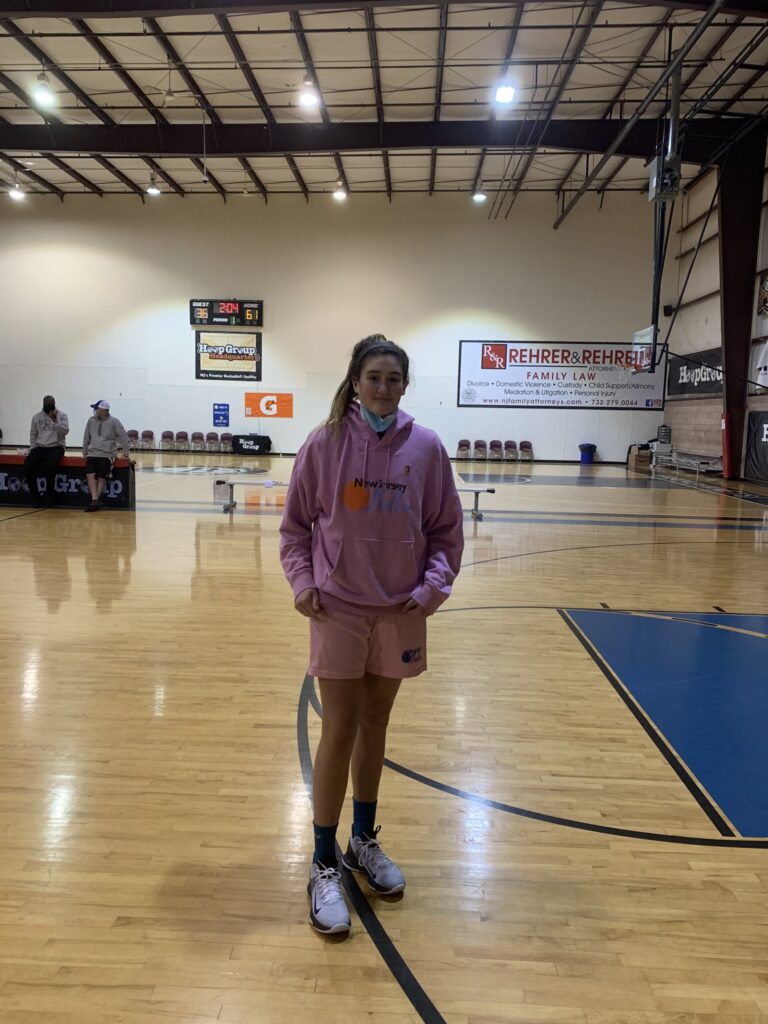 Coach John Truhan of RBR is getting ready to receive something RBR has not seen in recent years. A forward who could possibly be the most in demand post player in the shore one day. Caroline Palloway of Little Silver is showing signs of greatness. She reminds me of current D1 and former RFH star Hannah Scanlon. Both are lefty's and both are 6'2". The difference is PALLOWAY just might be the bigger, better more skilled version of Scanlon, a scary thought indeed. She can use both hands, can put the ball on the deck, stretch defense's with her shooting and has the ability to one day play three positions because of her length, skill sets and quickness to go along with her natural instincts for her size. Throw in her willingness to grind and work and you have magic in the makings right before your eyes. CAROLINE PALLOWAY has a soft touch to 19 feet and has a shocking ability to handle and pass the ball. Her versatility was on full display yesterday. No player in the gym had a bigger upside. There is no question the next 9 weeks may be a real statement about Caroline's and RBR's future. She is the type of player over the years RBR has not be able to convince to stay home. That player who traditionally has choose to attend a RBC, SJV, St. Rose and the RFH's of the world over the years. Caroline may be the start to something new. The future D1 player has a chance to be special and take to RBR another level .. Folks I wouldn't bet against her or Coach Truhan.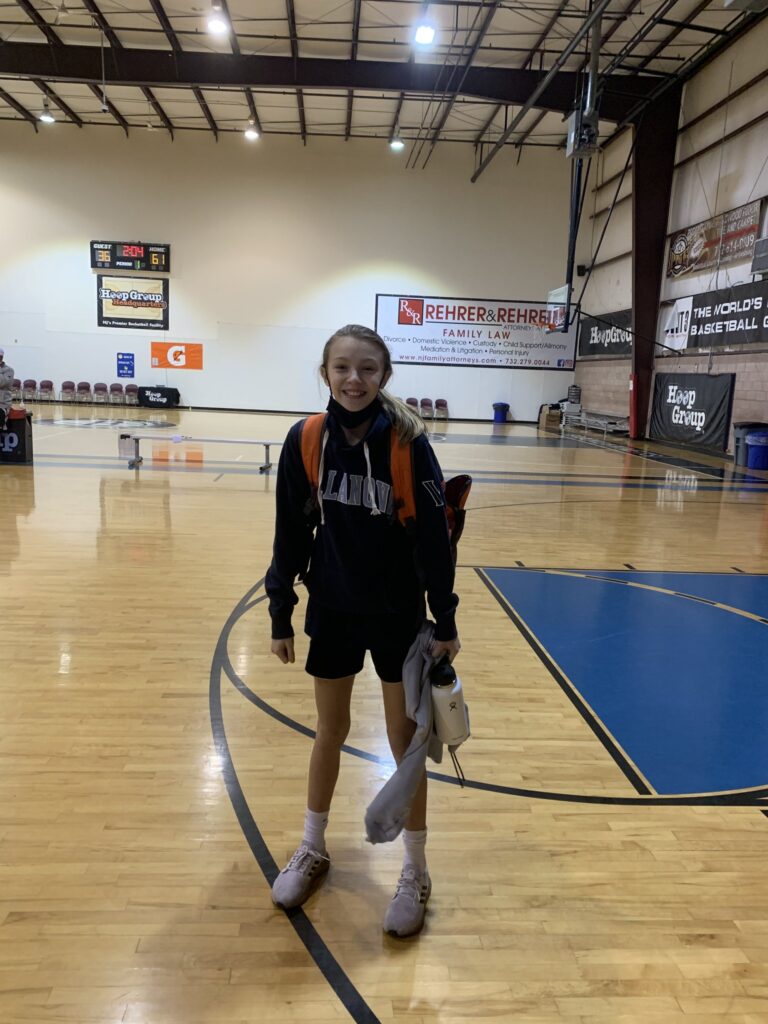 I wrote about Addy Nyemchek a year ago(https://nothingbutskills.com/addy-the-bad-woman-nyemchek-has-the-power/) and not much has changed except she is now three inches taller and stronger. She also has moved from Upstate, NY to the Shore Conference. The 7th grader proved one thing yesterday. She is going to to a future D1 player and a FIRST TEAM ALL SHORE guard. Folks she is that good and yesterday nothing she did would to make me think different. She will be a game changer the day she puts on a high school uniform. The 2026 guard will be one of the most recruited players in NJ one day. Yesterday, she simply put was FANTASTIC from start to finish. This is a future mega star folks!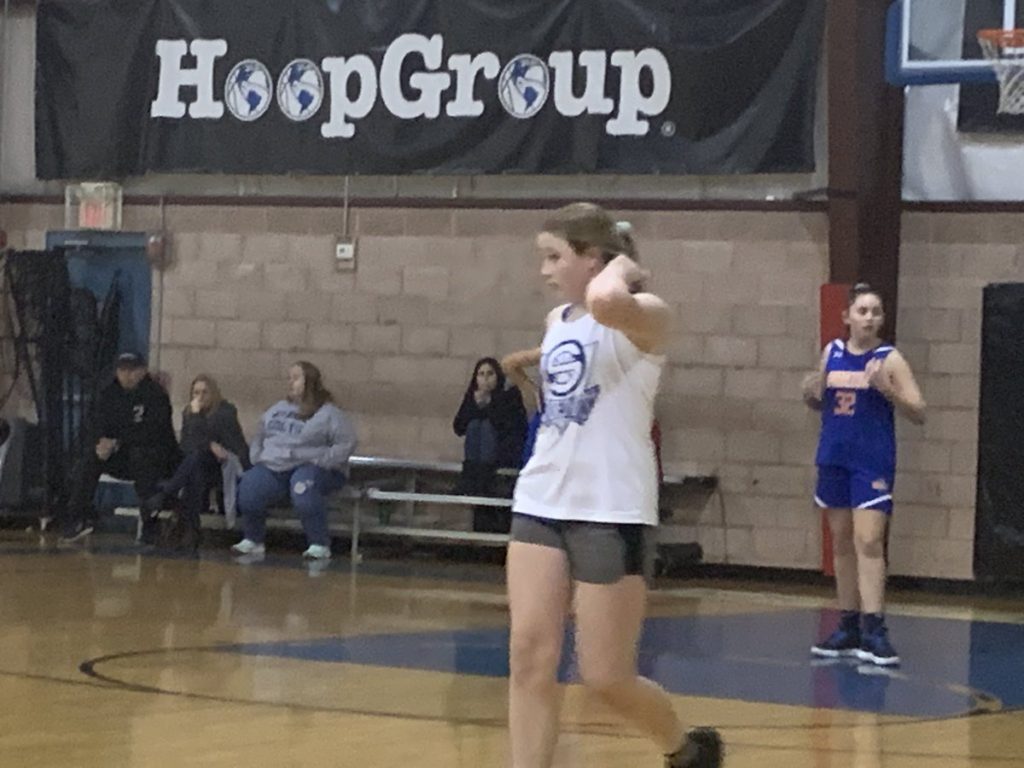 Clearly Tessa Carman and Jada Lynch have big futures and reputations. Both have P5 type bodies and are athletic and explosive as you dream about as a coach. Yesterday both showed flashes at times. Tessa Carman who will attend RBC looks like she is ready to take the next step over the next 9 weeks. Jada Lynch is only a 2026 and she too looks ready to take it to another level. At times both players looked like future stars. Both have a lot of work left to do. But there is no doubt they are two of the best not only in there age group.. but have the potential to be two of the best in the country one day.
It never fails every year, somebody pops up out of nowhere to steal the show. This year it just happen to be no different. Reghan Rice of lambertville, NJ was sensational all afternoon. She is blessed with a college ready body and off the charts athleticism. She is ultra competitive and clearly has a serious passion for defending and rebounding right now. She ran lanes in transition better than anyone in the building folks.. it's called a work ethic. The 2025 wing played AAU for the PHILLY BELLES and has now moved over to the Shoreshots. It will be interesting watching her over the next 9 weeks. If she can duplicate yesterday week after week then we are looking at something special.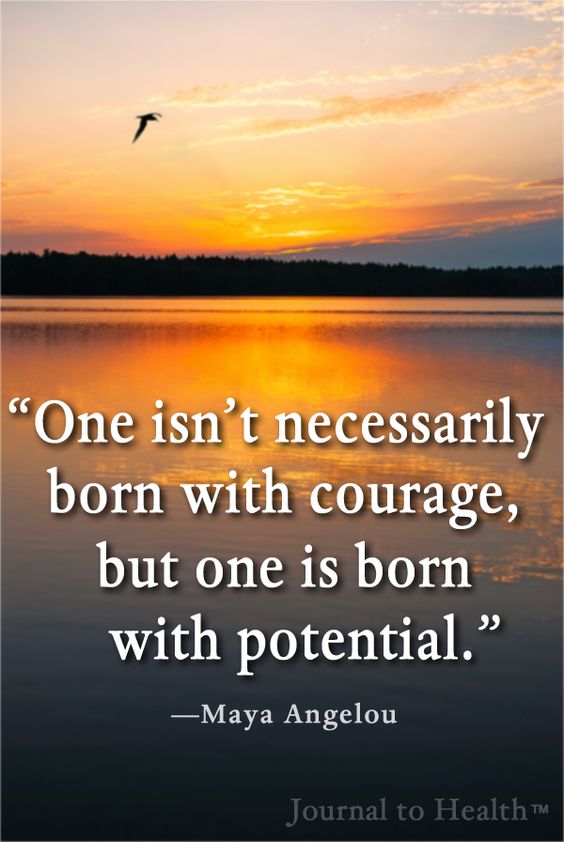 All in all day one was a good start. While we are getting a peek into the future. Understand there is so much more to see over the coming weeks. We will know the players ready to make major impacts and those unknown future stars coming into the light. Core Skills frankly in many cases is a first time opportunity for a young to build name recognition. But more importantly a chance for kids to face real competition in a unforgiving atmosphere. It's a chance for a kid to truly develop and grow athletically and socially. This is when a young athlete gets truth. They know where they stand and what they need to do, to get to the next level. Now we were missing 3 of the best 2025 and 2026 kids in the state yesterday. But we will learn many and all things about so many kids in the coming weeks. We will learn about work ethic, ego, relationships with peers, attitude and ability to adapt to the new…so stay tuned. It's always a fun ride.
Next weekend the fall Winter league starts. This year it will be different. There are no out of state teams or fans allowed. So I will feature 3 games a day and tweet them out (@coachtinygreen). It will give fans and myself another look at future stars of tomorrow.
TOMORROW…