OCEAN COUNTY BASKETBALL in recent years has played a back seat to Monmouth County. That could all be changing with Manchester becoming a powerhouse and TOMS RIVER NORTH looking more and more like a To 10 team. Both teams are stacked with future D1 players. Soon Ocean County will have to take a back seat to no one. AMANDA JOHNSON has been in the back seat for years at TRN….But one thing is clear, she is the best back seat driver in the Shore Conference.
TRN has become one of the best teams in the Shore Conference. They will be ranked very high in the Shore and the state polls this year.  The reason they are going to be ranked so high is because they have a player who gets little attention. She is often in the background and does her job with no fanfare. AMANDA JOHNSON, is no role player, she may play second fiddle to her two star teammates Brille Bisogno and Jenna Paul in the hype game. But between the lines, she is as good as it gets. Her value to TRN cannot only be seen in the box score but on the floor as well. The only thing missing is the continued lack of appreciation by others in the Shore basketball community.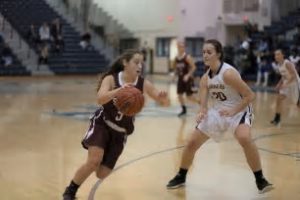 There is a person who I know has a real respect for her game….my daughter. Candice is an asst coach at Colgate University. She is recruiting a player at TRN. She always says to me, dad people are missing the boat on Johnson. She's right, because she is a D1 talent and folks, I will let my track record, speak for itself in such matters. She has decided to attend CATHOLIC UNIVERSITY. She will be attending one of the best schools in the country with a basketball team with a great tradition as in Winning National Championships. It's funny the last player with talent like Johnson who decided to attend a D3 power was KATIE SIRE, currently at Montclair State University. I think we all know what the ALL AMERICAN has been up to the last 4 years. If you need a little reminder go look at her senior class, of all the players, she is by far having the best college career and experience. My guess is Amanda Johnson will do the same.
I've Known Amanda since she was in 5th grade? She trained with me a little, but moved on, if the truth be told, I wasn't her cup of tea. She is very quite and unassuming. Sometimes in group training with very talented kids, a quite kid who is just as good as any other kid can get lost. Amanda Johnson found other places to develop her game. It's why now she is a impact player anytime she steps on the floor. Her size and length are very  deceiving . She is close to 5'11" long and  athletic , deceivingly strong with a baby face that is even more deceiving as she is one tough hombre. When you look at her stats from a year ago, you have to wonder why is she not a household name.
When Brielle Bisogno was injured and out for the season last year. Many believed TRN was in for a long season. Instead TRN had a dream season without there star point guard. Most of the credit went to Jenna Paul and Ashley Tutzauer. But let me put you in on a dirty little  secret. The key to the 28 wins, a WOBM TITLE and Top 10 rankings was that back seat driver, AMANDA JOHNSON. It was she who doubled her scoring and rebounding average last year. It was she that became by far their best defender. It was she that was willing not worry about hype, awards and credit that made it all work last year. There are few kids with her production, that would've accepted not getting their fair share of the loins  attention or credit. This is why Amanda Johnson is the best back seat driver in the state possibly. It's a insult to call her a role player.
I've seen TRN play twice this fall. Yesterday against NOTRE DAME, there were 5 D1 players on the court. All of them are NBS kids, Amanda mostly likely trained with them years ago. The NBS kids most likely, looked at her as a afterthought, like myself and other have done in this past. But when the day was over by far the best player on the court was the afterthought named AMANDA JOHNSON. She was brilliant yesterday. She passed the ball, defended, got to the rim, banged out three's and proved to be the leader of the team. Amanda Johnson as I told my daughter afterwards  was everything she said, she was… A quiet assassin as TRN and NOTRE DAME played dead even yesterday….SHE WAS THE REASON WHY
I watched AMANDA JOHNSON against RBR earlier this week. I saw how hard she played and with such a beautiful IQ. But it was her attitude towards her teammates and opponents that made me smile. Twice in the game her teammates, missed her when she was wide open on the wing for shots…shots she could bury with her eyes closed. Now she on the other hand, never misses her open teammates and always makes the extra pass. Yet she never blinked or crossed a eye. It was almost as if it never happened. You see this explains why she is so important to her team. She does not take anything personal. Just like when she doesn't get credit for all she does. Somehow other players on her team or in the Shore are considered more important or stars. Well let me put a end to that NONSENSE AND IT IS NONSENSE; RIGHT NOW. Amanda Johnson is as valuable and a star in her own right… SHE IS GAME OVER HYPE..
AMANDA JOHNSON  knows what it's like to be unappreciated. She understands that sports is not always fair in dishing out the credit. She has not let any of that effect her over the years. She has improved every year in high school. This year will be no different, the only thing I hope is that we all  acknowledge Performance and Production …AMANDA JOHNSON DOES BOTH from the back seat of hype world…isn't  it time we let her sit in the front seat…SHE'S EARNED IT!