Today's' SPOTLIGHT TEAM is TEAM RIO u17  coached by Shannon Coyle. This is a team made up of players from the 2020 class and a bevy of talented underclassmen. Their team has players who play for some of the best high schools in the Tri State area. Team Rio has been a fixture on the men's side and have brought the same aggressive attitude to the girls side. This is the first Team Rio girls team. After an intense recruiting period. They have put together two quality teams LOADED WITH D1 talent. We will feature the U16 team at a later date. The Coyle Team Rio crew, has just about everything. Size, quickened, speed and big time shooters, play makers and defenders.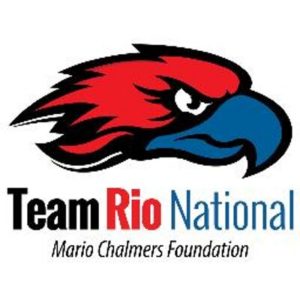 THE TRACK RECORD
Team Rio is off to a flying start. They went 4-1 at the USJN after going undefeated in their first weekend of action.  They also  knocked off the talented 2020 Shoreshots. They clearly are embracing the best competition they can find. It's easy to see come July they will be one the best U17's in the state. TEAM RIO girls are off to an impressive start.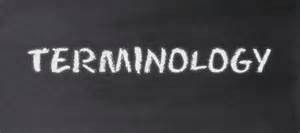 Before I start I would like to clear up a little terminology. When I say a player is a lock Division one player that means a player has a offer on the table or I believe will have multiple D1 offers at some point…key word being multiple. MY TRACK RECORD IN THIS AREA SPEAKS FOR ITSELF…
TEAM RIO https://t.co/KHylf2cp0P

— ellonya Tiny Green (@CoachTinyGreen) April 15, 2019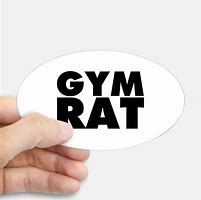 When I call a player a GYM RAT, that player is constantly in the gym, outside there team practices and comfort zone, seeks outside competition and there work ethic is bigger than there ability. These players train against high level competition. I never call a player a Gym Rat, unless I have seen them against older elite competition and PREFORM at a high level while doing so. They are in the gym at every turn and seem to always be around. These players will be better in college than high school and can play a level HIGHER than there recruitment. I believe you build programs with gym rats…they have a added value recruiters do not get to see. Gym Rats are tough to find as all coaches know. There are hard workers and then their are GYM RATS…Learn the difference.
THE COACH…SHANNON COYLE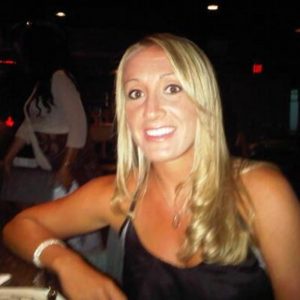 She has now become a fixture for Team Rio. She was an asst. coach Rio boys team, led by McDonald All American's Scottie Lewis and Bryan Antoine. She has been the named HOOP GROUP COACH OF THE YEAR, while turning the Long Branch girls team around. She was a mainstay for the Central Jersey Cardinals for years. She coached some of the best teams on the AAU circuit while making the Cardinal organization a powerhouse. The number of Division one players she has coached is too long to list. She made the jump to Team Rio in order to help build an ELITE GIRLS TEAM. Shannon Coyle has the respect of just about every coach in the area. Her teams always over achieve and play hard. She is simply one f the best around period!
COLLEGE POTENTIAL BREAKDOW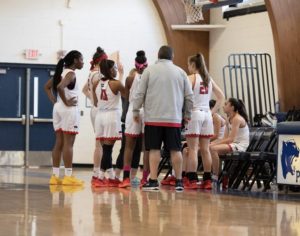 College Level Players(7)
Possible D1 Players(5)
Current D1 Locks(3)
Impact D2/D3 Players(5)
Gym Rats (2/3)
LIVE PERIOD SCHEDULE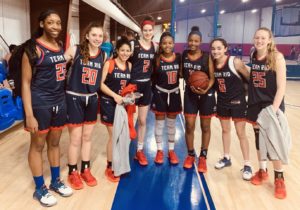 APRIL 26th- 28th
Live at the Nook
Spook Nook, Pa
MAY 18th-19th
Atlantic City Showcase, NJ
JULY 5th- 8th
Run for the Roses 
Louisville, KY
JULY 10th- 12th 
UAA Session 2
Indiana
JULY 23rd- 25th
UAA Finals, 
Atlanta, Georgia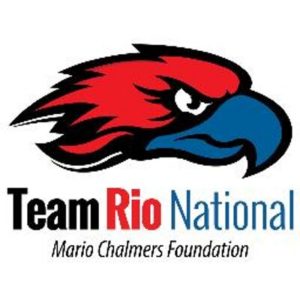 PLAYER PROFILE
U17 Under Armour Association Girls
20
GRACE
MUNT
RUMSON FAIR HAVEN
2021
6'1
25
KATIE
HILL
ST. JOHN VIANNEY
2021
6'2
4
MADISON
ST.ROSE
ST. JOHN VIANNEY
2022
5'11
2
KENDALL
MILLER
LONG ISLAND LUTHERAN
2020
6'3
3
DAMARIS
RODRIGUEZ
SECAUCUS
2020
5'7
10
ELLA
ANTHONY
HORACE MANN
2020
5'8
22
PRUNELLE
MUNGO
NEUMANN GORETTI
2021
6'3
6
PAULINA
PARIS
ALBERTUS MAGNUS
2022
5'9
GRACE MUNT- RUMSON FAIR HEAVEN 5'10"- Wing- 2021
This is the real deal for a number of reasons. First start with the massive improvement in the past year. Next the athletic ability is off the charts. The work ethic is off the charts. Finally throw in that rare  attribute …talented player who is a program kid. Add it all up and now you understand why A10 schools have already offered. The skills set are mind blowing.. shooter, passer, elite cutter, unselfish passer, big Time versatile defender and competitor. She player the point for most of the season this pass year for RUMSON. She doubled her stats in every category. One of 5 sophomores to make all Shore. Three level scorer who never ever takes a bad shot. Elevates her teammates and never concerned with stats. But if you need stats,  how about 46 blocks, 41 threes, 33 steals, 258 points, 155 rebounds, 63 assists, do I really need to go on. She is flat a future superstar on and off the court.
MADISON ST. ROSE- St JOHN VIANNEY- 5'9″- Combo- 2022
2021 Shoreshot Coach Tracey Sabino said this about her after this weekend. "we had no answer for her". Madison St. Rose has gained the respect of just about everyone in basketball circles. It s why she already has multiple D1 offers. It could be because she is one of the most well liked kids in the state and basketball has nothing to do with it. Her length athleticism and quickness make her a nightmare. But it's the insane IQ and vision that makes her rare. She has very if any holes in her game. She is a big time defender, big time rebounder and one of the best finishers at the rim for any age. She was 1st Team HOOP GROUP ALL FRESHMAN. Some believe she had a case for Freshman of the year. Her tool box runs deep, she can knock down the three, make the mid range and is murder in transition. She is a future POY Canidiate. She is a total teammate and gym rat. She is that player who comes around obpnce in a while…so enjoy.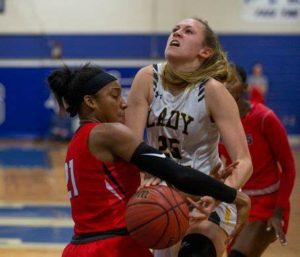 KATIE HILL- ST. JOHN VIANNEY- 6'0″- Combo – 2021
This may sound odd, but one of the most underrated players in the entire state. College coaches love her, that's why she has D1 offers on the table. What they love is the physical presence she brings each night. She is a underrated LOCK DOWN DEFENDER. She is also a pure shooter, who yes can slide to the point against any level of defender. Now throw in the elite size and sick IQ and you got greatness in every sense of the word. You know what else is great? You simply do not know a better kid of family. This is a program kid at the highest level. She will play any role she is asked to play. She is mega competitive and has seen the very best competition one can see at any level. The skill sets match the attitude…ELITE! The handle is excellent, the vision, next level. The off ball understanding of defense..forget it, few are better. KATIE HILL will be one of the most recruited players in New Jersey…no wonder she was A HOOP GROUP 1st TEAM ALL FRESHMAN MEMBER.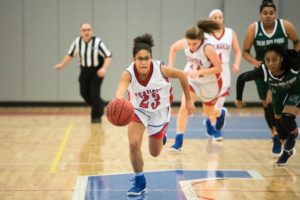 DAMARUIS RODRIGUEZ- SECAUCUS- 5'5″- POINT GUARD- 2020
You may not know much about the ALL COUNTY guard. But many college coaches know exactly who the talented guard is. ..she is leading quick and just about unguardable off the bounce. She is physically strong with off the charts change of pace and direction moves. Her vision in transition resemble a magic trick. She has the able to bury the three in transition or by spotting up. She has played on a number of AAU teams in the past but TEAM RIO may be just what the doctor ordered for the talented guard. This past season Damarius averaged 16 points, 7 assists and 5 steals a game. She has already scored 100o points with another season left. She has had multiple double/double in her career already. She has a next level motor and playing for Team Rio will help get her to the next level. She is a future D1 point guard. ….who is fun to watch.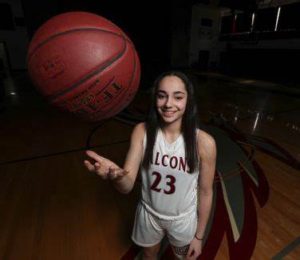 PAULINA PARIS- Alburtis Magness- 5'5″- POINT GUARD- 2022
She is just a freshman and not just any freshman. She is one of the most talented babies in the Tri state area. The quickness, defense, ball handling, shooting and IQ  defy logic for such a young player. Paulina is one of the most competitive players you will see this summer. Her ability to control pace of play is special. She can get in the lane and fine bigs or shooters. Her decision making while playing with pace is a thing of beauty. Now throw in the ability to control her emotions under pressure and you got a special player. How special you ask. The freshman had 28 points vs St. Rose and single handily almost beat the team loaded with D1 players. She is that rare baby who is not afraid to dominate games. TEAM RIO has a future mega star on there hands.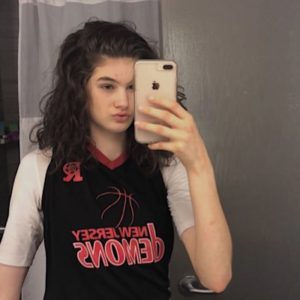 KENDALL MILLER- LUHI- 6'1″- FORWARD- 2020
Serious upside and her is why. She has size, length and is mobile. She has the ability to step away from the basket and make shots. She is not afraid to throw her abody around. She has excellent hands and is a reliable passer. She has played and seen the very best high school competition in the county. She has had elite coaching. All these things add up to this young lady having a monster summer playing against elite competition. This is a must watch player.
PRUNELLE MUNGO- NEUMANN GORETTI – 6'3-  FORWARD- 2021
She has college ready body and insane athletic talent. She has big time leaping ability and strength. She is still a baby. She has excellent hands and runs the floor with energy. She gets on both side of the backboard. She plays hard and competes both defensively and offensively. Her upside is off the charts because of the physical gifts. She has long arms and has nice anticipation to the ball. Mungo is a classic rim to rim runner, because of her advanced  body coordination  for a player with size. She gives Team Rio real presence in the lane. Another talented player who could blow up this summer.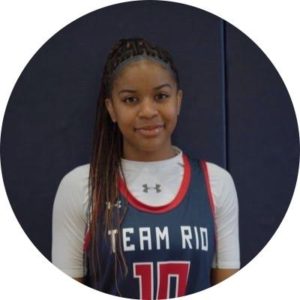 ELLA ANTHONY- 5'6″- COMBO-2020
The word is that she is a gritty guard, who  gets to the rim and competes….MORE ON HER ONCE I PUT EYES ON HER GAME