Today we take at look at the  C SOUTH  DIVISION. This division has a team in Shore Reg that went to the TOC last season. It has a  Top 10 team and while it may not be loaded with Shore Contenders. This division surprisingly has lots of talented players up and down the division. The division should have competitive games all season.
​
The favorite in C SOUTH is OCEAN TWP. They return all their key players from a  year ago. Plus they added a talented freshman who has played the highest level of AAU  that has bolstered their rotation. Coach Michael Lazur is a excellent coach who puts all his players in the right spot to have success. He also has the 4 HorseWomen who are responsible for this teams new found status. This group has had what can only be called a great fall and scrimmage season. They have the most important player in the Division and more experience that any other team in the division. Ocean Twp could not only make a deep run in the Shore Conference. Amazingly they could be looking at a Top 20 ranking before the season is over.
Head Coach- MICHAEL LAZUR 
2021-22 Record
Overall-13-13
Conference – 4-8 in C North
Projected Division one players (3)
---
THEY DID NOT LOSE A IMPACT PLAYER FROM A YEAR AGO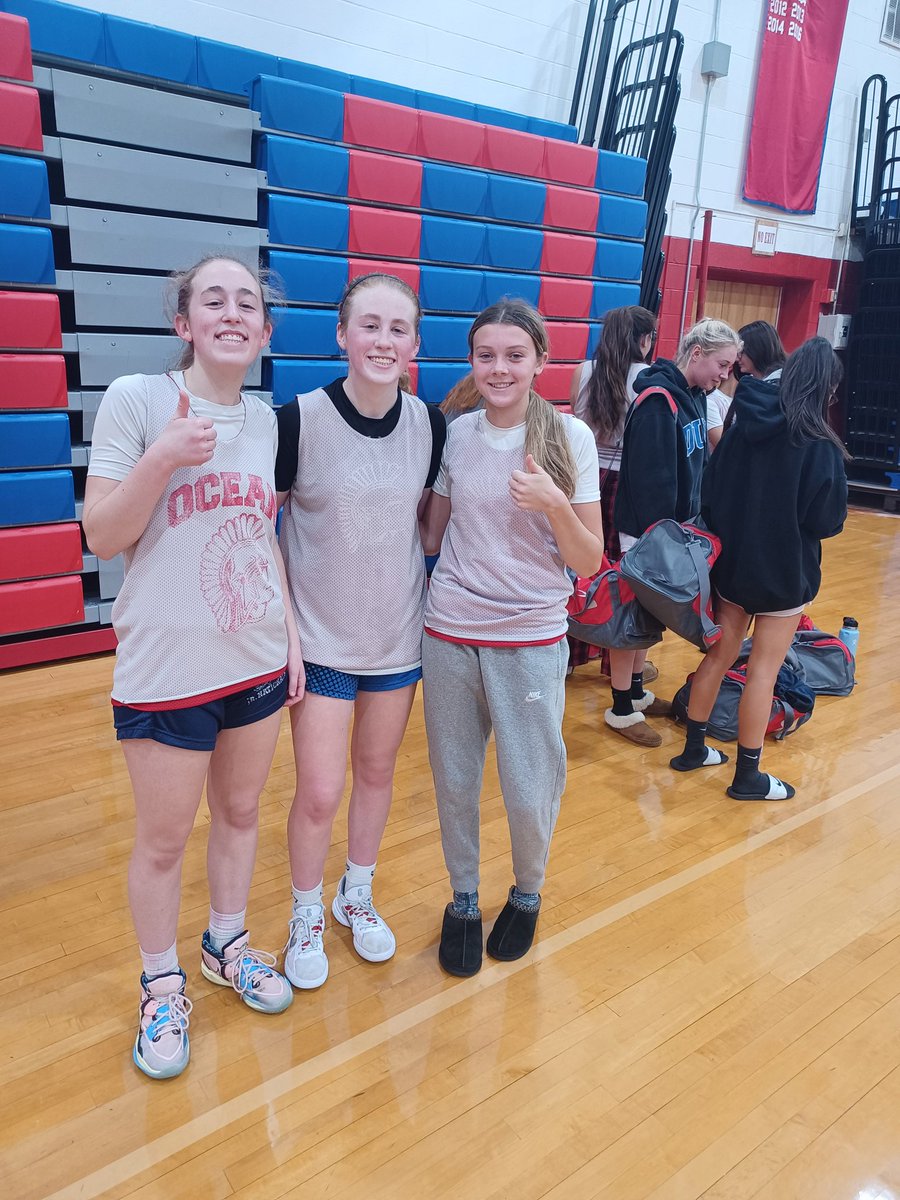 Jineen Ayyash- 5'9″- Jr- SWING–  At some point people are going to have to come to grips with a fact. She is one of the best players in the Shore Conference. She backs this up with one  big performance after another. She was at times this fall was unguardable, She is murder on the offensive glass, can post up and shoot the three. She is another Gym Rat on this roster and her hard work has led her to this…10 points and 6 rebounds a game last season after sitting 30 days because of her transfer. She has a excellent handle and real court vision. Jineen has improved each year in high school. No wonder is currently getting D1 recruitment. She was the leading scorer on the team last year and this season she will increase those totals if the fall is a indication of what is next. Her ability to connect with her teammates is special and more importantly she has proven she can guard multiple positions. She will be looking for a big season this year. She has been injured and will not return until the 2nd week of the season. The FOUR HORSEWOMAN ARE NOT COMPLETE WITHOUT HER.
Gamila Betton–5'11"- Junior- Forward– She is another member of the FOUR HORSEWOMAN. She is by far the best forward in the division. In fact there is nobody in the division with a matchup equal to her. She is as athletic and big and strong as they come. She is also is lighting quick and a fast leaper to the ball. She had some big moments last year. She also spent the summer playing high level AAU. She averaged 9 points and 6 rebounds a year ago. She will blow those numbers out of the water this season. She also had 28 steals from the center position a year ago. She had a number of double/doubles last year including a show stopping 18 points and 10 rebounds in a lost to Shore Reg.  She has spent much of the fall on the sidelines with a ankle injury but she will be back for game one of the season.
Kayden Clark– Sophomore- Guard– You do not want to run into her in a dark alley. This is one tough hard nosed cookie. She was 1st Team All Freshman last year. But that is old news because this Gym Rat has taken her game to a entirely different level. She is not only a good three point shooter these days. She is one of the best in the Shore Conference. Her shot fakes and pull up jumpers are deadly. Now thrown in one of the best rebounding guards in the Shore and you have a D1 player coaches dream about. She is a lockdown defender and like her sister will be looking to be on the All Defensive Team. Her handle allows her to get to the rim and create for teammates or score. She crushed guards all fall with her competitive nature and toughness. When you talk about the best players in the 2025 these days. She must be in the conversation. She played the highest level of AAU competition and is fearless. This young lady does it all and completes the FOUR HORSEWOMAN
Sofia Chebookjian- 5'9″- Sr- Forward– She has been a real surprise and a very important piece to the Ocean Twp team. In fact without her, Ocean would be in big trouble. But lucky for them, she is around. She is smart and plays her role to a "T". While she may be under appreciated by those who are outside the program. The Ocean faithful know what they got. A very smart player who makes open shots. Always boxes her man out and does all the little things. Like hustle, make the extra pass and play smart. Last season she had multiple double figure scoring games. She averaged 5 points and 3 rebounds. Her teammates trust her and her coach believes in her. This is a very important player if Ocean hopes to take that big step this season
Emily Peters- 5'6- Jr- Guard-  Another player who understands her role. She has experience and has played lots of minutes. She could play a very important role off the bench this season.
They have one baby and she is as important as any baby in the shore in this case.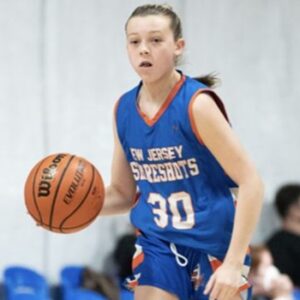 Caroline Bariscllio–  Caroline arrives at Ocean Twp at the right time. More importantly the freshman is a rare battle tested freshman entering Ocean. She played on what many believe is the best 2026 team in the state in The Liggio Shoreshots. This scrimmage season, she is showing she is ready and confident. She can knock down three's, handle the ball and is very smart. If she can deliver solid minutes this season. It is a major upgrade for Ocean and gives them a major boost off the bench
The Four Horsewoman make this team beyond dangerous to every single team in the Shore not named SJV. This is a confident group of gym rats. But what people are missing is this, THEY ARE INSANELY WELL COACHED.  This team plays the game the right way always. They move the ball, with players cutting and finding open spots. This is one of the most unselfish groups in the state. They run pick and roll to perfection and take care of the ball. They will change defenses to keep teams off balance and kill you with dynamic offensive sets and out of bounds plays. This team is going to win a lot of games because they will make few mistakes and shoot a high percentage.  I would not be shocked if they blow though the division… their that good~!
---
William Wishart–( COACH OF YEAR, TOC Appearance)
2021-22 Record
Overall–19-13
Conference – 4-8 in A Central
Projected D1 players (0)
Shore REG hit the big time last year.  They made a historic run to the TOC and Rylee Drahos had a historic season. The move this season to  C South and that has to be a relief after spending time in one of the best divisions in the state. Coach Wishart has developed a winning culture at Shore Reg and now the players believe anything is possible after last season.  This year  Shore Reg hopes to run it back in group 1. A division title would be a nice way to start. This team has almost  their entire team from a year ago back.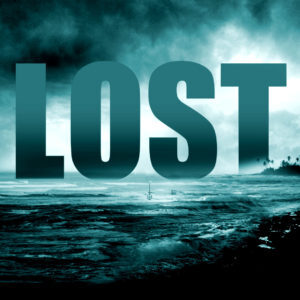 Leilani Andrews– She was talented, quick and had  a dynamic handle.  Last season she averages 4 points a game.
Rylee Drhos is a once in a lifetime player. She was Asbury Park Press 1st Team ALL SHORE, SHORE COACHES FIRST TEAM ALL SHORE, NJ.COM ALL STATE, GIVE AND PODCAST ALL SHORE.  There really isn't award the Rylee Drahos didn't win last year. She is one of the best players in the Shore Conference. Her 680 points, 235 rebounds, 86 dimes and 106 steals are simply mind blowing. But when you throw in she was double and tripled team all season. It becomes even more historic, just her her  40 points in the State Tournament. Drahos who is quiet and doesn't like attention, got plenty of it last year for herself and school. She put Shore Reg on the map and before this season is over will be the schools all time leading scorer. She has every skill set a player could ask for, she had 60 three's, made 102 free throws and many believe she is one of the best defensive players in the entire Shore Conference. She has put the entire Shore Reg program on her back. She is a special talent that coaches, fans and media call one of the most respectful and best teammates in the state. Rylee Drahos is expecting more this season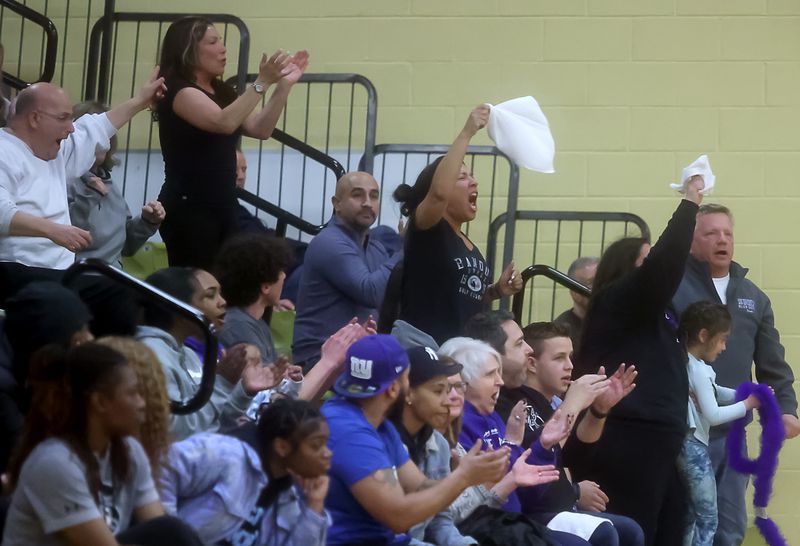 Reese Fiore – 5'7″- Sophomore- COMBO–  She is the Robin of the Shore Reg team. If Drahos is Batman, Fiore is Robin and she is excellent in her starring role. She had multiple double figure scoring game last season, including 17 points vs  top 20 Holmdel. She is smart quick and has learned the Shore system quickly. She is a deadly three point shooter, knocking down 27 while scoring just under 200 points last season. She also had 85 rebounds and 37 steals. She had what can only be called an outstanding freshman season. She will try and build on that this season. Playing AAU this summer and having a strong fall certainly doesn't hurt her chances.
Conley Smolokoff- 5'8″- Junior- Forward– She had a outstanding season that got lost in the Rylee Drahos antics. She scored under 200 point and had 130 rebounds. She is a tough hard nosed defender who loves her role as the clean up women.  She is battle tested and player that understand the big moments and will not fold under pressure. Conley will be counted on this season once again to play the same role. Look for her 7 points and 5 rebounds from a year ago to grown.
Antonette Russo-5'8″–Jr- Swing– She is another player who stepped it up last season. She had 14 three's and was a reliable player that Shore Reg could call upon. She too now knows what is expected and is  battle tested as well. Last season she double all her stats from the previous season. She had just under a 79 points, 52 rebounds and 30 dimes as a role player…..impressive stuff to say the least. She will be counted on to do it all again this season. Look for her to get extended minutes.
Alana Martin – 5'8″- Sr- Forward– She is another player on this roster some may have forgotten about. She was solid as a rock last season. She had 58 points, 77 rebounds and 21 steals. She is another player buying into her role for the teams overall success. Look for her to be even better this season. She has been in the big games, played against top players and is fully battle tested. Alana Martin is a BIG KEY  to anything that Shore Reg is doing this year.
NO IMPACT FRESHMAN
Everything will start and end with Rylee Drahos. SHORE will run their offense though Drahos. Coach Wishart is excellent at using his players wisely. They each get a roll and play it to perfection. This team is battle tested and have won and played in big games. This team also has played some of the best teams in the state in the past. Nothing will make them hesitate. Last season they beat Ocean Twp and that should bold well when they met the favorite. A GROUP 1 TITLE is certainly the goal as Shore hopes to run it back this year. Coach Wishart, has a group of players who have brought in and play as a team and understanding winning.
This team leans heavily on Rylee Drahos, what happens when she is not in the zone? Next the schedule has taken a major step backwards. Well that help with confidence or hurt them in the long run? Only time will tell. Next where is the post scoring coming from and where is the defense coming form? Finally  can Shore Reg put together a run like last season?
2021-22 Record
COACH GLENN JANSEN
Overall Record–  21-6
Conference- 12–0  in A South Division
Division one players- (1) 
Donovan Catholic has Gabbie Ross who is one of the best players in the Shore Conference. But right now Donovan Catholic  is in full blown rebuilding mode. Ross is an explosive scorer who can take over games. But simply does not have enough around her this season. Donovan lost every starter except Ross from a year ago. The remaining roster barely got any minutes last season. Glenn Jansen will use this season to get his program back on its feet. This year the gold is to make the SCT tournament and make it to states. Playing in Ocean County may help their cause but it won't be easy. Donovan will hope to play the spoiler role and beat either Ocean or Shore at least once and that could decide who wins the division…GABBIE ROSS GIVES THEM A PUNCHER'S CHANCE
---
Jackson Liberty, Lakewood  and Monmouth Reg will all be trying to having successful seasons. 
This is Ocean Townships  division to lose. The real threat is the team that beat them last year with everyone back; Shore Reg. But the fact of the matter is Ocean is one of the best teams in the Shore Conference this season.

OCEAN TWP  WINS C SOUTH THIS SEASON
PLAYER OF THE YEAR- ELI CLARK- OCEAN TWP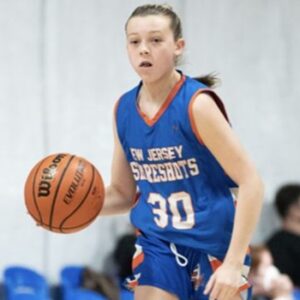 FRESHMAN OF THE YEAR– CAROLINE BARISCLLIO  – OCEAN TWP
COACH OF THE YEAR– MICHAEL LAZUR- OCEAN TWP