Last night Manasquan and Rumson went after it again and this time all the prime time players showed up. Marina Mabrey was great, Grace Stant brought her A game all evening. Seniors Sam Sabino and Janae Mayfield were both sensational at times. Courtney Hagaman was wonderful and did what all good seniors do…show up when it matters. But in the end last night was about role players stepping up and Lisa Kukoda proving age is only a number at least when it comes to coaching. Last night's game was almost a mirror of game one. The difference being decision making, shot selection, player rotations and Match-ups.
Toward the end of the first quarter with the score tied 10-10. RFH found themselves in a bad match-up with Dara Mabrey. When Gillian Black  was doubled she found Dara Mabrey in the corner. Mabrey made RFH pay dearly for such a mistake with a 3 as time was winding down. Manasquan ended the first quarter up 13-10 and this would be the start of a theme that lasted all night.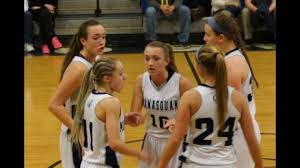 Dara Mabrey was special all night
In the 2nd quarter RFH seniors Grace Stant and Sam Sabino got rolling in a big way. Stant and Sabino combined for 16 points in a two minute stretch . RFH had a 8 point lead with just over a minute to go in the quarter and Manasquan was on there heels, just like in game one. But then a very important thing happened that only the serious basketball fans picked up on. First the two seniors who were rolling Sabino and Stant went to the bench and the baby genius Lisa Kukoda made RFH pay in full. She took what most thought was a meaningless time out….WRONG! Then she set up her press offense that had been a problem early in the game. This resulted in a short baseline bucket for Dara Mabrey and then she had her team trap an unsuspecting RFH in the corner and this lead to a break away layup for Maria Mabrey and just like that RFH's 8 point lead was a thing of the past. When Stant and Sabino returned for the final 30 seconds the damage had been done. It was deja Vu all over again for RFH who wasted a 7 point lead in the final minutes of  the half in game one.
The 3rd quarter Janae Mayfield flat out stole the show. She hit jump shots, she found teammates for open jumpers and played her normal show stopping defense. Janae Mayfield led a 3rd quarter charge that saw RFH enter the 4 quarter up by 7. It seemed that Janae had found the secret formula for RFH.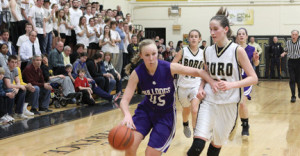 Stant tired to "WILL" RFH to victory
It was clear at this point if Marina Mabrey did not get help Manasquan would be in trouble. But help is exactly what she got in the 4th quarter. She got it first from her head coach, who to start the half Marina posted up Nicole Morris and when Janae Mayfield tired to switch …Freshman Dara Mabrey quietly reminded me why she is the best freshman in the Shore and banged out a big 3 to start the quarter. Again the baby genius Lisa Kukoda ran a masterful set out of a end of quarter time out. Then when RFH decided it would go to there bench, there match -ups got funky and the shot selection went south. First while nobody was paying attention Kukoda played man to man and left one defender in the lane…Bye bye driving lanes. Then Kukoda had her players switch everything on defense. It was a stoke of pure genius.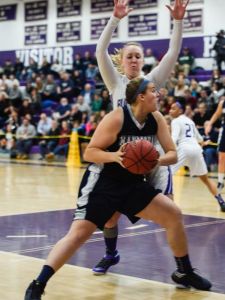 Galvan was the Help Marina needed
Then while nobody was paying attention, Coach Kukoda matched Victory Galvan up with Janae Mayfield. Then when she realized Grace Stant was at the point, she really got down and dirty. She matched her star 5'4″ Freshman up with the 6'0′ Stant. In both cases RFH never identified the mis-matches. Manasquan had just gotten away with murder.  When RFH brought back Sam Sabino and Nicole Morris to the floor with 4 minutes  left…The RFH's lead was gone and this is when Victoria Galvan borrowed Marina Mabrey's cape.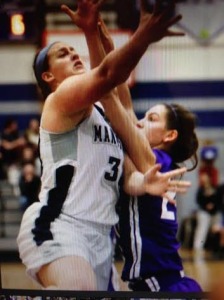 Galvan borrowed Mabrey cape in the 4th
Galvan put on a Show and it was all orchestrated by the baby genius herself,  Lisa Kukoda.  First she ran a side pick and roll for the first time all night…BASELINE SIDE SCREEN…WOW!  and the Mabrey sisters created a triangle and got the ball to Galvan for a layup and one…it was a thing of sheer beauty. Then Coach Kukoda ran a zipper cut with Marina Mabrey and Galvan. Galvan again scored and got fouled.  But what did everyone miss? The pass from Dara Mabrey was her 2nd major assist. While most thought Galvan baskets where off broken plays…They were all perfectly designed plays by Coach Kukoda.
BUT THIS GAME did not end with a whimper as Grace Stant went on a rampage of getting loose ball, offensive rebounds, and drives to the basket. Stant simply refuse to let RFH die in the last 2 minutes as Manasquan hung on to a 3 point lead. She banged out free throws and simply was trying to "WILL RFH" to the victory. Grace Stant was sensational all evening folks on both sides of the ball.
But time was not on the bulldogs side and neither was timely shooting. RFH had 4 count them 4 wide open uncontested shots to tie the game. This after two walk calls do to poor decision making…but not one found the bottom of the net.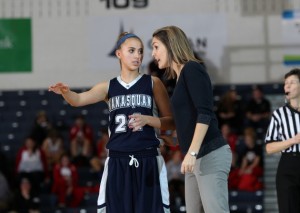 Hagaman again was big in a big game
With RFH hounding the Manasquan guards late they forced  a deflection, and 50/50 ball was in play….But the senior Courtney Hagaman came up with the loose ball and they she made two big and I mean big free throws…why was the free throws big? Manasquan had been missing Free Throws all night, keeping RFH in the game late.
Finally with 30 seconds left and down three, Coach Sourlis turned to his best 3 point shooter Sid Sabino. But Manasquan's baby star Dara Mabrey ran right to Sabino, the moment she entered the game and faced guarded the sharp shooter. When RFH then called time out and ran a screen for Sid Sabino, Kukoda sniffed it out and had her players  switch everything…Sabino never got a shot. Marina Mabrey just like in game one then walked to the foul line and banged out free throws and an exciting evening came to a end.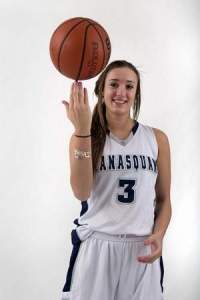 Marina Mabrey was smiling again
In the end both teams learned a little about themselves…Manasquan has found real support for Marina and this is bad news for the rest of the shore. Lost in the excitment was Stella Clark breaking the RFH press late and Addie Masonious coming up with a big basket.  RFH learned it could battle right up to the horn.  Hannah Scanlon was nothing short of sensational last night. Her development could be a real game changer for RFH. Janae Mayfield proved that she can be not only a dominant defender but a offensive player as well. Folks there is a real chance we will be seeing round three in the SCT or the STATES…how lucky can one get folks.
CHECK OUT THE SJV/ CHRIST THE KING GUEST BLOGGER https://nothingbutskills.com/sjv-christ-the-king/