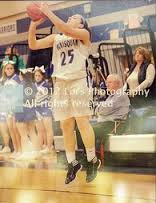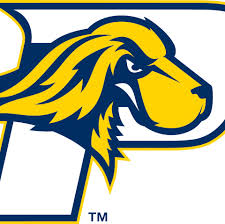 The ink has dried, the papers have been signed and sent. The reward for all the dedication has been acknowledged with the knowledge of a free education. The coaches, friends and families members are grateful. The process has been long but sweet,  Eva Hart has shown her family and friends what happens when you are good teammate and better person. Eva Hart did not just give a verbal but she SIGNED with PACE UNIVERSITY and will now play in the toughest D2 conference in America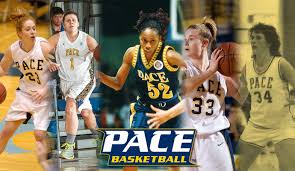 .
Eva Hart played on the Manasquan recent championship teams. She played on the TOC winning team as a Sophomore and this years winning SCT championship team. She has watched all 5 starting seniors from TOC team get scholarships to colleges. She seen them all at one point or another step into the spotlight. All five were great players and what they did on the court was easy to see. Points, rebounds, assists always show up in the box score and if the truth be told most people are box score junkies. It's rare when people dig down further to get the full story. Eva Hart is one of the kids, who was not a box score junkie. She did things that never showed up in the box score. She was more concerned with being a teammate and now she proved being a good teammate does pay off; not only on the court but off the court as well. When Eva Hart was traveling to her last high school game, the TOC final, she handed each one of her teammates a hand written note. She wanted each of them to know the impact they had on her life. So I asked  Eva to send me here thoughts about her time at Manasquan and I believe this letter says it all. I really couldn't add anymore to this…I hope every kid with a dreams reads this!
EVA HARTS LETTER-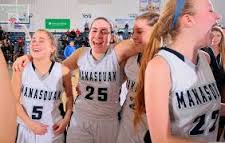 Eva Hart is all SMILES
Over the past 10 years that I have been playing basketball, I have come across a variety of coaches that have, in one way or another, taught me valuable lessons not only in basketball but also in life. Weather they influenced me negatively or positively, the important part is that they influenced me into the player I am today. The first coach that I would like to recognize is my number one supporter on and off the court, my dad. There aren't enough words to describe how thankful I am to have him coach and teach me all the ways of life. From long cars rides every weekend for AAU to telling me "work your hardest today" everyday before practice, he has shaped me the most into the player and person that I am today.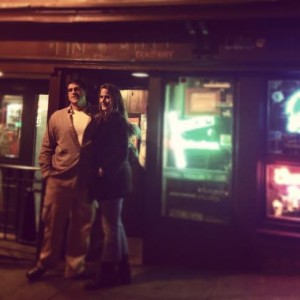 Eva Hart's parents strength was something she could count on!
I would like to take time to show my appreciation  for Joe Fagan. I started training with Mr. Fagan the end of my sophomore year and throughout my whole junior year. Training with Mr. Fagan really opened my eyes to see how much I actually loved the sport and how fun it really is. Sometimes it was hard my first two years to think of basketball as fun but when training with Joe, his relaxed yet dedicated environment reminded me why I never gave up.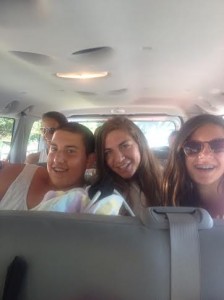 Joe Fagan and Clarence Thompson have made the ride easier
The third coach I would like to recognize is Clarence Thompson. From my first AAU coach to basically being another uncle, he has taught me to be grateful for what you have. He was one of the best basketball players ever but not only was his gift of basketball taken away from him but also his ability to walk was. His strength through his struggles and his love of the game to this day inspire me to take a step back every now and then and appreciate the game and what it has done for me.

Finally I would like to thank is Mr. Westrol, who is the nicest and most genuine guy I know. It's important for coaches to not only be your coach but someone who cares for you and who really is there for you when you need them. Mr. Westrol is a prime example of just that. There are days where he knew that I wasn't the happiest with the game and my situation but he always made me realize, being a starter on his AAU team, gave me another situation and great team that I can thrive on. All these coaches have done so much for me and have taught me lessons that will be with me for the rest of my life and I couldn't thank them enough.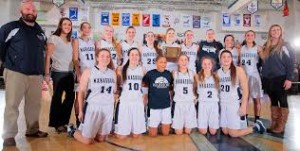 Winning Championships with her teammates have made it special
I can honestly say that when I think back to my teammates, I can't help but smile because to this day I still love them so much! For example, Sam Sullivan, Tara Dugan, Marina Mabrey, Courtney Hagaman, Aubrey Jones, Molly Read, Alex Kurtz, Gill Black, Addie Masouins, Stella Clark, and Victoria Galvan. Even the ones not from Manasquan and/or graduated, such as Melissa Pavia, Gretchen Fay, Alex Barazotti, Grace Stant, Lauren Kelly, Tori Cardaci, Cassie Fontana, and even people that I just train with like Kelly Campbell, Cindy Napalotno, Meg Hall, Sarah Kurtz, Payton Smith, Michaela Markham, Meg Hughes and so many more. All these girls have been made an impact on the player I am today but the three players that have impacted me the most are Chiara Palombi, Molly Byrant, and Bridget Ford. We like to call ourselves the Family Unit. Throughout all four years the family unit has stuck together through thick and thin. When one of us wanted to quit or when one of us scored the most points in the game, we had each other's backs and were proud of each other, there isn't any jealousy, ever. The bond between us four has strengthen as the years have gone on, ask anyone from Manasquan who the Family Unit is and they will tell you, it's us four. And it sounds kind of cliquey but on the contrary, the freshman and sophomores aspire to create a bond that the four of us have and we encourage it. I love every single one of my teammates and will miss them very much next year!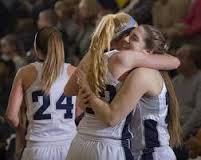 Eva Hart's showing a teammate the love
 My parents are the best in the world. They push me to challenge myself everyday and make sure I turn out to be the best version of me possible. The relationship with my parents and siblings is like no other; we are super close and always support each other. I would be nowhere if it wasn't for my brother and sisters. They teach me so much. My sister Emma (freshman in college) taught me to do what you love and speak your mind. My brother Robert (sophomore in high school) taught me to toughen up and let no one break you down. And my sister Elena (8th grade) has taught me to stay true to myself when things get out of hand. All of these lessons, just taught by my siblings is truly a blessing. I love them to death and wouldn't trade them for the world.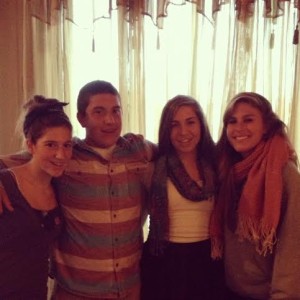 Its family thats make that Road a little easier
I chose to attend Pace University in the fall because I really love the academic side of the school. One of my goals in life is to be extremely successful in the field of business and the Lubin School of Business at Pace offers so many amazing opportunities that I couldn't resist. I could've of went to a school down south near the beach or decided not to play basketball in college, but sometimes you have to sacrifice what you want for what you need and for what will better you in the future. Not only will the academic side of Pace help me thrive but the athletic side as well. The girls on the team and the coaches' combined were a no brainier, the nicest people and the most dedicated too. This past season the team didn't do so well but I want to come in and work my ass off to change the game. I want to turn the team around and show them that with hard work and passion we can set goals and achieve them! I am very excited to see what my future has in store for me!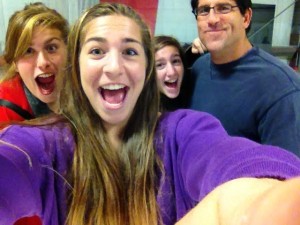 HEY EVERYONE LOOK I DID IT…
As some people may know my four years of high school basketball weren't always the smoothest. But if I had to do it again I wouldn't do anything different. Some people might think I am crazy and some might even laugh but to be 100% honest everything in life happens for a reason and I don't know if Manasquan's program would be where it is, if things hadn't work out the way they did. All I ever wanted to do since I was a little girl attending the Manasquan Girls Varsity Basketball games was to play on that court; and as a junior and senior I was given the opportunity to do so. My junior year was really a transiting year, getting to know the coach and the players. But my senior year, unreal. This year was something special, the girls were special, the team chemistry was special, the fans were special, for the first time in four years we played as a team for the team. And that's all I ever wanted.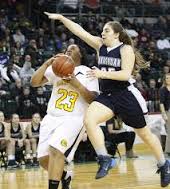 "Hustle and doing the little things…will get you noticed"…Eva Hart
My sophomore year was not easy for me and my family but in reality all I ever wanted to do was inspire younger girls, such as my little sister, that being the player that hustles on every play and does the little things will get noticed, she will thrive, she will have her chance, and most important she will become achieve her dream. I know this because I am one of those girls and look what my team accomplished this year. We are second in the state. We won everything there possibly is to win accept the TOC's but at least we were in that game.  As Coach Kuchinski would say, " You need to know your roll", players these days are so caught up in being the leading scorer and there's nothing wrong with that but you need to know your roll in order to have a successful season and in order to have an amazing team.  What has made me so strong and so successful in the game of basketball is that I know my strengths and I know how I can make my team and the players around me better. This year my team and I left it all out of the court as a team and that's something that is truly special to my heart.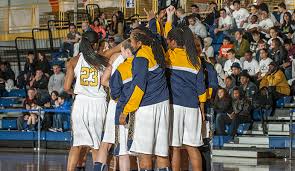 "EVA…were all in …just like you have always been!"