Sam Sabino giving a verbal to the University of New Hampshire warms my heart for a lot of reasons. First you must understand that I love Sam Sabino like a daughter and not just as a basketball player. I have spent nights after a game when she has played well, smiling like a proud father. I have been hard on Sam over the years. But I believe your always harder on the ones you love. My daughter tells me I pick on Sam, but I laugh because I know Candice was none to happy to be 4 hours away from me when she went to college. Every day when I leave my house there is a Message on my front door that Sam left for me to read..."Stability releases ability" It lets me start my day thinking about Sam and hoping she has a great day. Sam is about as stable as a kid gets, these days. She can now relax and do what most kids do enjoy playing basketball without the pressure of recruiting.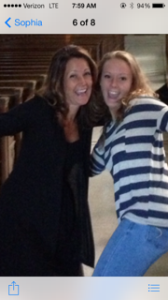 "My Mom is my role model I honestly could say that there is no other person in the world that wants as much for me as she does…Sam talking about her mother Tracey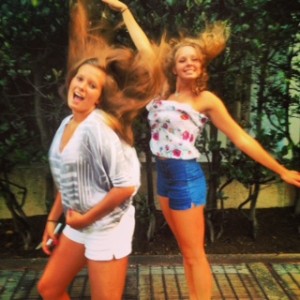 Sister Did and Sam are jumping for joy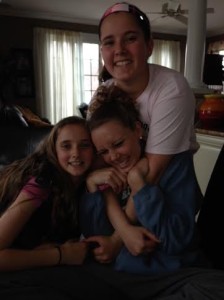 Big sister Sam with her younger sisters...
Tracey and Pat Sabino are not just parents to me, they are friends I mean real friends. The type that would give you the shirt off their back if you asked for it. I don't always agree with them about basketball or for that matter life sometimes. But I do know one thing, I love Tracey and Pat Sabino because they are good people. Tracey and Pat would rather be barefoot and hungry in order to help their children. When you see Pat and Tracey around their kids the love is something that almost amazing. These are family people and they have no problem expressing their love for each other and friends… I consider Tracey and Pat my FAMILY.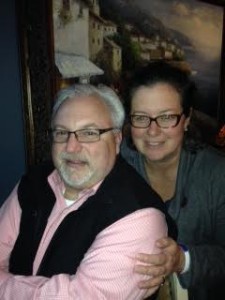 Lynne and Ziggy Lehrkinder…support system alive and well 
Tracey has built  the ShoreShots into a household name. She did this with passion and the understanding of Pat. Running a program takes time away from family and love ones.  She has passed this passion on to her kids. The Sabino's are a basketball family, its want they love to do…maybe that's why I love having dinner or talking on the phone with them. Like all parents there been so bumps along the way, but some how they have figured it all out. They took a gamble moving to Rumson, but in the end, it will be the best thing that ever happened to them. Rumson has good people and good kids, these things are hard to fine these days. I know that Sam an her teammates get closer everyday and she may not know this, one day they are going to be her best friends…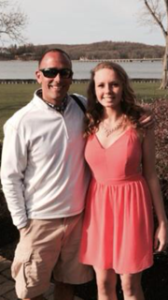 My Dad has always had my the best interest  and always keep me on the right track. I love you Daddy!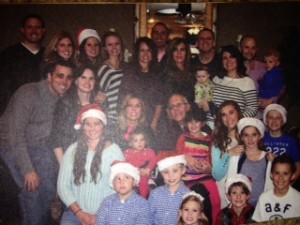 "My teammates: I am very fortunate to play with such talented players.  They have all made me a better player by playing with them.  I have had some great times and I will miss playing with you all.  I am so happy for all my teammates who have the opportunity to play in college and experience a whole new journey. "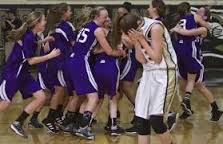 The University of New Hampshire Staff did a masterful job recruiting Sam, because they understood Sam is a thinker and she needed to know everything WAS RIGHT. UNH understood this and let Sam work at her own pace. They didn't bad mouth other schools and they didn't put pressure on Sam. They said here we are take us of leave us…I'm glad Sam took them…
WHY UNH IS THE PERFECT PLACE FOR SAM SABINO
Well when you get Olympians and  NHL players tweeting to congratulate you on attending UNH… that's not a bad start! There are so many reasons this is a Home Run, I don't know where to start. First I have 2 relatives that attended The University of New Hampshire and they can't believe anyone would not want to attend UNH. I have a 3rd relative who gave a verbal commitment to UNH this fall. They all know Sam and are thrilled to death that she has made this decision
Former UNH star and Current Maple Leaf star… sent Sam a text after her verbal!
Ken Dempsey is the men's asst coach at UNH, for me to call me Demp's just a friends would be a insult to the word friend. I trust Ken Dempsey to the bone, he has been there for me during the tough times. When he says "Tiny tell that kid she better give this place a serious look" that is enough for me…
Sam will have a support system that no other  school can matche. The UNH coaching staff in two years has turned the program into one of the best in the American East and some believe a sleeping giant. Coach Magarity won 19 games this year and considered one of the best young coaches in college basketball.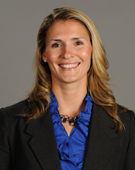 Coach Magarity and UNH had 19 wins last year
Now what UNH does not know is this, Sam Sabino in the America East is scary. The college game is built for Sam's style of play. Ball screens, stagger screens, sprint screens are going to make Sam Sabino a nightmare for opponents and remember this…NOBODY WALKING PLANET EARTH PLAYS HARDER. Sam has spent 3 years with Sir George Sourlis and anyone that plays 3 years at Rumson can defend at any college level. I believe Sam Sabino will be an All Conference Player at UNH  one day and play in a number of NCAA tournaments. I believe Sam Sabino has made the perfect choice…I have a UNH hockey Hat…but I can't wait for one that says basketball!….CONGRATS TO SAM SABINO AND UNH
"Coach Sourlis taught me how to guard the ball and have taught me how to lock down and stop an opponent. Winning our state section last year was a great experience and i won't ever forget it. Thank you so much for all you have taught me and for all of your support!"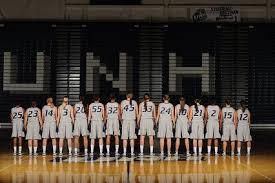 Sam don't you worry we will never turn our back on you…Welcome!