Today I am going to talk about the complete package. It's rare these days to find a player that brings everything to the table. We are talking about Talent, Work Ethic, IQ, UNSELFISHNESS , Toughness, a competitive nature and values education. These are a lot of special qualities for any player to possess. But MADISON ST. ROSE BRINGS ALL THAT TO THE TABLE
College coaches there is no reason for me to tell you Madison St. Rose will be one of the 3 best Freshman in the state, next season. I don't need to tell you, she has Power 5 length and size for her future college position as a combo guard. I don't have to tell you at the NBS camp she was one of two 8th and 9th graders to make it to the main court. I don't have to tell you, she is the best passing, young player I have seen in years. I don't have to tell you, she went head to head against two of the 5 best players in the entire state and more than held her own at NBS. I don't have to tell you,she did not take a bad shot the entire week. I don't have to tell you, she is a flat out, a knock it out shooter (with range) and defender. I don't have to tell you she already has D1 offers before she has played her first high school game. I certainly don't have to tell you she is a future Power 5 player. If I have to tell you any of these things… you may be in the wrong profession? MADISON  ST. ROSE IS SPECIAL FOR OTHER  REASONS.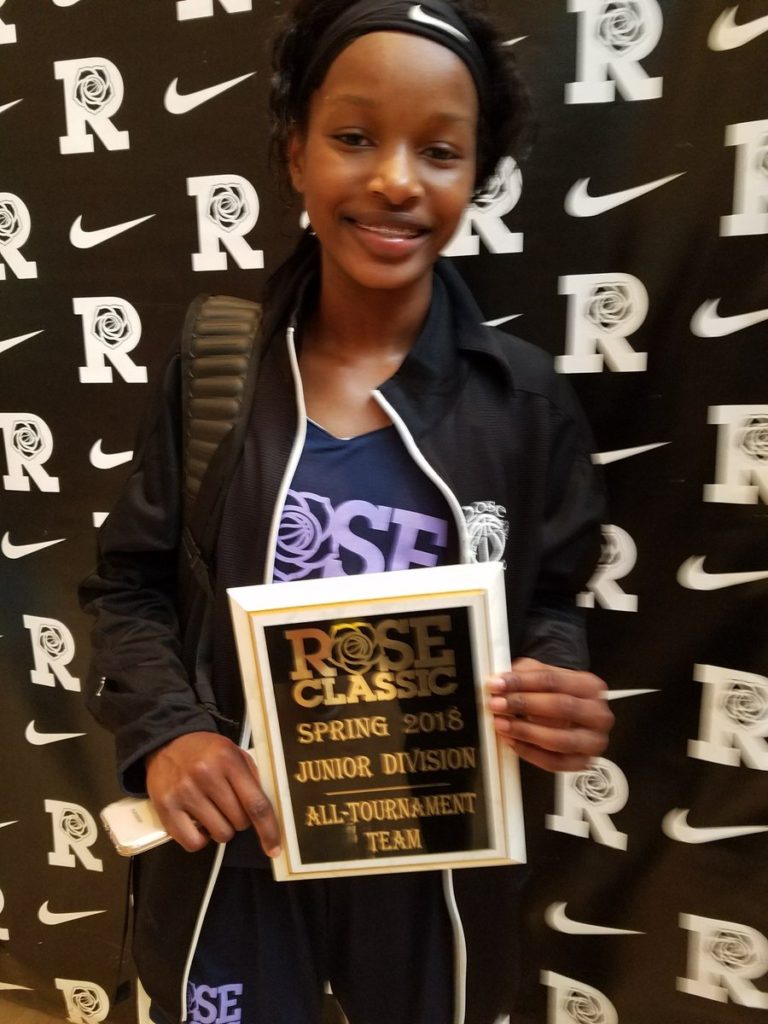 THE COMPETITIVE NATURE
Madison St. Rose will attend SJV next year. Now on the surface, you may say, there is nothing special about this …you'd be wrong, as in really wrong. Many talented young players have decided not to attend SJV over the years, why? Because they know Coach KARPELL makes only one promise. If you are good enough and work hard enough, you will play. There is no hinting of starting or playing time with a wink. If there's one thing Coach KARPELL has proven over the years…its this, NO ONE PLAYER IS BIGGER THAN HER PROGRAM. It's exactly why I believe Madison St. Rose choose SJV. She doesn't want anything given to her. Madison St. Rose believes in her game. She believes, she can earn her spot and time at SJV. She is a kid that wants to play with and against the best. She doesn't need promises, she knows SJV is stacked, but she also knows nobody on God's green earth prepares players for college like Coach KARPELL. It's this competitive nature that makes Madison so special. It's why she plays up on the u16 EYBL SPARKS TEAM.  She relishes the competition and  thrives in it. It's why one day she will be known as a SJV great.
THE ACCOUNTIABLITY
Accountability  is a word so many kids struggle with and don't understand. Accountability and responsibility are two different things in the basketball world.  Responsibility is about doing what you're told to do; to the best of your ability.  Accountability is when you do what you're supposed to do and then take responsibility for the results good or bad. Saying I did my best is not enough. Accountability is results driven. Like when Madison St. Rose ask me to pick her before NBS camp each day. Not once was she late, or not ready to go when I arrived. Each day she said thank you. But more shockingily, she offered me 20 dollars for gas. I told her I couldn't take it. Her response was "coach I baby sit and make money. Please take it, you going out of your way". I took the money because I knew it was important to her.  But she was accountable the entire week. She set up rides to leave NBS and to get to SJV practice and then get back to home. She also was accountable on the court. She worked hard in every single drill and never blinked a eye when criticized about anything . Her mental toughness defies logic for a  kid so young. I did not hear one excuse out of her mouth the entire week…..THATS CALLED ELITE ACCOUNTIABILTY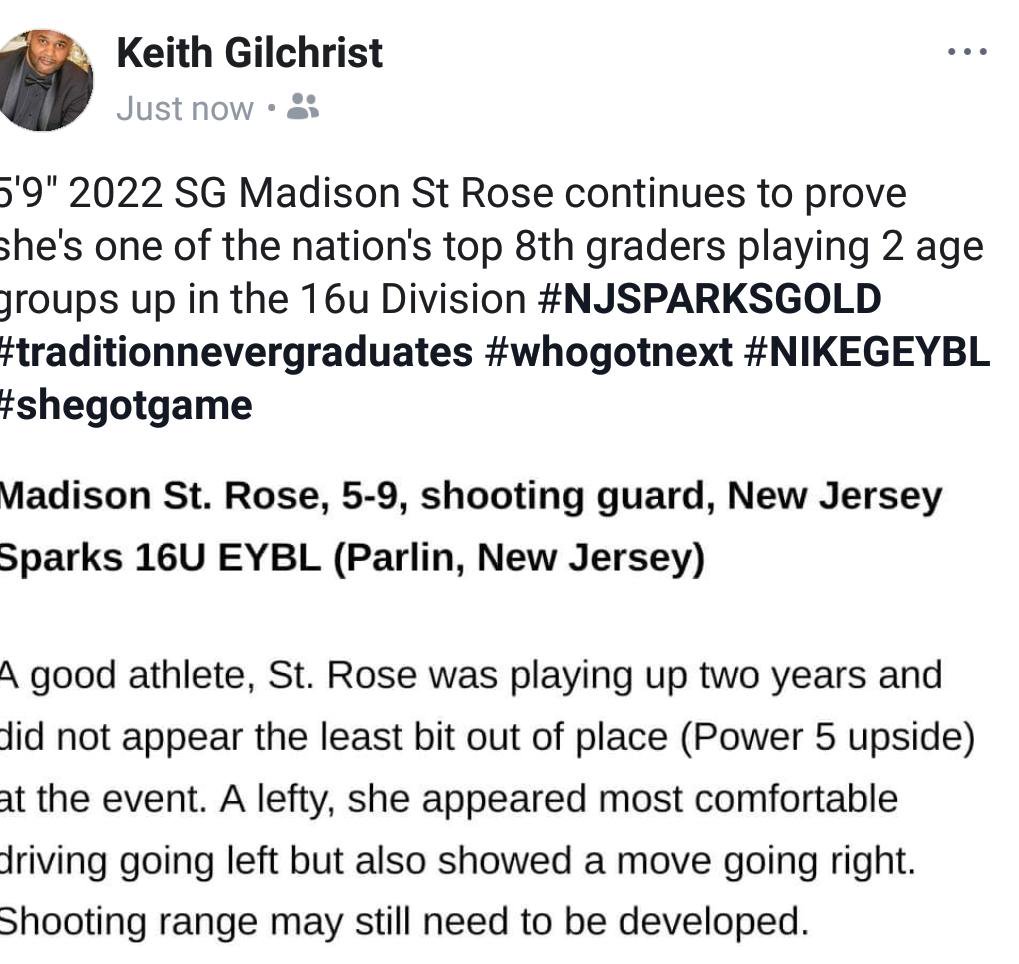 THE GIFT
Madison St . Rose has been given a gift. She may not know this yet as she is still young. Her gift is that she is a human Chameleon. She has the ability to fit into any setting. It's because despite being one of the best babies in the state, she is liked by all. There is no jealously that often surrounds great young players . The reason is simply, she is quite and approachable at the same time. There is no bragging or show boating. There is no talk about player rankings or who is the best..she just fits in and does as the romans due in Rome. One morning as we were driving to camp. A college coach called while she was in the car and her name came up. She heard the conversation and not once the rest of the week, did she ask me about it. It was a school trying to reach her to extend a offer. You see Madison St. Rose has bigger things to worry about…like just being a typical teenage girl, except with a special talent. She smiles when you tease her. She protects her twin brother with a passion, she doesn't know, I caught her looking for her brother all week at camp. Madison I LOVED THAT ABOUT YOU….DONT STOP BEING YOUR BROTHERS BIGGEST SUPPORTER. Madison's gift is not her basketball talent by a long shot…that's just the cherry on the top.
I've seen a lot of great players over the years. Folks it only seems right that Madison St. Rose will be attending SJV. She is going to be one of the best players ever in the Shore. These are not just words…there facts. She is a two way player with  intangibles. Like being a good teammate, hustles, takes charges, claps for teammates and is already respected by all. She understands it's about everyone… family, teammates, opponents, parents and coaches, not just herself.  Madison St. Rose gets it folks.  Now her talent and skills are easy to see. But her work ethic and kindness, that you will have to experience firsthand. It's rare when a player this talented and unselfish can be called a program kid, but that's just case with MADISON ST. ROSE ….WHO IS AND WILL BE THE ULTIMATE PROGRAM KID FOR THE AGES…

TINY GREEN
.